Thursday notebook: Refocused Lee ready for return to starting lineup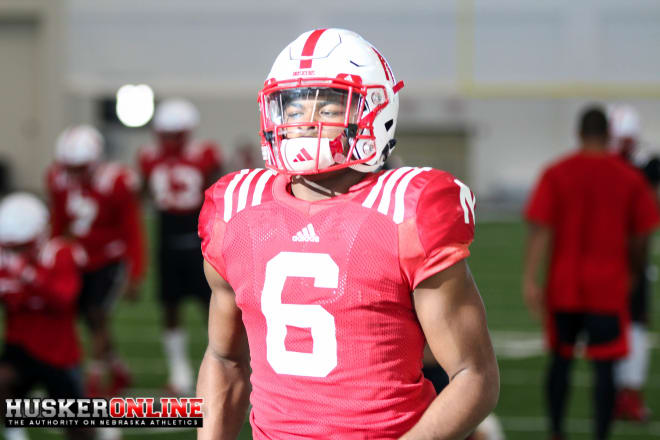 After coming to Nebraska has one of the gems of its 2015 recruiting class, playing time has been few and far between for cornerback Eric Lee Jr.
The former four-star prospect redshirted his first season and then saw limited action in 2016 primarily on special teams.
Lee finally got his first big chance last season when starter Chris Jones was sidelined with an injury, allowing the Milton, Mass., native by way of Denver (Colo.) Valor Christian to start the first six games.
But Jones ended up reclaiming that No. 1 spot to finish the year, and through the first three and a half games of this season, Lee had not seen a single defensive snap.
That all changed in a major way against Purdue on Saturday, as the junior came in after Lamar Jackson was benched and played 58 total snaps vs. the Boilermakers.
That carried over into this week, too, as Lee was named the new No. 1 corner over Jackson and is set to make his first start of the season at Wisconsin.
"I feel like my mindset's just changed drastically," Lee said. "It's that 'no fear of failure.' So even if you miss a tackle, just get up, make sure he gets down on that play, fix it and no one's going to be cussing you out or anything like that. So I really think that no fear of failure has just stuck with me and just lets me play a lot more freely."
Defensive coordinator Erik Chinander said he was very impressed with how Lee answered the call when he was thrown into the game on Saturday, adding that it was a culmination of a steady progression he's seen from Lee since the start of the offseason.
"He went in there and did a great job," Chinander said. "I don't think you saw a drop off there at all. I think he played well and tackled well. He gave up a couple balls, but that's going to happen when you're playing a spread team and you're going in as a second-string corner – they're going to go after you a little bit. But he did a good job."
Sophomore cornerback Dicaprio Bootle said one of Lee's best attributes was always being prepared and focused regardless of what his playing time might be.
"He's always dialed in, so when he was called in the game to step up and step in, I had no doubt that he was ready for it," Bootle said. "He came in and just basically started picking up where he left off last year and that's good to see a guy wasn't really getting any snaps to still be engaged enough to come out and contribute."
Defensive backs coach Travis Fisher made it clear from Day 1 what it was going to take for any of his players to see the field, and Lee said taking that challenge to heart has leas to his sudden rise up the depth chart.
"(Fisher) just wants some dogs out there," Lee said. "So if you just bring that dog mentality, you'll definitely see the field."
- Robin Washut
Bell still adjusting to Big Ten level
Devine Ozigbo stole the show with a career day in Nebraska's loss to Purdue last week. Two games earlier, it was true freshman Maurice Washington who came up with his first breakout performance vs. Troy.

The one running back who was supposed to be the closest to being the Huskers' bell cow running back going into the season, however, has hardly been mentioned.
Greg Bell, who came to Lincoln as the top-rated junior college running back in the country, won the starting job out of fall camp and rushed 13 times for 96 yards in his first game as a Husker vs. Colorado.
The next week against Troy he had 14 carries for 64 yards, and the following game at Michigan he dropped to just six attempts for three yards. Against Purdue, Bell was demoted from his No. 1 spot in favor of Ozigbo and ended up with a season-low two rushes for two yards.
Running backs coach Ryan Held said Bell clearly didn't take his demotion well.
"Last week when I told him Devine was starting, he might have got in his feelings a little bit and maybe felt sorry for himself," Held said. "When you feel sorry for yourself, you go out there and worry about things you can't control."
While Bell might be a junior in terms of his eligibility, Held reminded that the former Arizona Western C.C. standout was still in his first season of major college football. Held said he still had very high expectations for Bell's potential this season and next, but understood that he was still adjusting to what to takes to succeed as a Big Ten running back.
"I think for any new guy, this is big-time football we're going out and playing," Held said. "Whether you're in high school or junior college, you're able to just completely dominate a game. That's not the case here. There's a lot of great football players you're going against, so you have to stay within the system and do your thing.
"I think he's transitioned pretty well. Do I think he's going to keep getting better? Yes. Do I think when you look at big picture sometimes junior college guys, it takes them half a season, to a whole season to get what you recruited? That's just the way it is. We can't speed up time. We just have to keep grinding every day to close that gap so we can go out and be efficient in everything we do."
- Robin Washut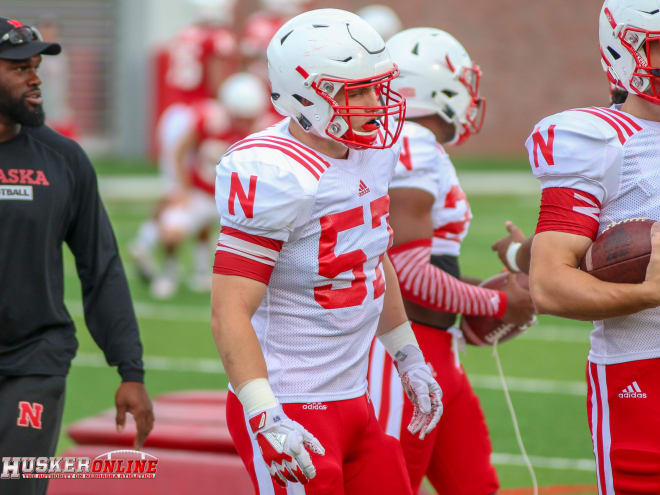 Weinmaster should be ready now that his number has been called
This season had already been a quite the rise for junior inside linebacker Jacob Weinmaster, but his role reached a new level on Monday.
Because of a season-ending injury to junior Will Honas, Weinmaster elevated to the No. 2 spot on the depth chart behind starter Mohamed Barry heading into Nebraska's road game at Wisconsin this week.
A former walk-on who earned a scholarship in August, Weinmaster had already emerged as one of NU's top all-around special teams players, posting three coverage unit tackles.
While Saturday will be a much different challenge now as a key piece on defense, Chinander has full confidence in the Loveland, Colo., native.
"He's a kid that it means a lot to him, so he knows what he's doing. He just needs reps," Chinander said. "He's going to need a lot of reps so he can get the speed of the game; so that he can get the reads at full speed. But he knows what he's doing; he's confident in what he's doing.
"He's had a lot of reps on special teams, so it's not like he's going to walk into Madison, Wisconsin, and have never been on the football field before."
Inside linebackers coach Barrett Ruud has been impressed with Weinmaster from the beginning, mentioning him as a potential contributor even before he earned a scholarship.
While the circumstances surrounding Weinmaster's rise are unfortunate, Ruud too believes he'll be ready to make the most of his opportunity.
"You can't always know when your time is going to come, but you always have to be ready for it," Ruud said. "He's been working, and he'll be ready. Everybody that makes that trip up to Wisconsin has to be ready to contribute and play."
- Robin Washut
Pickering not letting inconsistent start shake his confidence
Barret Pickering's debut as Nebraska's new starting place kicker has been a true trial by fire thus far.
The true freshman has made three of his first six career field goal attempts thus far. He's made 3-of-4 attempts inside of 39 yards, but has missed both of his kicks from 40-plus, including a 54-yarder last week vs. Purdue that never stood a chance.
Having made all 10 of his extra points on the year, though, Pickering still stands as the Huskers' second-leading scorer through four games with 19 points (receiver J.D. Spielman leads with 24).
The former Hoover, Ala., standout knows he's got a long way to go to be the consistent and productive kicker he knows he can be, but he's not letting a slow start throw him off schedule.
"Definitely I haven't performed as I would have liked to, but I'm just putting it behind me," Pickering said. "It's a clean start every week. You just have to go out there and not worry about the last one and just focus on going 1-for-1."
- Robin Washut
Quick hits
***Head coach Scott Frost said the search continues to find more wide receiver depth, but noted that Jaron Woodyard "took a step forward" this week. He said they're also looking to get Andre Hunt back in the mix as he returns from injury.

***Frost said the biggest thing keeping freshman Miles Jones off the field was he just wasn't ready in all the necessary aspects yet. Frost said talent was only one part for a true freshman to see the field, and until a player shows he's capable in handling all of the requirements on and off the field "like a pro" he won't be ready to play.
"For a freshman to play, more than talent, (it's) how ready they are, how mature they are, how ready they are to attack things and treat things like a pro," Frost said. "Miles does really good things. It's got to be consistent. We just can't put somebody out there until they're completely ready. I think Miles is getting close, but we got to feel good about him being completely ready to be in that environment before we put him out there, just like any other freshman."
***Frost said there would be some familiarity between what Wisconsin does defensively and what Nebraska does, which could be somewhat of an advantage like it was against Colorado.
***As for the offense, Frost said the way Wisconsin shortens games with long, time-consuming drives, which he said makes it hard for a play-caller like him who is used to working with a lot of snaps per game. Frost said NU would have to be really efficient with the snaps it does get and the defense would have to help out and provide more possessions with stops and takeaways.
"It's a challenge," Frost said. "I remember being at Oregon and playing Stanford when they were really good, and it was kind of the same thing. We had a drive that we should have scored on, didn't, then didn't get the ball back for almost 30 minutes of real time. Shoot, I could have left the press box and gone out dinner and come back in time for the next series."
***Frost said Bell and Washington "had no choice but to step up" this week after Ozigbo's breakout performance vs. Purdue. Frost said Ozigbo set the bar high with a full good week of practice and then his play in the game, and he thinks Bell and Washington and followed suit this week.
"A couple of those guys had no choice but to step up because Devine practiced really well and then he played well in the game,' Frost said. "If those other guys want to be on the field, they need to follow suit. And I saw better play this week."
***Frost said Spielman was probably always the best option at punt returner, but with the lack of proven receiver depth and NU now having to play 12 straight games, he said the staff needed to be smart with guys like that in order to prevent wearing them down physically.