Thursday notebook: Riley reacts to Eichorst's firing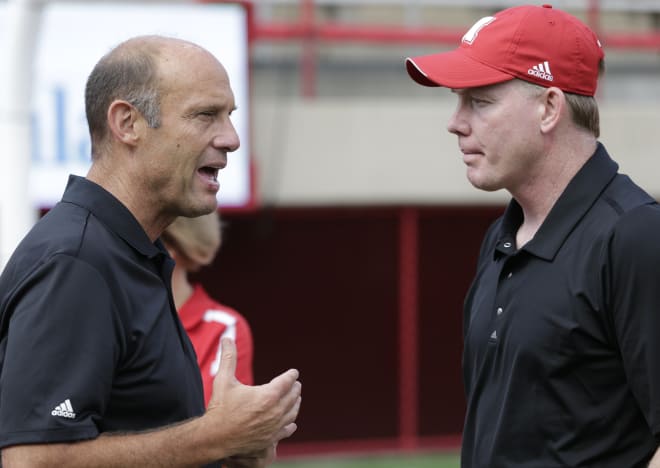 Football is king at Nebraska, so when university chancellor Ronnie D. Green and president Hank Bounds announced the firing of athletic director Shawn Eichorst on Thursday, much attention immediately went to the future of head coach Mike Riley.
Riley told reporters following Thursday's practice that he personally met with Green and Bounds earlier in the afternoon and was told of the decision. Riley didn't shy away from expressing his disappointment over the seeing the man who hired him unceremoniously let go.
"My first reaction, and I was told personally by President Bounds and Chancellor Green, I was taken back, surprised, and I was probably flat-out saddened by the whole deal," Riley said. "I really, really enjoyed working with Shawn. Besides being a good man, I think he had everybody's best interests at heart – coaches and student-athletes.
"I think that, department-wide, the way it was run was beautiful. The things put in place to help develop young people were great and the support that we got was at the highest level. His interaction with us was the most I've ever had, which I appreciated. All those things I think are absolutely real.
"I'm just thankful that he brought me here. He's the one that stepped out, gave us a job here. We brought a staff and we're at a great place and we'll thankful to be here, trying to both develop and grow and be the best we can be – and we haven't done as well as we need to."
Riley said he met with his team around 2:15 p.m. to pass along the news, and his message to the Huskers was to stay focused on the task at hand and only worry about the things they could control.
"I just told them almost what I told you, that this man had their best interests at heart all the time with the programs that he put in place, and what he tried to see had a great vision for the student-athlete experience and was always thinking that way," Riley said.
"I told him that's what he was for them, and then I said and for me, I'm just thankful he brought me here so I can coach you guys. So there's lots of good that's come of all that."
There were several questions about how Eichorst's removal could impact Riley's future at Nebraska, as there was no guarantee what kind of relationship or leniency the new athletic director would have with a coach now 16-13 into his third season in Lincoln.
"I'm not going to worry about that," Riley said. "I told the kids this: what we find out is that old saying, 'Control what you can and what you can't you've got to let go.' I know I'm really confident in what we're doing and the people that we have and how this thing is being run in the football office.
"I really feel good about that. I understand both expectations and performance so far, too, so I get all that. But I actually am energized about the future. I guess perspective is one thing that is good and a drive always to be good, and we have driven people here that want to coach these guys at the highest level and do better, and we have players like that.
"It's not that complicated to me. It's clear where we want to go on the football field, it's clear what we have to do recruiting to get to that point where we can get where we want to go."
- Robin Washut
Jaimes to make first career start at right tackle
When the conversation finally turned to football during Riley's post-practice press conference, he had some big news to pass along regarding Nebraska's starting offensive line on Saturday's game.
With senior David Knevel still hampered by an ankle injury and redshirt freshman Matt Farniok dealing with a broken wrist, Riley said true freshman Brenden Jaimes would make his first career start at right tackle vs. Rutgers.
Jaimes had yet to see the field in the Huskers' first three games of the season, but with Knevel limited all week and Farniok unable to even suit up, the former Austin (Texas) Lake Travis standout vaulted up to first-team reps in practice.
Jaimes had been splitting reps with redshirt freshman Christian Gaylord with the top offense during the week, and there's a chance both could see the field in a crucial game on Saturday.
Riley said Knevel and Farniok could both be available as emergency backups if necessary, but it looks like NU's two freshmen will be thrown into the fire for the Big Ten Conference opener.
"(Offensive line coach Mike Cavanaugh) tells us to be ready whenever, and just to go in prepared because that one play could come and you could be in," Gaylord said. "Kind of like Michael Decker last week when Cole (Conrad) went down, he went in and played very well."
- Robin Washut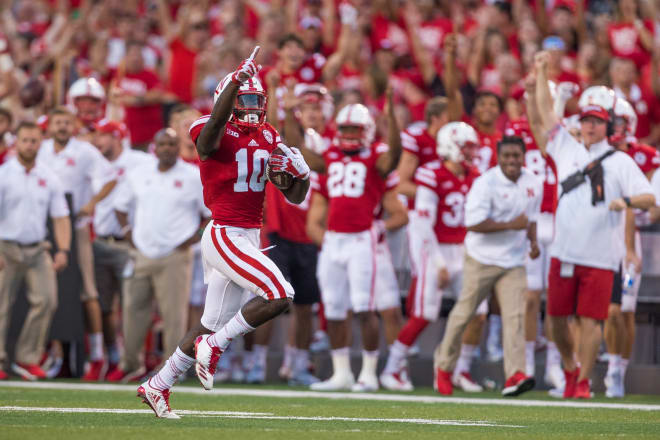 Spielman's hard work paying off as breakout kick returner
J.D. Spielman's first time touching the ball at Nebraska was pretty unforgettable, as he took back a kickoff return 99 yards for a touchdown in the season opener vs. Arkansas State.
The redshirt freshman hasn't only slowed down much since then, as he currently leads the nation with an average of 46.0 kickoff return yards per game. He's also one of only 14 players in FBS with a kick return for a touchdown.
Spielman has only returned three other kickoffs since his impressive debut, but those include runbacks of 24 and 50 yards last week against Northern Illinois.
Special teams coach Scott Booker said Spielman's hot start has been both a product of strong blocking by Nebraska's kick return team and the Eden Prairie, Ill., native's own drive to succeed.
"First off, as I always say, there are 10 guys blocking for him," Booker said. "If those guys aren't doing their jobs he would get zero yards. But then next, J.D. has really, really taken it upon himself to make that something that's very important to him.
"During the summer in June and July we're meeting and he's trying to figure out exactly what he needs to do and where the chute is and that type of stuff. So it was the time and preparation he put in during those months in the summer when no one was here, the interviewers weren't here, the cameras weren't here, that is helping him out now."
- Robin Washut
Containing Grant will be key for NU special teams
Janarion Grant's 2016 season came to a sudden end less than a month into the schedule, when a broken ankle sidelined him for the rest of the year.
But after receiving a medical redshirt, Grant opted to turn down the NFL for one more season at Rutgers, and the Scarlett Knights got back one of the most electric return men in all of college football.
The 5-foot-10, 180-pound senior has a chance to etch his name atop the record books, as he's currently tied for the NCAA record for career kick and punt returns for touchdowns with eight combined.
Though he's yet to take one back on five punt returns and six kickoff so far this season, Booker said Nebraska's coverage teams would have to be at their best to keep Grant from making an impact.
"He's a game changer," Booker said. "We've got to make sure we do a great job first with our specialists putting the ball exactly where we want it to be. Then next with our coverage guys, making sure we're just very sound. He is a game changer."
- Robin Washut
Quick hits
***Linebacker Marcus Newby (hamstring), safety Joshua Kalu (hamstring), running back Tre Bryant (knee), and linebacker Tyrin Ferguson (foot) have all been ruled out for Saturday's game vs. Rutgers.
***Wide receiver Stanley Morgan (neck) and center Cole Conrad (knee/ankle) are also listed as questionable after missing most of this week of practice with injuries.
***Riley said Morgan has been dealing with a sore neck all week, though he was able to suit up on Thursday. They're hopeful that Morgan will feel better over the next two days and be ready to play on Saturday.
"He's had a really hard time moving his neck all week, so he hasn't practiced," Riley said. "But we think it's all soft tissue, so he could start feeling better in the next less than 48 hours. So we're hopeful for that. We'll see how he is tomorrow, but we're hopeful that he's OK."
***With Conrad dealing with ankle and knee injuries, Riley said Michael Decker has taken the bulk of the first-team reps at center this week.
"Cole Conrad's had a rough week with a knee/ankle," Riley said. "Cole has practiced parts of the last two days, but not the full practice. So Mike Decker has taken most of the reps there, and Mike's ready to go."
***With Newby and Ferguson out, Riley said Collin Miller could see some action on Saturday. He also said CAT linebackers Alex Davis and Sedrick King should see more playing time as well vs. Rutgers' more power offense.