Thursday notebook: Armstrong likely a game-time decision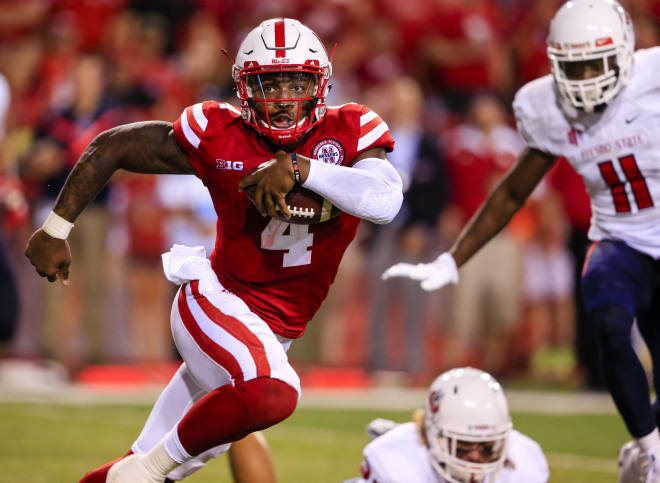 As Nebraska wrapped up its final full practice of the week on Thursday, the speculation and uncertainty over the status of Tommy Armstrong only continued.
Head coach Mike Riley said the senior quarterback was still considered questionable for Saturday's game vs. Maryland. Armstrong still hasn't practiced, and it likely will be a Saturday morning final decision.
Riley said they would evaluate Armstrong further on Friday and "go from there." Along with gauging how Armstrong feels, Riley said the staff would also take into account whether him playing was worth the risk of further setbacks going forward.
"I think there's two things there," Riley said. "Certainly how he feels, but (also) what kind of risk do we take in making it worse? The hamstring is a mystery, right? So you really don't know until you really go, and then you can make it worse.
"So we don't want to do that. We want to be pretty sure. That's why we haven't done much with him at this point. Those things take time, so we're going to let it continue. He's getting a ton of rehab and all that stuff, but it will be interesting."
Armstrong met with reporters following Wednesday's practice and said this was a much different situation than what he went through last week - when he only partially practiced on Thursday and Friday before finally passing concussion protocol to play vs. Minnesota.
He said he'd never experienced a hamstring injury before in his entire career, so he was just as unsure about his availability for Maryland as everyone else.
"It's a little bit different than a concussion protocol, but I'm taking it a day at a time," Armstrong said. "I'm doing as much as I can in the rehab room to get better and stronger and things like that… Nervous just a little bit, each and every day just trying to get better."
Should Armstrong be unable to suit up on Saturday, senior Ryker Fyfe would get the start at quarterback with sophomore Zack Darlington serving as the No. 2.
Riley has reiterated that pulling the redshirt of true freshman Patrick O'Brien would be a worst-case scenario, especially with it being so late in the season.
"We've prepared with Ryker and Zack Darlington, and Patrick O'Brien will be the third guy that we hope we don't play," Riley said.
- Robin Washut
Fyfe once again preparing to be the guy
With Armstrong's status being listed as day-to-day for the past two weeks, Fyfe has once again been in the unusual position of taking all of the first-team quarterback reps this week despite not knowing if he'll actually be the starter on game day.
Fyfe was the No. 1 quarterback all last week until Armstrong was finally cleared, and he's assumed that role again this week with Armstrong sidelined.
"Just keep preparing like I'm going to start, but you never know what's going to happen," Fyfe said. "I've just got to focus up this week and just make sure I know my stuff and be ready to go for Maryland."
Fyfe earned his first career start last year at Purdue, but he's only played sparingly aside from that and his relief appearance in Nebraska's blowout loss at Ohio State two weeks ago.
But with NU's staff much less optimistic about Armstrong's availability this time around, there's a realistic chance that Fyfe could make his first home start on Senior Day - something he never would have expected going into the year.
"My last home game, my first (home) start if it happens, so we'll see," Fyfe said. "If not, Tommy will have to go, but either way, last game, big game…
"I just know there's 13 more days and I've got to make sure I just focus up and make the most out of my senior year, so just practice hard every day and get the most of it."
If Fyfe does get the nod, senior wide out Jordan Westerkamp said the entire offense would be behind him.
"I have an enormous amount of confidence in Ryker," Westerkamp said. "He's always ready to play. He's prepared like he's been the starter for two years straight now, and he gets after it. He brings a lot of great things to the table.
"It's unfortunate Tommy's down with an injury, and Tommy's done so much for us, we all see that, and unfortunately it's just kind of how football goes with injuries. Guys go down, next guys have to step up. We're looking forward to having Ryker and we definitely have a lot of confidence in him."
- Robin Washut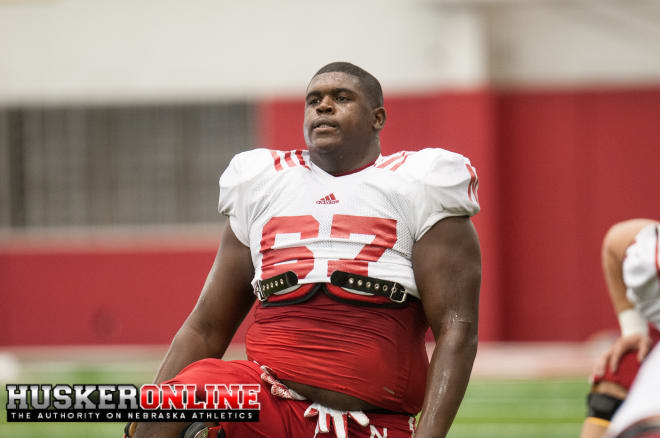 Foster's comeback impressive in more ways than one
Jerald Foster surprised everyone - from his coaches to his teammates to the entire Nebraska fan base - when he made his first-career start last week after coming back from a torn MCL.
What surprised offensive line coach Mike Cavanaugh even more was just how good Foster looked in his first test against live competition since his senior year of high school in 2014.
"I've never had a guy come back like this," Cavanaugh said. "It's pretty amazing really… He told me he was going to do it. The way he said it and looked I didn't doubt him.
"In the back of your mind you're going, 'Wow, he had a pretty drastic knee injury.' Like I said last week, determination, drive, work ethic and toughness. Pretty fun."
Not only did Foster get the start at left guard against Minnesota, he played all 60 snaps in the game. Senior Sam Hahn, who had started the first nine games at left guard in Foster's absence, didn't see the field at all on offense.
"He played every snap," Cavanaugh said. "Our plan was for if he needed to go out we were going to let Sam go in there, but he handled it fine."
- Robin Washut
Utter may be cleared, but Decker must be ready
Unlike the situation at quarterback, the player snapping the ball looks to be good to go after a brief injury scare this week.
Senior Dylan Utter did not practice until Thursday and had to wear a protective walking boot after suffering an ankle injury in the win over Minnesota.
But Riley confirmed that Utter would be back in the starting lineup for his final home game on Saturday against Maryland.
"Dylan Utter practiced today and felt pretty good, looked good," Riley said.
That all being said, the Huskers made sure all week to get redshirt freshman Michael Decker ready to play if needed.
While Utter was out, Decker took all of the first-team reps at center. If Utter happens to suffer any setbacks on Saturday, Cavanaugh said they wouldn't hesitate to call Decker's number.
"He's gotta be ready," Cavanaugh said. "The last couple weeks he's had great practices. He's really coming on."
- Robin Washut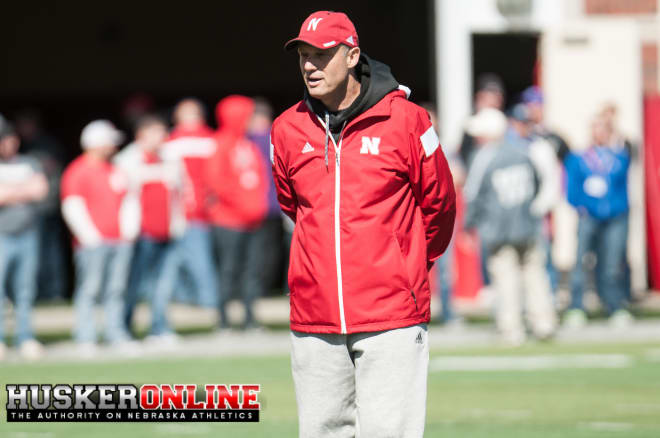 Quick hits
***Riley said linebacker Dedrick Young (ankle) is listed as doubtful right now. Young hasn't practiced all week, and the goal is to make sure to get him healthy again.

***Riley said running back Devine Ozigbo is finally close to fully healthy again and "looks as good as he's looked in two or three weeks."
***Riley said there are always a lot of emotions surrounds Senior Days, and it's something coaches have to embrace and try and get their team to feed off of. At the same time, Riley said they also have to make sure the players keep their focus on football and don't get caught up in the moment.
***Riley said his and everyone else's thoughts are going to be on Sam Foltz on Saturday. "It's going to be sad, but there are also things that make you smile about Sam Foltz." Riley said a portion of the pre-game Senior Day festivities will be devoted to Foltz and his parents.
***Riley said he really liked the week of practice that Ryker Fyfe had this week, especially his performance on Thursday.
"I liked it a lot, as a matter of fact," Riley said. "I was really excited, and it kind of culminated in a really nice Thursday, which I consider kind of a dress rehearsal day. I thought he did a nice job today. Threw some really sharp, nice ball, appeared very confident... I think the kids respond well to Ryker. He's been around a long time, and it's not uncomfortable to them. It looked like a good picture today."
***Not only did the left side of NU's offensive line get a big boost with the return of Jerald Foster last week, the right side actually graded out higher in the win over Minnesota. Riley said one of the main goals was for the o-line to play its best football of the season over the next three games, and so far that's right on track.
***Riley said defensive backs coach Brian Stewart has been a big help this week in breaking down some of the veteran personnel on Maryland's roster. Stewart was the Terrapins' defensive coordinator from 2012-14 before coming to Nebraska.
***Westerkamp has always had one of the best following of family and friends coming to support him both at home and on the road, and with Saturday being his final home game, he's been searching harder than ever to find enough tickets for his own personal cheering section.
"It's amazing that they've been able to make it to every single game," Westerkamp said. "Even when I redshirted, they came to every single game, and just the amount of family that I have come to each game, it's crazy.
"I know it's going to be an emotional day Saturday and I'll probably have about 2,000 family members there, but it's going to be emotional and I'm really looking forward to it."