Thursday notebook: Huskers hit ground running on Day 1
As Nebraska neared the end of its opening practice of fall camp on Thursday inside the Hawks Championship Center, head coach Mike Riley and executive director of player personnel Billy Devaney agreed something felt different about this debut session.
At one point, Devaney - who boasts more than 30 years of NFL experience - turned to Riley and said, "This doesn't look like a first day of practice to me."
It certainly isn't uncommon for a team to make a big jump from the first year under a new coaching staff to the second, but Riley said the Huskers hit the ground running as well as he could have hoped in their fall camp kickoff.
"Really from a year ago the comfort level at the staring point is so much different," Riley said. "It's pretty neat to see. We've still got to grow, we've still got to find the right depth charts, we've got to get all the parts together on special teams. There's a lot of stuff we have to do, but that part of it was pretty good."

Nebraska only practiced for about 90 minutes in helmets, jerseys and shorts, but Riley was happy with overall energy his team showed throughout the session.
He was especially pleased given the unfortunate circumstances surrounding the team this year following the death of senior punter Sam Foltz less than two weeks earlier.
While it was impossible for him to know how each of his players handled their first practice without their teammate and friend, Riley said they didn't let it affect their performance on the field.
"Last night's team meeting, all day today, there's been great enthusiasm for coming out here and working," Riley said. "I think it's all been good. I'm not going to try to say it's what everybody needed. I don't know that. But I do know the enthusiasm has been good and they did a nice job today."
- Robin Washut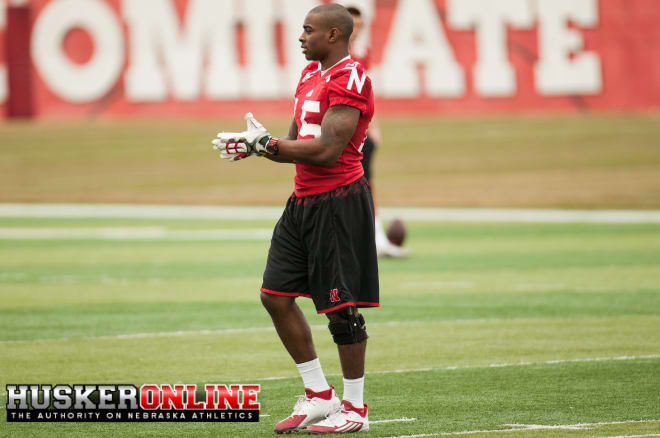 Pierson-El still not 'comfortable', but working his way back
As the 2016 Nebraska football team made its official debut, all eyes were on the return of No. 15.
For the first time since suffering a freak knee injury at Purdue last Halloween, junior wide receiver/punt returner De'Mornay Pierson-El was back in action on Thursday.
"It was a stress reliever, honestly," Pierson-El said. "It felt good to be back out here. I've got to knock some rust off, though."
Pierson-El said he wasn't officially cleared by team doctors to practice until Tuesday.
Now more than nine months removed from the injury, Pierson-El said he still felt a bit uncomfortable going full speed in and out of his breaks, and admitted he was definitely rusty with his route running.
The key going forward will be rebuilding the confidence in his knee back to where he can run like the player who took the Big Ten by storm as a true freshman in 2014 and then was off to a great start last season prior to being sidelined.
"I feel off still, but (the trainers) and all the coaches said I look fine, I'm running fine, and everything," Pierson-El said. "But, my comfort level is not there. I'm not doing things how I want to, as quick as I want to, and that just comes with repetition.
"So the more reps I get, taking it as easy as I can, that'll bring that back. I'm just not as comfortable as where I want to be right now."
- Robin Washut
Lighter camp load 
The biggest difference with Nebraska's Fall Camp in 2016 is the lighter overall practice load from a year ago. Last year NU had more 12-hour type days with the players where the team arrived in the morning and would leave later at night.

This year it's a much lighter workload where they are being smarter with how they use their players both physically and mentally to not overwork guys.
"We had meetings at 11 and probably get home at 7," Weber said. "Tomorrow we'll met at 11 and also be here until about 7."
Practice itself was also shorter, as NU went for under two hours and did no form of team or seven-on-seven work. In fact, the Huskers won't go team until after the first four days. Nebraska won't be in full pads until their fifth practice on Tuesday.
Riley said they are also being smarter with how hard they work guys in camp that have had injury issues in the past like linebackers Michael Rose-Ivey and Josh Banderas.
"We talked a lot about the entry today," Riley said. "Not overdoing it. That's why the practice was really about an hour and a half. Those people like (Banderas) and (Rose-Ivey) we were very careful about them having excessive special teams work today. We want to make another move. We want to find a better way about preventing those soft tissues from springing up on Day 3 of camp, which is usually the day."
-Sean Callahan
Quick hits
***Riley said none of the players who were coming back off injuries - especially Pierson-El and defensive tackle Mick Stoltenberg - showed any noticeable signs of being hindered during Thursday's practice. However, he said tomorrow would be a much better indicator of that after the players have to come back for a second day of practice.
***Riley said Nebraska won't go full pads practice until the fifth practice of fall camp. Until then, the Huskers will focus on trying to get the bulk of their "installation inventory" in place on both sides of the ball.
***The Huskers ran two separate huddles on offense, with Tommy Armstrong and Ryker Fyfe working one group and AJ Bush, Patrick O'Brien and Tanner Lee working the other.
***Two notable omissions on Nebraska's 105-man roster were offensive lineman Dwayne Johnson and tight end Jack Stoll. Riley noted that Stoll would not start off on the 105 as he recovers from a wrist injury, while this marks the second straight year Johnson did not make the 105 to open camp.
***A couple of jersey number notes: Kieron Williams changed his number from 27 to 26, presumably out of respect for Foltz. Also, Alex Davis has switched from 32 to 22.