Three & Out: In-State offer decisions and a busy spring of visitors
This is HuskerOnline.com's feature in which Sean Callahan and Bryan Munson give their weekly takes on topical issues concerning Nebraska football, baseball, and recruiting.
Today in our next installment of "Three and Out," we talk about another in-state offer decision Nebraska has to make, and the busy slate of visitors the Huskers have hosted and will host this spring.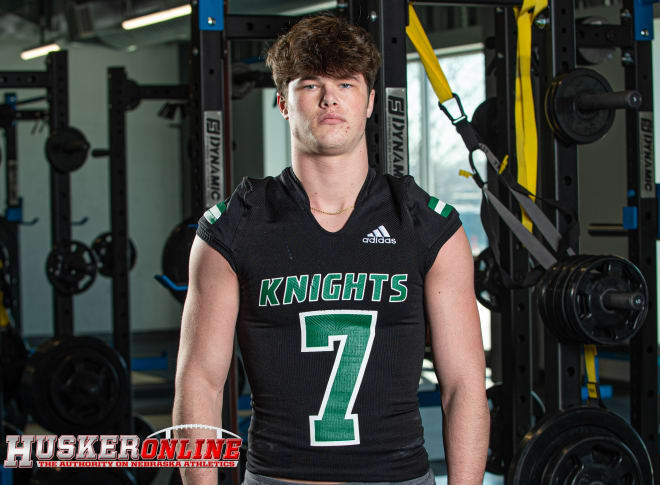 Pressure to make another in-state offer?
Let the debate begin.
The in-state talent for Nebraska is very good this year. There are some national recruits and plenty of top regional guys. The 2023 Rivals.com state rankings for Nebraska only go five deep, however.
The Huskers have offered all the recruits on the top five list and have landed three from that group. In total, the Huskers have offered seven, in-state players and very well could be offer an eighth in the future.
Kade McIntyre from Fremont (Neb.) Archbishop Bergan is making a strong argument. Some will say that McIntyre has been making an argument already and others might say that others are making the argument for him.
In most years, having this much in-state talent would be considered a good thing. So, what is keeping this from being a good thing?
There are many answers here. Some would say because the Huskers are in on better talent from around the country. The other side of that would then contend that an out-of-state would likely transfer out eventually.
The sad part is that I get both of those arguments but there is still one thing standing in the way for McIntyre when it comes to picking up an offer: the overall size of the class.
The Huskers currently have five commitments in the class of 2023 and the estimate is that the class size will likely hit 15 which happened to be the estimates for the class last year.
The good news? The class last year did get to a total of 18 so maybe there is some built-in conservativeness in the estimate. That could favor McIntyre. But what I think really favors McIntyre is his ability.
There was a great question in chat today asking to break down McIntyre. Compare him to Gage Stegner, Jake Appleget and others. Not sure the comparison matters because those guys were last year, and I think that it's important to look at your needs this year.
So where could McIntyre play? In my opinion, he is an outside linebacker all the way. I think that he is very much an EDGE guy and that does create some conflict because the Huskers have an initial assessment of Maverick Noonan to play EDGE as well.
Now, Noonan and McIntyre to me are different players. If I were comparing the two, I would say that Noonan was a little more of a 4-3 DE by comparison to McIntyre. But when I look at Stegner and Appleget last year or even Sam Sledge and Gunnar Gottula this year on the offensive line you have multiple in-state guys the same year that complement each other very well.
And it's not the being a complement to Noonan as to why I think McIntyre could get an offer. I certainly don't think that Nebraska would be bending to the pressure of an Iowa offer either. McIntyre gets an offer because he is capable and can play at this level and he will bust his butt to do it.
- Bryan Munson
Huskers start May off with a big visitor weekend 
This weekend will be the start of arguably the busiest May and June of official visitors Nebraska has ever had.
On Saturday, the Huskers will host three of the top high school players from Kansas and Missouri when offensive lineman Cayden Green, wide receiver Jaidyn Doss and running back Dylan Edwards (unofficial) make their way to Lincoln. They will also host St. Louis native and Texas transfer portal wide receiver Marcus Washington.
Two people jump out to me in the big picture of this weekend - Bill Busch and QB Casey Thompson.
Busch has recruited the states of Kansas and Missouri relentlessly since January. His effort has played a big factor in getting Green, Doss and Edwards on campus for visits. Before Busch, NU's presence in KC and Wichita had been very inconsistent. NU has not landed a recruit from the state of Missouri since 2017, and before the addition of offensive linemen Turner Corcoran and Alex Conn in 2020, they had not signed a high school player in Kansas since Christian Gaylord in 2015.
When you take the Kansas JUCOs out of the picture, it really is remarkable to look at the drought Nebraska has had in Kansas City, St. Louis, Wichita, etc.
Meanwhile, Thompson figures to be big this weekend too, as Washington was his former teammate in Austin. What impact will that have on his decision?

This weekend could go a long way in changing things, as even getting Washington here from St. Louis via Texas would open eyes.
The only thing you worry about is for Green and Doss Nebraska will be their first official visit, so it will be a very long road until they make their decisions. That's why it will be important to leave a strong impression this weekend.
- Sean Callahan
Keep them coming back
Some might doubt the value for Nebraska and the visits with BJ Canady and Andrew Sprague. Sprague and Canady play for the same AAU basketball team and were in Lincoln for a tournament this past weekend. Following the tournament, the plan was for both to hit Nebraska before heading out of town.
Both Canady and Sprague are 2024 recruits. Canady was in town earlier this year when he got his offer. It was Sprague's first chance to get on campus at Nebraska and look around and meet the coaches as well.
Sprague was able to enter the football offices and take a tour while Canady was laid up with an injury that he suffered earlier at the tournament. Canady still got to experience Nebraska.
Canady and his father hung out in the Nebraska parking lot and met with coach Bill Busch out in the parking lot about a variety of different topics.
While both visits were very different, they were both valuable. I remember catching up with Ted Gilmore and Shawn Watson, who both worked with Vince Guinta under Bill Callahan. Both of those coaches said their goal was to get recruits on campus as much as possible.
There were open invitations for the recruits to stop by when driving through or tell the coaches you are in town when you are there for another sporting event and then hopefully get the recruits obviously back on campus for some sort of a football recruiting event.
The Husker staff knew then what the staff seems to know now. Nebraska is tough to beat when a recruit is in person on campus. There are too many things to be in awe of when it comes to the facilities and the authenticity is continually called out by all the recruits that visit Nebraska.
The open invite is another no-pressure sales tactic that works out so well for Nebraska. That open invitation keeps families thinking about stopping by before leaving town or swinging a little bit out of their way if they are out on the road. Ultimately it keeps the recruits off other schools' campuses as well.
But for Sprague and Canady the real value was hearing that they are both looking at getting back to Lincoln for another visit soon. They are both incredibly valuable to Nebraska in the class of 2024 because of their ability and where they are from. Just keep them coming back each and every time they can.
- Bryan Munson