Thomas Grayson commit: What does it mean for Nebraska?
Nebraska picked up a nice weapon for its offense on Monday as Thomas Grayson made things official for the Huskers.
The 5-foot-11, 190-pound running back out of Tulsa (Okla.) Booker T. Washington picked NU over offers from Tennessee, Texas Tech, Syracuse, and Tulsa among others. He becomes the fourth known commit for Nebraska's 2019 recruiting class.
Here are some quick takes on what Grayson's commitment means for Nebraska.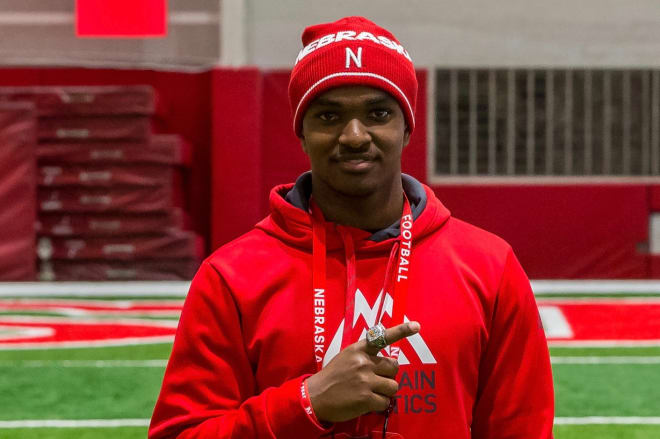 1. Nebraska has hosted dozens of offered recruits over the past few weeks and Grayson was the first of them to jump on board with what Scott Frost and his staff are doing in Lincoln. It's always a good sign when a visit leads to a commitment shortly after it takes place.
2. The Huskers continue to make a strong push for and have success with recruits within the 500-mile radius for 2019. Grayson is the fourth commit of the class and the fourth commit to reside within the infamous 500-mile radius.
3. After not recruiting the state of Oklahoma at all under Bo Pelini, the Huskers have shown the ability to pull some players out of the Sooner state over the past few years. Grayson happens to come from a tremendous program that produces Division I players on a year basis so that could be a nice connection to have for years to come.
4. The fit between Grayson and Frost's offense appears to be excellent. Grayson brings a ton of speed to the table as he is a legitimate 10.7 100-meter guy on the track and shows his home run ability on his highlight film. Frost wants playmakers in his offense and Grayson is just that.
5. Grayson shows the ability to run between the tackles in addition to having the speed to get the edge. He's a powerful runner that can break tackles and also has a nice stiff arm. In addition to his speed and power, Grayson also shows nice vision and the ability to put his foot in the ground and get up the field. Once he sees a hole and gets through the line he's a problem for defenses to handle.
6. Don't be fooled by Grayson's current two-star ranking. The state champion running back and track star is bound to rise up the rankings over the coming months. Also, with Grayson now in the boat, that likely only leaves one more spot left for a running back in NU's 2019 class.
7. Grayson is a winner in everything that he does. He helped lead his team to a state championship last season and is regarded as a good student in the classroom, a leader on the football field, and is also successful on the track.
Stat Check: As a junior Grayson led his team to a 12-1 record winning a state title. He had 174 carries for 1,332 yards (7.7 ypc) and 17 touchdowns.
8. 2019 Nebraska commit breakdown
4/9/2018 - Thomas Grayson - RB - 5-foot-11, 190 - Tulsa, OK - 2 Stars
3/5/2018 - Ethan Piper - DE - 6-foot-4, 280 - Norfolk, Neb. - 3 Stars
11/24/2017 - Garrett Snodgrass - ATH - 6-foot-3, 220 - York, Neb. - 3 Stars
6/24/2017 - Garrett Nelson - OLB - 6-foot-3, 236 - Scottsbluff, Neb. - 3 Stars
9. Commits by position
0 - Quarterback
1 - Running back
0 - Wide receiver
0 - Tight end
0 - Offensive linemen
1 - Defensive end
1 - Outside linebacker
0 - Inside linebacker
0 - Safety
0 - Cornerback
1 - Athlete
0 - Special teams
10. Where are they from?
3 - Nebraska
1 - Oklahoma