The Weekly Rundown: The start of a busy stretch of recruiting visitors
This was the start of a jam-packed stretch where Nebraska will host recruiting visitors nearly every weekend until the end of June. We hit on that and more as we start your Monday off with the Weekly Rundown Column.
Sure bets 
You have to feel pretty good about these things right now:
Secondary overhaul: The commitment of Alabama's Kaine Williams on Sunday was the eighth scholarship defensive back the Huskers have added to their 2022 roster.
There are overhauls, and then there are overhauls. This group, put together by Travis Fisher and Erik Chinander, feels like a mulligan for a lot of misses from the state of Florida in previous recruiting classes that are no longer in the program. When you go nearly 0-for-Florida in DB recruiting, you have to make those numbers up over time.
With Williams now on board, NU has 17 scholarship defensive backs heading into the 2022 season. Of those 17, three came from the transfer portal and two were from the junior college ranks.
Mickey Joseph: This may be one of the better assistant coach hires Nebraska has made in quite some time.
This past week alone, Joseph played a key role in getting Williams and locking in an official visit with LSU four-star WR commit Omarion Miller, which HuskerOnline confirmed would be on June 3.
Bill Busch: Right up there with Joseph is the addition of Bill Busch to the full-time staff. Each coach gets about 18 days of spring recruiting on the road, and Busch has maximized his time.
On Sunday, he made sure to get 2024 four-star Kansas City (Mo.) Rockhurst OL prospect Andrew Sprague and 2024 Topeka (Kan.) athlete BJ Canady by the NU offices before they left town. The duo was in Lincoln for a big AAU tournament this weekend. These extra steps matter. Busch gets it.
This upcoming weekend, he'll kick off the 2023 official visit season by hosting two of the Huskers' top prospects in four-star offensive lineman Cayden Green and three-star wide receiver Jaidyn Doss.
Blazing times in Omaha on Thursday: The high school state track meet kicks off in Omaha this week. The four-day event will take place at Omaha Burke from Wednesday to Saturday.
The featured day will be the Class A finals on Thursday. The Class A boys 100-meter dash should produce some really good times.
Surprises
These were my surprises of the week:
The progress of Nebraska's football facility: I was able to check out the new Nebraska football facility this week driving through campus on Thursday.
I was surprised just to see how much has been done over the last couple of weeks. The overall look of the structure is really starting to come together. Things still remain on schedule for a summer of 2023 opening.
June recruiting: I knew the month of June would be very busy with recruiting visitors, but I had no idea we would see potentially 30 or more 2023 officials from May 20 to June 26.
The recruiting model has really changed in the last few years for Nebraska. You can no longer sit on official visits until regular-season home games. The recruiting calendar has sped up so much that nearly all prospects take their official visits in May and June, make decisions by August, and sign in December. Nebraska has done a good job of adjusting to this.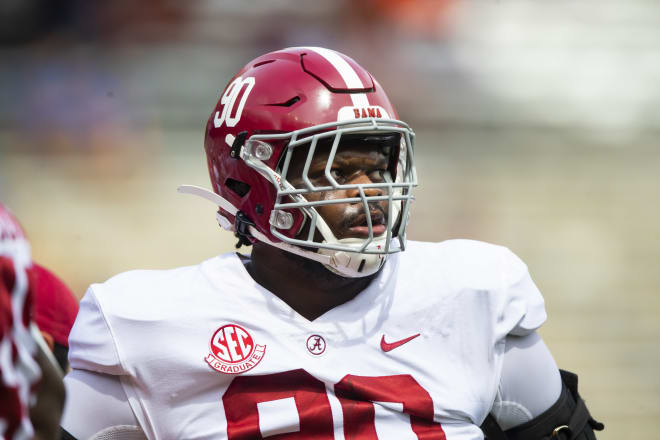 The jury is still out 
Questions still surround these things:
DL Stephon Wynn: Will the talented Alabama defensive lineman join his former teammate Williams in Lincoln? I can tell you things went well this weekend with Stephon Wynn on his official visit, but he appears to remain very much undecided.
The other players in the picture appear to be Georgia Tech and Texas Tech. Don't be surprised if he makes a decision sometime this week.
DL Taylor Lewis: Nebraska joined the offer party for Clarita (Calif.) College of the Canyons defensive lineman Taylor Lewis this past week.
What does that mean? I think a lot depends on what Wynn does first.
The bottom line is several Power Five programs are looking for one final defensive line piece, and Lewis was the hot stock everyone jumped on. NU wisely put their hat in the ring. He will probably only visit Lincoln if the Huskers miss out on Wynn.
Final roster attrition: Today, Nebraska now sits at 86 players on scholarship. There is a good chance they add at least two more players to the 2022 roster.
We still don't know how the rest of the attrition is going to play out right now between grad transfers, medical scholarships, etc.
This has my attention 
Moving forward, this has my attention:
Bellevue West's spring recruiting visitor list: I've been around local Nebraska high school recruiting for over 20 years. I don't ever remember a spring quite like the one Mike Huffman had at Bellevue West.
The Thunderbirds feature two top 2024 prospects in wide receiver Dae'vonn Hall and quarterback Daniel Kaelin. Huffman told me Saturday that Nebraska, Iowa, Iowa State, Kansas, Kansas State, Vanderbilt, Michigan State, Missouri, Minnesota, Oklahoma, Georgia, Northern Illinois, Alabama, Duke, Stanford, Memphis, Rutgers, and Wisconsin all stopped by his building this spring.
Schools like Bellevue West often times get accused of recruiting by other Metro schools, but when you see a list of teams like that visiting, things sell themselves. The Thunderbirds also have one of the top basketball programs in the state that has produced multiple Division I players and a baseball program as well that puts out top D-I talent.
Malachi Coleman: The top prospect in Nebraska announced Saturday he will be taking an official visit to Nebraska on June 3 and one to Michigan on June 24. Oregon is another program expected to get one of his visits.
NU is in for a battle here. The fact they will get his first official visit also makes things tough, as other schools will get a later crack at Coleman.
Jaidyn Doss and Cayden Green: The Kansas City duo will kick off the official visit season in Lincoln this weekend. Green is the top overall player in the entire 500-miles radius and Doss is regarded as one of the top receivers on the board right now.
This will be a very big weekend for Busch, offensive line coach Donovan Raiola, and wide receiver coach Mickey Joseph.
QB commit William Watson III: Nebraska 2023 quarterback commit William Watson III was named the quarterback MVP this weekend at the Rivals Camp Series event in Philadelphia.
Watson remains such an unknown in these parts, but it was good to see him take home some hardware this weekend.
With Mark Whipple choosing Watson over a quarterback from Gretna (Zane Flores), Des Moines (JJ Kohl), Pierre, S.D. (Lincoln Kienholz) and Wichita (Avery Johnson), there are going to be a lot of critics watching this one closely.
Sean Callahan can be reached at sean@huskeronline.com and he can be heard each day at 6:45 am and 5:05 pm on Big Red Radio 1110 KFAB in Omaha during the football season. He can also be seen on KETV Channel 7 in Omaha during the fall and each week he appears on NET's Big Red Wrap-Tuesday's at 7 pm.