The time was right for Stille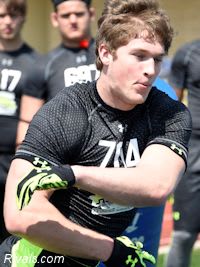 "We got up there a little after it started because I was taking the ACT this morning in Gretna," Stille said. "We got up there around 1 or 1:30 pm. We went through most of the tour and the general stuff like the Life Skills and then I talked to the position coaches. I talked to Coach (Hank) Hughes for about 45 minutes or so and then we went to dinner. After dinner we went down and talked to Coach (Mike) Riley and I told him I was committing then. Most of the coaches were sitting outside of his office. I went out and told all of them and took pictures and got lots of handshakes and hugs."
Stille was accompanied in Lincoln with father Kevin and mother Karen, along with his two older brothers Keith and Dennis.
"Family is important to me and it was good to have them with me," Stille said. "It's definitely a decision that will affect all of us."
"Friday was my last camp I was going to attend," Stille said. "I basically narrowed it down to Iowa and Nebraska. I went to Iowa's camp last Sunday and Nebraska's camp Friday. I had kind of accessed all of my options, I got to interact with Coach Hughes last night and be around the culture and the coaches and I felt like this was the right decision for me and my family."
Stille has the ability to play both defensive end and tight end at the next level, but Nebraska told him right now they'll keep him on defense.
"(Defensive end) is where I worked out last night," Stille said. "I was going to do a little tight end, but we got a little short on time and I wasn't able to do one-on-ones. Nebraska is fine with me at defensive end and that's where I'd prefer to play. Coach Riley is fine with that and I'm just looking forward to starting out there on that side of the ball."
Going forward Stille said it will be nice to focus on his senior season and not worry about recruiting. He'll be attending a team camp with Ashland Greenwood at Hastings College later this month to continue preparation for this upcoming season.
The Blue Jays have made the Class C-1 state title game each of the last two seasons falling short to Boone Central (2014) and Cozad (2013). Stille is hoping 2015 will be the year Ashland Greenwood can turn the corner.
"It's been great," Stille said of the last month. "I really didn't have this on my radar nor did I see this in the future back then. I didn't even know this was a reality that it could happen. After one offer came they kind of snow balled and it all happened pretty fast.
"There was not a whole lot of pressure there. It's nice to have it out of the way and to be able to know where I'm going and be settled on it and not have to worry about it anymore. I still have to a put a lot of work in for my senior season and my team still."

[rl]