The Rally: No. 10 Nebraska Volleyball battle Illinois in Regional Semifinal
No. 10 Nebraska Volleyball is heating up, on the court and literally, as they head to Austin, Texas for the Regional Semifinals, where it is projected to be 80 degrees.
The Huskers advanced to the Sweet 16 as they swept Campbell and Florida State in Lincoln. Now, they take on Illinois for the third time this season. The match is at Gregory Gym at 8:30 p.m. on ESPNU.
With a win, Nebraska will advance to the Regional Final on Saturday at 9:00 p.m. against the winner of No. 2 Texas and No. 15 Washington, which is at 6:30 p.m. on ESPNU.
This edition of The Rally will focus on Illinois and if Nebraska wins, HuskerOnline will have a full breakdown of the next match.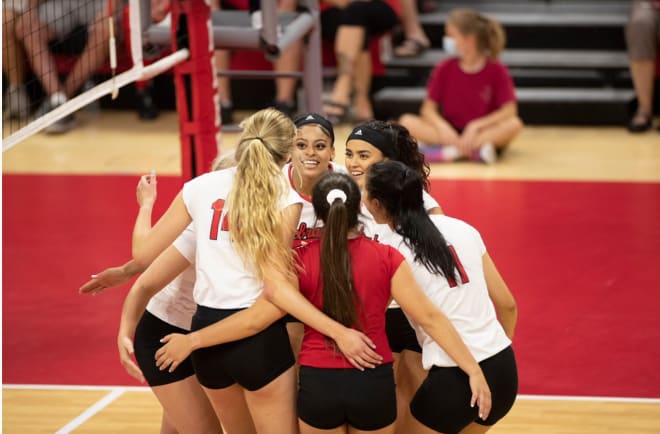 Scouting the opponent:
Illinois (21-11, 12-8):
Illinois's most impressive Big Ten wins were against then-No. 13 Penn State and then-No. 4 Purdue in five sets. As for against Nebraska, they were swept by them twice this season.
In the first round of the NCAA tournament, Illinois took down West Virginia 3-1. The Fighting Illini hit .306 against the Mountaineers including two matches with over a .385 hitting percentage. Raina Terry had 18 kills and hit .317 and Megan Cooney had 15 kills with a .375 clip.
In the round of 32 teams, Illinois shocked No. 7 Kentucky, beating them in four sets (25-22, 20-25, 25-10, 25-21). Kentucky, the 2020 National Champions, hit .208 compared to Illinois's .331. The Fighting Illini had three hitting errors combined in the first and third sets.
Players to watch:
Kennedy Collins, Illinois:
Collins led the Illini against Nebraska in both of their matchups this season. The 6-foot-3 middle blocker had seven kills, hit .385 and had four blocks on Oct. 16. She also had seven kills on Nov. 3 and added four blocks and a .312 hitting percentage.
Raina Terry, Illinois:
In her second match against Nebraska, Terry had 12 kills with two errors and hit .250. However, in the first one, Terry hit -.024 with seven kills and eight errors.
The 6-foot-3 outside hitter averaged 4.22 points per set and 0.44 service aces per set. Terry had 27 kills and eight digs against Kentucky.
Taylor Kuper, Illinois:
Libero Taylor Kuper had 23 digs against Kentucky and 26 digs versus West Virginia. The 5-foot-8 senior ranks sixth in the Big Ten with 0.39 service aces per set and third with 4.62 digs per set.
Versus the Huskers, Kuper had nine digs and one assist in October and a better performance in November as she contributed 18 digs, two assists and one service ace.
Megan Cooney, Illinois:
Megan Cooney is on the right pin and average 3.61 points per set with 376 kills on the season. She was a 2021 First-Team All-Big Ten selection and an all-regional selection that qualifies her to be named an All-American on Wednesday, Dec. 15.
Against Nebraska, the 6-foot-4 outside hitter had six kills, hit .188 and had one ace in the first meeting. She then had nine kills, a .148 clip and 11 digs the second time around.
Stat Attack:
3:
Illinois, one of the best serving teams in the country, had three aces against Nebraska in a total of six sets this season.
The Fighting Illini led the league with 1.85 service aces per set. Illinois is second in the country with 242 total aces. To put that into perspective, Nebraska has 154 aces on the season. Illinois nearly has more than 100 aces than the Huskers, a team that prides itself in serving tough.
Illinois is led by Terry and Kuper, who are ranked second and sixth in the Big Ten in service aces per set. Terry and Kuper also rank 12th and 17th nationally in service aces per set.
In the tournament, Kuper had all three of Illinois's service aces against West Virginia. Three Illinois players had aces against Kentucky, led by setter Diana Brown's three aces.
Nebraska's floor defense has had a lot of success against Illinois but will need to be at their best to control Illinois's serving.
.145:
Against the Huskers, Illinois hit .145 overall in the two matches. The Illini average a .232 clip on the season, hitting much below average.
They are hitting an impressive .319 in the tournament and will for sure give Nebraska their best shot.
Cook said teams in the tournament always play their best, especially when playing against a top program like Nebraska.
The Huskers hit .233 against Illinois, including .267 in the first matchup. The Illini's opponents average a .195 hitting percentage.
Nebraska out-dug Illinois in both matches putting up 52 and 66 digs, each in three sets. Overall, NU had 25 more digs than the Illini. Getting lots of balls up will be a key to victory for the Huskers as well as passing well.
Storylines:
Chris Tamas, former Nebraska associate coach:
Illinois Head Coach Chris Tamas was an associate head coach to Cook at Nebraska. Tamas sat on the bench from 2015 to 2017 and helped the Huskers to two national championships in 2015 and 2017.
Tamas left Nebraska to become Illinois's head coach after the 2017 season and is in his fifth season with the Fighting Illini with a record of 100-51. He has led Illinois to three NCAA tournament appearances.
Several other head coaches in the 2021 NCAA tournament coached under Cook at one point. Others include Louisville's Dani Busboom Kelly, Kentucky's Craig Skinner and Ole Miss's Kayla Banwarth.
Cook is 15-2 against his former assistants, including a loss to Louisville earlier this season and a loss to Tamas and Illinois.
6 of the 16 remaining teams are in the Big Ten:
Six of the remaining 16 teams in the NCAA tournament are in the Big Ten Conference: No. 10 Nebraska, Illinois, No. 6 Purdue, No. 5 Wisconsin, No. 9 Ohio State and No. 11 Minnesota. Eight Big Ten teams made it to the tournament.
Cook has said over and over how competitive the Big Ten is and those statements have continued to become more true as the season goes on. It is possible that several Big Ten teams will play in the Elite Eight and the Final Four.
Playing in the best volleyball conference in the country helped prepare Nebraska for the tough competition they are about to face. Especially since their Sweet 16 opponent is a team they've planned twice before.
Add this with their tough preseason schedule, which included four teams that are in the postseason in Creighton, Utah, Stanford and Louisville, the Huskers have plenty of experience taking on good teams and playing in pressure situations.
Hard to beat a team three times:
Beating a team three times in volleyball is hard. Typically, tendencies of teams are picked up by the third time around and both teams have a better understanding of each other. As time goes on, teams typically get better and better, making the matchup more interesting.
Nebraska is hoping to find a way to take down Illinois for the third time this season.
Against the Fighting Illini, Cook has an 18-3 record and Nebraska has a 31-8-1 overall record. NU has defeated Illinois in six consecutive matches starting in 2018.
Several Huskers players have said they are aware of how hard it is to beat a team three times in a single season. They also have talked about Illinois's team doing different things than they have seen from them this season.
Middle blocker Lauren Stivrins said Nebraska is approaching Illinois as if they are a team they haven't seen before.
All-Regional team selections:
Madi Kubik, Nicklin Hames, Kayla Caffey and Lexi Rodriguez were named on the AVCA North All-Regional Team. All four of these Huskers are eligible to be named on the All-America teams which will be announced on Wednesday, Dec. 15.
Rodriguez was also named the regional's Freshman of the Year. These aren't the liberos first major award of the season. She was also named a First-Team All-Big Ten selection and on the All-Freshman team for the conference. Rodriguez became the second Husker and freshman to receive the Big Ten Defensive Player of the Year award.
Kubik was named on the All-Big Ten First-Team with Lauren Stivrins and Hames was a second-team selection. Caffey was Nebraska's Big Ten Sportsmanship Award honoree.