The final word: NU must find itself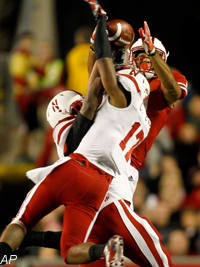 MADISON, Wis. - Saturday's 48-17 loss at Wisconsin was no doubt a setback for the Nebraska football team, but maybe the most disappointing thing is NU continues to struggle to find an identity or a "mojo" through five games.
Even with the return of the "big three," we still haven't seen the type of defense people have become accustomed to watching the last few seasons under
Bo Pelini
.
I thought at times early in Saturday night's game the Huskers showed flashes of what they could be on defense, but once the Badgers got momentum they kept NU off-balance and
Russell Wilson
's mobility was too much to handle.
The good thing from here is Nebraska will probably only see one other elite offense the rest of the season, and that won't be until Nov. 19 at Michigan, assuming
Denard Robinson
can keep his body healthy from now until then.
I said going into the season all along that Nebraska has to at least get a split between the Ohio State and Wisconsin games.
I don't think anybody ever expected them to win both, and next week's game with the Buckeyes in Lincoln definitely looks winnable even with the return of OSU's suspended players.
In a 10-7 loss to Michigan State, Ohio State had just 178 total yards of offense, they averaged 0.9 yards per rush and allowed nine quarterback sacks against an average Spartan defense.
It's gut-check time for the seniors on Nebraska's roster. They have to decide this week what direction they want to take this season.
The Huskers are still very much in the divisional race, but what's concerning is the problems we saw in Week 1 are still showing up in Week 5.
"I just think something had to wake us up," senior offensive lineman
Jermarcus Hardrick
said. "I think we know what we need to do. We've got to be hungry, we've got to compete. We've got to get some players on the field who are hungry.
"I'm not pointing any fingers, but everyone has to get better. We've got a long season ahead, and we can't let one game just kill us. We can't divide as a team."
Turner needs to be more involved
It's become clear that freshman wide receiver
Jamal Turner
has the makings to be a special player at Nebraska.
Tuner led NU on Saturday night at Wisconsin with five catches for 84 yards and I thought he was one of the lone bright spots on offense.
Through five games Turner leads the Huskers in both receptions (13) and receiving yardage (223). Turner is particularly good on quick screen passes along the sideline once he gets the ball in his hands in space.
The secondary shuffle continues
Last week redshirt freshman
Corey Cooper
started at cornerback against Wyoming. On Saturday at Wisconsin Cooper was nowhere to be seen.
Two weeks before that redshirt freshman
Josh Mitchell
started against Washington, but the last two weeks he didn't even travel to Laramie or Madison.
Junior
Courtney Osborne
, who started the final seven games of 2010 and the season opener against Chattanooga finally saw the field on Saturday for the first time in several weeks.
The secondary shuffle continues for
Corey Raymond
and you don't get the sense he is anywhere close to finding the combination he wants on the field.
This defense badly misses the steady hand players like Eric Hagg, DeJon Gomes and Prince Amukamara gave them a year ago.
Madison a true college atmosphere
I've been to every Husker road football game since 1999, and I can honestly say the game day atmosphere in Madison is the best I've ever been a part of.
As you walk to the stadium before the game, the charm and character of what makes Madison great is everywhere you look.
It almost has the feel you got walking around South Omaha during the College World Series at Rosenblatt Stadium. There are old houses tucked away around the stadium full of people enjoying the atmosphere before kickoff. There are countless stadium bars with giant outdoor beer gardens full of people everywhere you look lined up and down as you make your way toward Camp Randall.
Once you get inside Camp Randall, it doesn't have that corporate feel. The Badger student section dominates the stadium, which is what makes a great college atmosphere.
Playing a game at Camp Randall was a perfect way to get Nebraska fans accustomed to what Big Ten football is all about. It's too bad the Huskers couldn't have played better on the field.
Sean Callahan can be reached at sean@huskeronline.com and he can be heard each day at 6:50 am and 4:50 pm on Big Red Radio 1110 KFAB in Omaha during the football season. He can also be seen on KETV Channel 7 TV in Omaha during the fall and each week he appears on NET's Big Red Wrap Tuesday's at 7 pm.