The final take: The little things continue to hold Nebraska back
IOWA CITY, Iowa - It's gotten to the point where you kind of know what to expect from Nebraska in 2020.
They are going to show physical improvements on most Saturdays. You are going to see flashes from young players. The defense may force a key turnover or two. However, at the end of the day, the final result has still been the same - another emotionally draining defeat.
There were a lot of things to like about the way the Huskers played against Iowa on Friday, but once again two or three small things continue to be the difference.
On Friday, it was a holding call that took away points for the Big Red, a muffed punt by Cam Taylor-Britt and a missed protection that forced quarterback Adrian Martinez to fumble as the Huskers were driving to win the game. My guess is most Husker fans are probably tired of hearing "things are close." They want tangible results in the win/loss column.
"That's a good team we played. We had chances to win," Nebraska head coach Scott Frost said following his team's 26-20 loss on Friday. "We've got to button things up and do the little things right all the time so the two or three things that cost us that game don't happen.
"You can't do those things against the good teams in our league. The good teams in our league are buttoned up like that. I keep saying we've got a lot of talent in this program right now. We went toe-to-toe with those guys. We went toe-to-toe with Northwestern. We are just doing the little stuff that gets us beat. That's a function of having young players, that we need time with them to get them buttoned up, but I was proud of the team today. Sooner or later 'would've, could've, should've' needs to turn into wins, but I don't doubt it for a second."
Friday it was a 6 point loss to No. 23 Iowa. A few weeks ago it was an 8 point loss at now-No. 8 Northwestern.
Frost is right. Nebraska is going toe-to-toe with top 25 ranked teams in this league, but until those little things get cleaned up, it feels like they are stuck in neutral.
There is a lack of trust when you watch Nebraska on Saturdays right now. I can just hear Husker fans screaming through my computer with sarcasm and cynical remarks, even when the Big Red does something right. Fans have lost trust, and until wins start happening it's going to continue to be like that, even if the Big Red show improvements.
"We are a heck of a lot closer than we were," Frost said. "That's why I told the guys to walk out of here with their heads high. I told you I was embarrassed to coach the team last week because we didn't play like a team that I want to coach. I don't think our record is indicative of where we are right now, and the improvements we made. Just sooner or later we have to be buttoned up and detailed enough to make sure these close games go our way."
More than likely NU will have two more tough games remaining if not three depending on what the Big Ten does with its mysterious Week 9.
With a trip to Purdue next week and a Dec. 12 home finale in Lincoln against Minnesota, there is not much time left to turn the tide in 2020.
Both Purdue and Minnesota are games the Huskers can win, but the question is how motivated is this team to play December Big Ten football when you are out of the championship race?
"I speak for the guys and I speak for myself," senior cornerback DiCaprio Bootle said. "I'm not drained. I'm fired up and ready to go. This game hurt, make no mistake it hurts. You want to win these games, especially against teams like Iowa. With so much at stake being a border war. I'm fired up though and ready to get the next one."
Now on to the breakdown...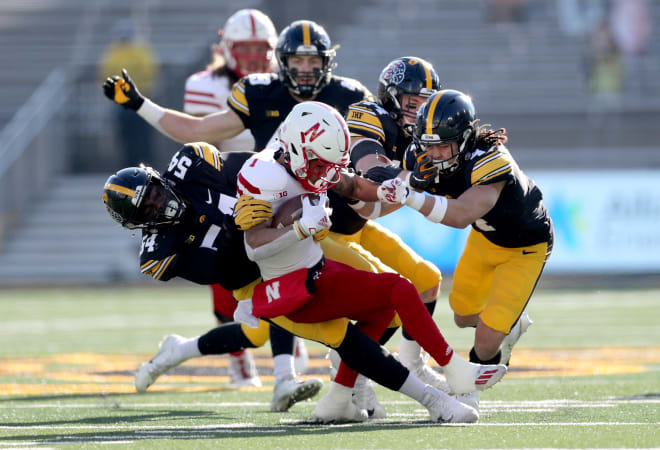 WHAT I SAW ON SATURDAY 
***Nebraska came into the game with a rotational plan at quarterback. Adrian Martinez got the start, but they rotated Luke McCaffrey in for some change up series. I get the impression this is what it will look like the rest of the season for NU.
***With that said, I thought Martinez played well on Friday. He made plays and gave NU a chance. The holding penalty and the protection breakdown that allowed the fumble on the final drive were obviously the difference.
***During Friday's game, it became public that freshman defensive back Ronald Delancy entered his name in the transfer portal. He's now the fourth Florida three-star recruit from Nebraska's 2020 recruiting class that has entered his name in the portal. Something is not right there and I think NU needs to examine their entire Florida recruiting approach going forward. We've never seen a trend like this with players from one specific area.
***In all, Nebraska center Cameron Jurgens had five bad snaps against Iowa on Friday, including two that went down for 23 yards of lost yardage. Frost said after the game Iowa was clapping their hands to throw off Jurgens, and in the second half, they stopped doing it after the officials said something. Kirk Ferentz was asked about it as well and took it as an opportunity to throw shade at the Big Red. Frost sat Jurgens for a few series as well on Friday.
****Speaking of throwing shade, I can't remember a kicker talking more smack than Iowa's Keith Duncan. I get it, he drilled a game-winner last year and totally trolled the NU sideline afterward. On Friday, he took a shot at Nebraska's players and their mustaches. He's definitely added some juice to this rivalry.
***I thought Bryce Benhart had a rough day on Friday. He completely whiffed on a shovel pass block to Wan'Dale Robinson on the first drive of the game that resulted in a 7-yard loss. He also had a holding call that took away points from Nebraska that was the Huskers' best run of the day.
***Late in the third quarter I'm curious if Frost contemplated calling a timeout to force Duncan to kick his 47-yard field goal into the wind? Duncan has never made a kick longer than 50 yards, and with the wind in his face, it may have forced Ferentz to go for it on fourth down. Instead, the Huskers let the clock run and Duncan got the wind to his back and made the kick that put Iowa up 23-20.
***And yes, this is a rivalry. It's a pretty heated rivalry if we are being honest. You can just tell how Iowa calls the game and the emotion on their sideline. There's something there with Brian Ferentz and Nebraska as well. Brian Ferentz doesn't like NU, and I think any chance he can stick it to the Huskers he will. I'm sure losing a few Iowa recruits recently to Erik Chinander has fueled things more. Also, the nature of each one of these last three games has added to the drama with Iowa winning on the final possession in each one.
THE FINAL GRADE OUT
Rushing offense: C+
If you take away the two bad snaps that lost 23 yards, the Huskers ran the ball for 166 yards on 36 attempts. On the day, the Huskers finished with 163 sack adjusted rush yards and averaged 4.7 a carry with a long run of just 21 yards. They ran the ball as well as anyone has against Iowa but had their best run of the day taken away by a holding penalty.
Passing offense: B-
Adrian Martinez was 18-of-20 for 174 yards and Luke McCaffrey 3-of-5 for 21 yards. NU was efficient throwing the football, and Martinez was patient in the pocket. The final fumble play came on a protection issue upfront.
Rushing defense: B+
In the first half, Nebraska gets an A for the way they slowed Iowa down running the football, but in the second half, the Hawkeyes started to find something with Tyler Goodson, who finished with 111 yards on 30 carries. Still, the Hawkeyes only averaged 3.1 yards per carry (137 yards total) in the final sack-adjusted rushing total. That was a good enough effort to give NU a chance to win this game.
Passing defense: B
I thought Spencer Petras was probably the most limited quarterback Nebraska has faced this season. He finished 18-of-30 for 193 yards. NU also forced him into a turnover and Iowa was just 4-of-14 on third downs. This too was a good enough effort by the Blackshirts to win this game. The Huskers also got their first sack on Iowa since 2016.
Special teams: F
This was probably the area that cost the Huskers the game on Friday. NU muffed a punt that gave Iowa the ball back and they allowed a 31-yard punt return that gave the Hawkeyes points. This ultimately was the difference. Also, the Huskers did not cross the 25-yard line on two attempted kick returns, meanwhile all but one of Iowa's drives started beyond their own 30-yard line, and four of them started beyond their own 40. When you are a team like Nebraska, field position matters, and they gave up far too much of it today.
Sean Callahan can be reached at sean@huskeronline.com and he can be heard each day at 6:45 am and 5:05 pm on Big Red Radio 1110 KFAB in Omaha during the football season. He can also be seen on KETV Channel 7 in Omaha during the fall and each week he appears on NET's Big Red Wrap-Tuesday's at 7 pm.