{{ timeAgo('2021-06-10 05:00:00 -0500') }}
football
Edit
The 3-2-1: Huskers come out swinging on the first two visit weekends
Nebraska came out swinging on the opening weekend of the live June recruiting period. We hit on that and more in this week's 3-2-1 column.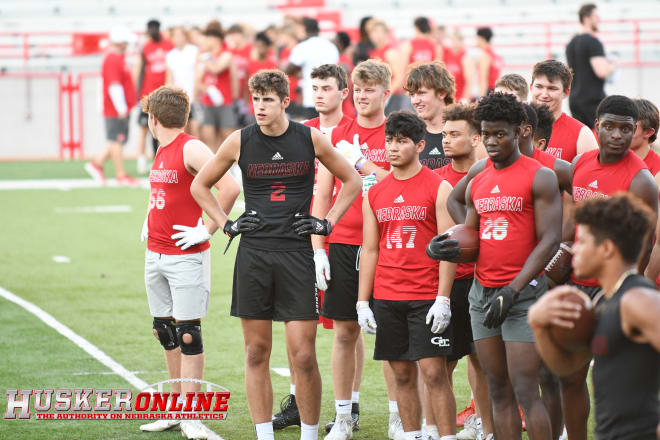 THREE THINGS WE LEARNED THIS WEEK 
1 - 14 official visitors will hit Lincoln on the first two weekends
Private workouts, camps, official visits - it was all there this past weekend for Nebraska. It was a full recruiting plate after having nothing on campus for the last 15 months.
The good news is we get Round 2 of it on Friday, and there will be four straight weeks of this over the month of June.
We saw NU bring in several "priority" offensive targets on Week 1, and we'll see some top defensive targets mixed with more offensive recruits this weekend.
What's going to be interesting is to see how aggressive Nebraska will be to close on some of these commitments over the month of June and into early July.
Spots are going to be at a premium, and the recruits know that. So after we start to see a run of commits happening nationally, it will force the hand of the recruits to probably make a decision before they might prefer.
My guess is by this time next week, we could see a few more commits in the boat for the Huskers.
2 - Luke McCaffrey leaves Louisville already
Luke McCaffrey's time at Louisville is already over. Interestingly, McCaffrey remained enrolled at Nebraska the entire spring semester, so it's unknown how much time he spent on the Cardinals campus in May or June?
What we do know is Louisville led McCaffrey to believe he had a chance to win the starting job at some point but was later told he would not be the starter in 2021.
I think just about anyone could have told you that when he made his decision back in January. The Cardinals return two-year starter Malik Cunningham, while McCaffrey wasn't even a part of spring practice there to openly compete for the job.
It makes you wonder if McCaffrey has any regrets? It also makes you wonder who is giving him advice? I can tell you days before he went in the transfer portal, he led head coach Scott Frost and Mario Verduzco to believe he was coming back in 2021. Then after classes started at NU, he entered the portal.
So where now? When McCaffrey first left Lincoln, everyone was quick to say this was a "Nebraska problem" for why he packed up and left. I think we are learning now it may be a "McCaffrey problem" why he's moved on from two programs in the last few months.
Unfortunately, we are going to see more of this with the transfer portal in years to come.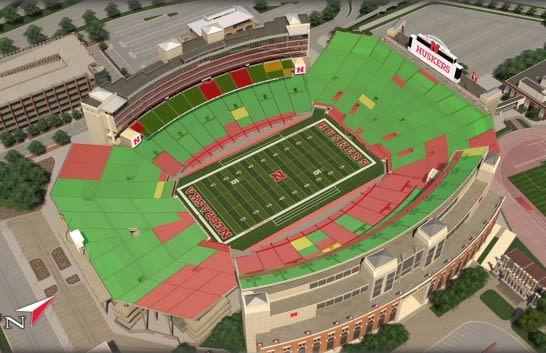 3 - Seat yourself football tickets opened up this week
If Nebraska's sellout streak is going to continue in 2021, a lot of seats need to be purchased between now and Sept. 4.
HuskerOnline was able to get access to some of the "seat yourself" ticket maps, and as you can see there are several areas with multiple tickets that must move between now and Labor Day weekend.
The seat openings are mostly scattered, other than some of the higher row sections in the North and South end zones. Those are the sections to concentrate on for the streak to continue.
It will be interesting to check back in around July 4 to see what this map looks like.
TWO QUESTIONS THIS WEEK 
1 - What should we be watching closely this week at NU's private workouts?
There will be another crop of around 20 prospects in for private workouts on Friday. There will be several from out-of-state, along with some key in-state targets.
Arguably the biggest in-state name that will be in for a private workout on Friday is North Platte linebacker Vince Genatone. The 6-foot-1, 205-pound Genatone doesn't have the size of a Jake Appleget, who was offered last week after his private workout, but he possesses elite intangibles.
Genatone broad jumped 10-7 at Cal this past Sunday and ran a 10.87 electronic time in the 100-meter dash. On top of that, he was 52-3 and won state in wrestling. Will this unique skillset be enough to garner an offer from Frost and defensive coordinator Erik Chinander?
2 - Why didn't Nebraska offer James van den Berg a full-ride starting in August?
The Huskers came out of the gates firing last Friday during private workouts, making a handful of new offers.
The most interesting one was to Iowa Western defensive lineman Jordan van den Berg, who ran 4.75 in the 40-yard dash at over 280 pounds. Iowa and Penn State eventually followed the Huskers with an offer on Saturday and Tuesday. He committed to PSU on Tuesday shortly after getting his offer.
The difference was the Huskers only offered van den Berg a scholarship starting in January, meaning he would have to walk-on in August. Did that automatically knock the Big Red out of the race? It sure seems like it could have played a factor, especially when both the Hawkeyes and Nittany Lions offered to put him on scholarship in August.
ONE PREDICTION: Ohio State's Tyeke Johnson will be a Husker 
Nebraska has brought just one known transfer portal prospect to campus this summer - Ohio State DB Tyreke Johnson.
Today, I predict the former five-star Johnson will be a Husker and on NU's campus sooner rather than later.
In all, the Huskers have lost six defensive backs from the classes of 2018 and 2020 to the portal. Hopefully, he can be a replacement for some of those losses.
Sean Callahan can be reached at sean@huskeronline.com and he can be heard each day at 6:45 am and 5:05 pm on Big Red Radio 1110 KFAB in Omaha during the football season. He can also be seen on KETV Channel 7 in Omaha during the fall and each week he appears on NET's Big Red Wrap-Tuesday's at 7 pm.