The 3-2-1: How will Scott Frost piece together his coaching staff?
We discuss how Nebraska head coach Scott Frost plans to piece together his coaching staff and more in today's 3-2-1 column.
THREE THINGS WE LEARNED THIS WEEK 
1 - Tony Tuioti's departure to Oregon will help puzzle this staff together
Before we knew Tony Tuioti was Oregon-bound, I think all of us wondered how Scott Frost was going to name Bill Busch his special teams coordinator and still have a plan for running backs.
I think now we know, and we also know why there's been a delay on Frost announcing the final move/moves to his coaching staff.
With Tuioti's expected departure to Oregon, things start to puzzle together a lot easier. Mike Dawson could move back to coaching the defensive line, and continue to coach the boundary outside linebacker group as well (four total players on the field). Then defensive coordinator Erik Chinander could continue to coach the field outside linebackers. This paves the way for Busch to be the special teams coordinator and assist on defense where they might need him.
That brings us to the running backs coach. Tuioti's departure could allow Frost to go out and get a running backs coach and still have a plan with special teams and Busch. Before the news on Tuioti, we had no idea how Frost was going to handle the running back spot on his staff. Now, I think we know where all of this is heading.

2 - NU's transfer portal plans at quarterback remain very much in the air
We knew early on Nebraska targeted Fresno State's Jake Haener and LSU's Myles Brennan in the transfer portal at quarterback. Haener chose to stay at Fresno after the unknowns about getting a "two-time transfer" waiver from the NCAA to play right away.
Brennan went back to LSU after head coach Brian Kelly gave him a good indication he could be the starter for the Tigers in 2022.
The next target was USC's Kedon Slovis.. However, just like former Husker quarterback Adrian Martinez, Slovis chose to transfer to a school where his girlfriend is also a member of the soccer team. Martinez will play for KSU where his girlfriend Marisa Weichel plays soccer, while Slovis announced he's transferring to Pitt where his long-time girlfriend Kate McKay plays soccer.
By the way College GameDay, there's a story for you in 2022 - The transfer quarterbacks and their soccer girlfriends.
So where will NU turn to now? Names like Texas's Casey Thompson, Florida State's Chubba Purdy and Texas A&M's Zach Calzada all are on the shortlist now.
Classes start on Jan. 18 at NU, so there remains time. This is obviously not a decision you want to rush, and more names could also enter the portal in the coming days/weeks.
3 - The cold hard facts of the transfer portal
The Rivals Portal Twitter handle has become a must-follow for coaches, media and fans who like to keep up on transfer news.
I keep the @RivalsPortal handle on regular alert, and often times it feels like my phone is buzzing all day. The Rivals Portal handle shared some staggering numbers on the transfer portal at the FBS level.
Since Aug. 1, we have seen 865 portal entries, with just 28 withdrawing their names. Of the 837 remaining players, just 222 have announced new schools. I think these numbers really put into perspective what the portal really is.
Unless you are an elite quarterback, pass rusher, offensive lineman, or 6-2 corner, it's going to be very hard to find what you are looking for. On average, each team in college football has averaged seven portal entries since August.
TWO QUESTIONS THIS WEEK 
1 - Why was Pheldarius Payne allowed to come back after entering the portal?
Since the transfer portal opened for business in October of 2018, we have never seen a scholarship player enter and then come back to NU. We saw walk-on QB Andrew Bunch enter and return to the Huskers, but never a scholarship player.
This past week, outside linebacker Pheldarius Payne entered the portal and come back to NU after taking an official visit to Buffalo. Payne explained why he was allowed to come back after his short stint in the portal.
"When I entered, Coach Dawson and Coach Frost said they didn't want me to leave," Payne said. "So it was never a problem to come back. They wanted me to come back from the jump. Even Coach Dawson said 'if you enter the portal, I'm going to recruit you. I'm going to want you here.'"
So, in summary, not all portal entries are created equally. There are obviously players that enter who schools want to move on, and then there are cases like this where they would like the player to return.
2 - How can Pinnacle Bank Arena improve its service issues?
It's no secret we have seen a drop off in the offered services and amenities at Pinnacle Bank Arena this year for a variety of reasons. There are fewer stands open, vendors and overall works in the arena, despite seeing similar crowd sizes to past years.
Is there a way this can be improved? I had a friend make a great suggestion. Instead of being reliant on the same arena pretzels and hot dogs, why not open the arena concourses up to motivated vendors who want to work and sell their products?
Have the vendors pay a small permit fee and then let them sell products in the arena concourse almost like a Farmers Market? This would go a long way to improve the lack of amenities currently being offered in the arena.
We are also not seeing this type of drop-off at the CHI Center in Omaha. PBA continues to have over half of their concession stands shut down on the main concourse for men's basketball games, despite having nearly 15,000 season ticket holders.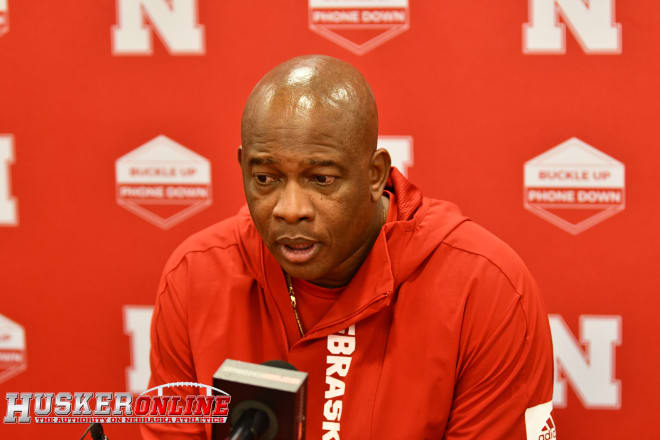 ONE PREDICTION: A major portal addition is still to come 
We know Nebraska is obviously not done yet in the transfer portal for the 2022 season. There are a number of needs still on this roster.
I'll make this prediction right now. I predict you will see what I would categorize as at least one major portal addition to this roster.
Sean Callahan can be reached at sean@huskeronline.com and he can be heard each day at 6:45 am and 5:05 pm on Big Red Radio 1110 KFAB in Omaha during the football season. He can also be seen on KETV Channel 7 in Omaha during the fall and each week he appears on NET's Big Red Wrap-Tuesday's at 7 pm.