Tate Wildeman commit: What does it mean for Nebraska?
Nebraska continued its recruiting momentum this weekend by picking up verbal commitment No. 7 for their class of 2018 on Sunday as Parker (Colo.) Legend defensive end Tate Wildeman announced his intentions to be a Husker.
Here are some quick takes and analysis on what Wildeman's commitment means to the Huskers.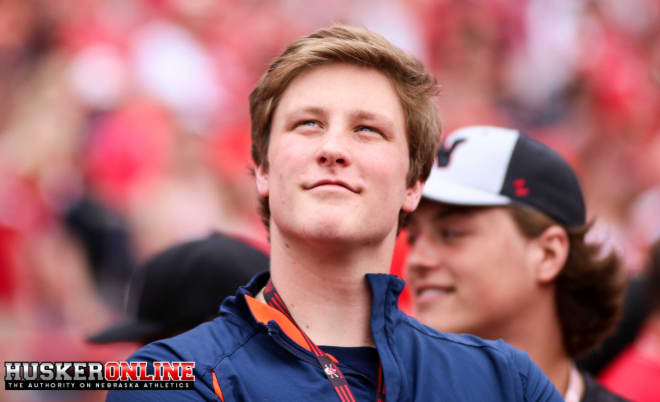 1. One and done. It only took one unofficial visit for Nebraska and Wildeman to realize they were a perfect fit for one another. The Huskers offered the fast-rising defensive end as soon as he arrived on campus this past Friday and Wildeman in turn committed to NU before leaving town following his spring game visit weekend.
2. Nebraska's recruiting efforts in California and Texas have been getting a lot of the headlines latesly, but the 500-mile radius continues to be extremely kind to them this cycle. The addition of Wildeman now means four of seven 2018 commits fall inside the 500-mile radius.
3. The Huskers went on a nice little run of getting some the top players out of the state of Colorado in the 2015 and 2016 classes, but we didn't really see much come together for NU in the state in last year's class. Wildeman changes that for 2018 as he is definitely one of the top two or three players in the state and you can certainly make the case for him being the top prospect.
4. There's a lot to like about Wildeman as a defensive end prospect. At 6-foot-6, 245-pounds, he's got lengthy and has a tremendous frame to work with. He plays with leverage and is strong at the point of attack in addition to being a very good pass rusher that uses multiple moves to get by offensive tackles. On top of that, he's got a motor that always seems to be running full-throttle on the field. All of these things fit the exact mold of what defensive coordinator Bob Diaco and defensive line coach John Parrella are looking for in their 3-4 defensive ends.
5. You've got to like the intangibles Wildeman brings to the table along with the size and athleticism. His father was a second team All-Big Ten defensive tackle team captain at the University of Iowa in his playing days and coached at the collegiate level as Tate was growing up. Just a very smart kid with a great work ethic that comes from football bloodlines.
6. Nebraska seems to have had all sorts of connections to great recruits over the past few classes and Wildeman is another one of those that Mike Riley and his staff have cashed in on. Defensive coordinator Bob Diaco was teammates with Wildeman's father at Iowa so that kick started the relationship. Wildeman also has grandparents and an aunt and uncle that happen to live in Lincoln.
7. Nebraska only had room for one or two defensive ends in this year's recruiting class so they've been very selective about the types of players they've offered at the position. As I mentioned earlier, after seeing Wildeman in person he validated that he was everything NU was looking for out of someone that could play at a 5-technique in the 3-4.
8. 2018 Nebraska commit breakdown
4/16/2017 - Tate Wildeman - DE - 6-foot-6, 245 - Parker, CO - 3
4/15/2017 - Manuel Allen - WR - 6-foot-1, 175 - Corona, CA - 4 Stars
4/14/2017 - Brendan Radley-Hiles - CB - 5-10, 175 - Bradenton, FL - 4 Stars
4/8/2017 - Will Farniok - OL - 6-3, 260 - Sioux Falls, SD - 3 Stars
1/18/17 - Eric Fuller - ATH - 5-9, 160 - Los Angeles, CA - 4 Stars
6/17/16 - Masry Mapieu - DT - 6-5, 290 - York, NE - 3 Stars
8/7/15 - Cameron Jurgens - ATH - 6-3, 235 - Beatrice, NE - 4 Stars
9. 2018 commits by position
0 - Quarterback
0 - Running back/fullback
1 - Wide receiver
0 - Tight end
1 - Offensive linemen
1 - Defensive tackle
1 - Defensive end
0 - Linebacker
0 - Safety
1 - Cornerback
2 - Athlete
0 - Special teams
10. Where are they from?
3 - California (Radley-Hiles counts towards California)
2 - Nebraska
1 - Colorado
1 - South Dakota