Sunday starts with boom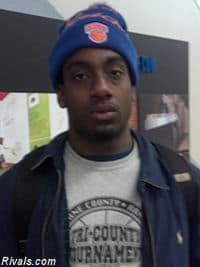 The 6-foot-3, 250 pound Wills was a new name that popped up on the radar, but came to Lincoln with offers in hand from Clemson, Ole Miss, Central Arkansas and some late recruiting attention from Alabama.
Wills becomes commitment No. 25 in NU's 2014 signing class and he's the fourth confirmed commitment for the Huskers in the last 24 hours when count the Junior Day pledges from 2015 the Huskers added on Saturday.
"It was great and everything," Wills said. "I love the facilities and everything. I love the players. They made me feel like I was at home and everything. We connected real well and I just loved it.
"Meeting new people, that's my main priority - just meeting new people. That's what I came and saw and that's why I liked it."
Wills said he also really hit it off with his future position coach Rick Kaczsenski, who handled his recruitment.
"Coach Kaczenski, the defensive line coach recruited me," Wills said. "He's a great man. I love him to death. During bad times he'll talk to you and everything and give you anything you need. He'll do what's best for you. He's a good man and he played a big factor in my decision to connect."
With only four scholarship defensive ends going into spring practice next month, Willis said he the coaching staff has told him to be ready to compete when he arrives this fall.
"They said I have a big role to come in because they said we are short at defensive end," Wills said. "If I come in and do my part I'll have a chance to play."
Wills said at one time he wanted to stay in state of Alabama to play college football, but Nebraska is a much better fit for him.
"Alabama wasn't really my style," Wills said. "I really wanted to go to Alabama, but I just really had to get out of Alabama and start a whole new life and that's what I really felt.
"(Knevel) really wanted me to make my decision and he really wanted me to come and all that. He just told me when you get here people are going to love you and everything and all that. It was great."

[rl]