Stoltenberg gives Nebraska commitment No. 7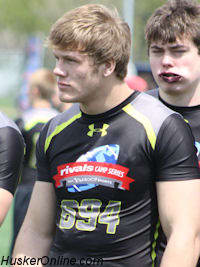 After being offered a scholarship on Thursday by Nebraska head coach
Bo Pelini
, Gretna offensive lineman
Mick Stoltenberg
has officially committed to the Big Red.
The 6-foot-5, 255 pound Stoltenberg attended one day of NU's second camp session, and impressed the Husker coaching staff with his work ethic and versatility.
Stoltenberg becomes the seventh overall commitment in Nebraska's 2014 signing class, and the fifth player that's committed over the last week joining Southlake Carroll (Texas) kicker
Drew Brown
, Highland (Ill.) offensive lineman
Tanner Farmer
, Apopka (Fla.) quarterback
Zack Darlington
and Pflugerville (Texas) Hendrickson cornerback
Trai Mosley
. Stoltenberg also becomes the first ever known Gretna football player to receive a football scholarship from Nebraska.
"I definitely had in mind that I would be competing for an offer, but wasn't sure that I'd be earning one right after the camp," Stoltenberg said. "I kind of went in with that mentality that I want to 'earn a Husker offer here.' I just worked as hard as I could've during the entire camp.
"After the camp Coach (Barney) Cotton just told me to stick around and we left campus in my mom's car and we came back and went into Coach (Bo) Pelini's office and that's when he offered me a scholarship. I never would've expected that I'd earn an offer right after the camp, but he told me I earned it with my work ethic and willingness. I wanted to spend some time to talk it over more with my family and I committed to Coach Pelini this morning."
Stoltenberg is a local area prospect who's come onto the scene extremely fast over the last couple of months.
HuskerOnline.com first told you about him during our
"In-state Tour" stop to Gretna
in February. At that time he weighed just 240 pounds and at Nebraska's camp on Thursday he weighed in at 255 pounds. He actually weighed 258 pounds at Iowa State's camp earlier this month.
Stoltenberg gained his first bit of national recognition after a strong performance at the Rivals Camp Series in St. Louis in April, where he was named one of the top performers by Rivals.com Midwest analyst Josh Helmholdt.
"There was an impressive looking group of defensive linemen at the St. Louis RCS in April, but Stoltenberg immediately jumped off the field at us," Helmholdt said. "Not only does he have great length, but this is a kid who loves the weight room. Sometimes those types play stiff, but I saw very little stiffness in Stoltenberg's game. He has outstanding athleticism for his size, and yet he is still has a ways to go before he reaches his potential."
The last few months have all happened so fast for Stoltenberg, who said he almost can't believe how much this process has taken off.
"Everyone in my family was obviously really excited, but really surprised too," Stoltenberg said. "I don't think any of us expected I was going to get a Nebraska offer this early in the game or at all. Everyone is just really excited and happy."
Nebraska worked out Stoltenberg as an offensive lineman, defensive lineman and a tight end during Thursday's camp session, but ultimately they felt offensive line will be his best long term fit.
Getting the chance to play for the Big Red is a dream come true for Stoltenberg and he's willing to play any position to make that happen.
"Wherever they need me and wherever I can make an impact as quickly as possible I'll definitely do it," Stoltenberg said.
"It's just a huge relief to end the camp tour now and just focus on training and working for my high school season and focus on winning a state championship. I don't have to worry about going to any more camps now, so it's definitely a relief."