Standards are high as QB battle gets underway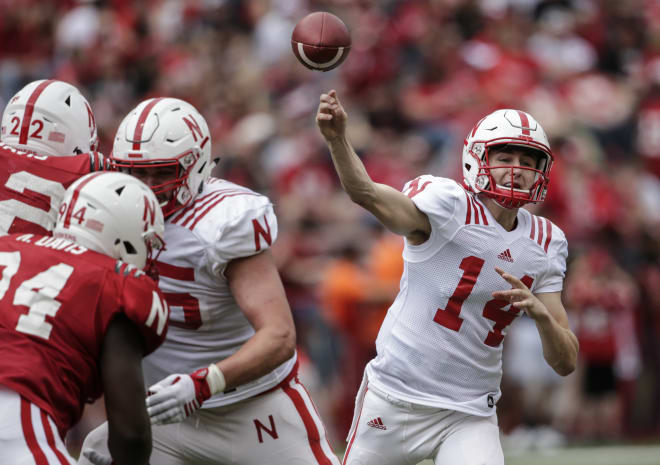 Once Nebraska's spring practices officially get into full swing next week, all eyes are going to be on the quarterbacks.
For new quarterbacks coach Mario Verduzco, he'll have a very particular list of traits he'll be looking for as the Huskers being their search for a new starting signal-caller.
It's no secret that quarterback is the most important position for any offense, but when it comes to head coach Scott Frost's high-powered system, much of the responsibilities fall under center for helping the scheme reach its full potential.
That's why Frost, Verduzco, and offensive coordinator Troy Walters are going to be as critical on NU's quarterbacks this offseason as any position on the roster.
"For us, one of the fundamental differences is we play fast," Verduzco said. "(The quarterback) has to be able to process a lot of information in a quick amount of time. He has to be, what we call it, a quick blinker.
"On every play, he's making a decision, whether it's in the run game or it's in the pass game, which is different in a lot of offenses. In terms of how we do things, upfront, in terms of blocking place, it's pretty unique.
"It's a little bit different than most offenses. The position that I coach, those guys have to be effective and efficient. They have to be ready to go. Not unlike any other position, really, but the sense of responsibility is certain. Certainly, this is tremendous."
One of the main reasons why the staff was able to turn a 0-12 Central Florida team into a 13-0 squad in just two seasons was because it had a special player running the show in quarterback McKenzie Milton.
Milton put together one of the best seasons ever by a UCF quarterback last year, throwing for nearly 3,800 yards and 35 touchdowns while rushing for almost 500 yards and another 10 scores during a record-breaking sophomore campaign.
Because the Knights had a player like Milton - who finished eighth in the Heisman Trophy voting - at the helm, they were quickly able to evolve into the most dynamic offense in all of college football.
The question now as the coaches take over in Lincoln is whether the Huskers currently have a quarterback on their roster capable of playing anywhere near the level Milton was at in 2017?
Frost and Co. insist that the QB room is wide open at this point, and every candidate - sophomore Patrick O'Brien, redshirt freshman Tristan Gebbia, true freshman Arian Martinez, and even walk-on sophomore Andrew Bunch - would get an opportunity to try and win the job this offseason.
O'Brien has accounted for all 18 completions and all 30 pass attempts within the unit at the Division I level. By the time this fall rolls around, Gebbia, Bunch, and Martinez will not have played a snap in a real game - high school or college - in nearly two full years.
How crowded that battle remains after a full spring, summer, and fall camp remains to be seen, and Verduzco said he's already raised the bar extremely high for his daily expectations from the group.
In particular, the ability to translate what's been coached in the meeting room onto the field when the spotlight shines the brightest could end up being judged as much as anything.
"Just to understand this: (a QB) may know what he's doing, but if he doesn't understand the mechanics that are involved in doing that, he's going to be dead in the water, flipping around…" Verduzco said. "A young guy can score really well on a test, but then he gets on the field and it's like, 'What are you doing?' That happens for a variety of reasons.
"Sometimes that's correctable, and sometimes it's not. What ends up happening, those guys go into, let's say spring ball or fall camp like this and then when the bullets start flying and scrimmages and what not, or seven on seven - you understand the point?
"That confidence part of it, that's another fascinating conversation and topic... (NFL) guys talk about that quite a bit, and it's a fascinating thing. What comes first? Performance or the confidence?"