Spring Preview: Linebacker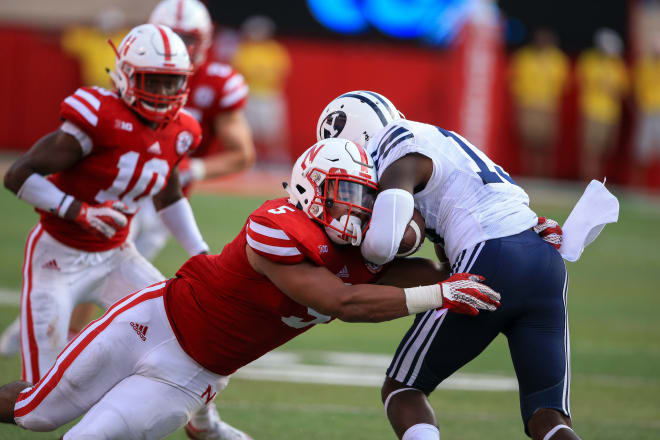 What we know
Unlike last spring, there is real depth at the position. Injuries were a major issue for the linebackers in 2015, as presumed starters Michael Rose-Ivey (six contests), Josh Banderas (four), Dedrick Young (one) all missed games with injuries and/or suspensions. Nebraska's lack of experienced depth behind that trio threatened to submarine the defense.
But a group of unproven players proved capable of stepping up to the challenge. Chris Weber came out of nowhere to start four games and finish sixth on the team with 49 tackles, including 36 in one three-game stretch. Marcus Newby got six starts and flashed the ability that made him a four-star recruit in 2013. Young played a ton of snaps as a true freshman and wasn't overwhelmed, though the Huskers would like him to make more impact plays.
Much credit must be given to position coach Trent Bray, who now has to figure out how to assemble a lineup with so many options at his disposal. Banderas is the favorite to start in the middle while being flanked by Rose-Ivey and Young, with Luke Gifford, Tyrin Ferguson and Mohamed Barry adding depth. Three scholarship freshmen will join the team in the fall, giving the position a much brighter outlook than it had at this time last year.
Biggest question to answer
Can Rose-Ivey fight off injuries and play a major role? After a terrific 2013 campaign in which he set the school record for tackles by a freshman (66), Rose-Ivey has been bitten hard by the injury bug. He missed all of 2014 with a preseason ACL tear and was severely limited for much of last year with a groin injury.
The senior reports he's good go to now, and his health would be a major boon for the defense. Rose-Ivey is an instinctual tackling machine when at full strength and is an emotional leader for the group. As long as he can stay on the field, he will make an impact.
Spring dark horse
Ferguson was used almost solely on special teams last year as a backup at the MIKE spot behind Banderas, but he picked things up more quickly than expected. Bray says the sophomore soaked up information like a sponge and was ready to take on a bigger role in the defense if called upon at the end of the year.
Ferguson is firmly planted behind Banderas on the depth chart, but as last season showed, injuries can quickly rearrange depth charts. Hopefully Banderas can stay healthy and have the breakout season that many predicted would come last year. Ferguson and Weber will battle for his backup reps and an opportunity to get a leg up on the starting job when Banderas graduates.