Spring preview: Defensive backs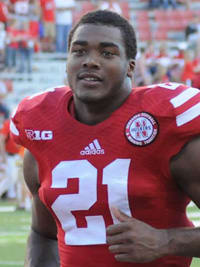 With spring practice beginning on Saturday, HuskerOnline.com continues our in-depth look at each position with our 2014 spring position previews.
Today, we analyze and breakdown the defensive backs heading into the start of spring practice.
What we know right now: Other than the offensive line, no position group lost more this offseason. Gone are Ciante Evans, a first-team All-Big Ten pick by the coaches, and Stanley Jean-Baptiste, a second-team all-conference selection and likely high NFL draft pick. Also departing are part-time starter Andrew Green and dime back Mo Seisay.
Nebraska isn't quite as set at cornerback.
Josh Mitchell
is the only returning player with significant game experience. The coaches are high on
Daniel Davie
, but he will miss spring practice after tearing his ACL last season.
Jonathan Rose
has been an intriguing prospect since transferring from Auburn, but NU's previous depth kept him from seeing any time other than blowouts. The Huskers have some talented incoming freshmen here, and if they impress in fall camp, they could compete for playing time.
Byerson Cockrell
could factor in here as well.
Biggest question to answer:
Can
Charles Jackson
finally make the impact his talent suggests he's capable of?
Jackson seems to be the ideal replacement for Evans in the slot - he's around the same size (5-foot-11, 175 pounds), he's cat-quick and he's been described by several Huskers as the best tackler on the team. But for whatever reason, the junior has struggled to get on the field other than special teams. Nebraska fans have clamored for him to see more time, but the coaches say he needs to get a better grasp on the playbook. If he takes care of that this offseason, Jackson could be in for a big campaign.
Spring dark horse: This is a tough call to make because so many of the returnees have seen so little playing time. Let's go with Gerry, one of the team's more experienced youngsters, though he saw almost all of his time at linebacker last year. But the sophomore started three games, and all indications are that his main contributions will be in the secondary this year. It's clear that Gerry, already well-built last year, has put in a lot of work in the weight room this offseason, making him an ideal candidate to assume a dime back/nickel linebacker role.