Spring opponent review: Wisconsin
With spring practices now wrapped up around the country, HuskerOnline.com will take a look at where each of Nebraska's 12 opponents in 2018 currently stands coming out of spring ball and heading into the summer.
We continue today by taking a look at the Wisconsin Badgers, who are coming off a 13-1 season that was capped off with an Orange Bowl victory over Miami - their second consecutive New Year's Six bowl win.
The Badgers return a good chunk of that roster, and the Huskers must go to Madison this year - a place they have never won since joining the Big Ten.
HuskerOnline caught up with BadgerBlitz.com's John Veldhuis to get his thoughts and perspective on Wisconsin coming out of the spring.
Spring overview 
This spring for Wisconsin is really about taking that next step as a program. They've dominated their peers in the division, and have won three bowl games in a row - Holiday (USC), Cotton (Western Michigan) and Orange (Miami).
Where they have come up short is winning the Big Ten title and beating Ohio State and Penn State when it matters.
Paul Chryst's 2018 squad is the best team Wisconsin brings back on paper in several years. They have everything in front of them to have a big season and will be a top 10 team when the polls come out in August.
Trips to Ann Arbor and State College will no doubt let us know what type of team they are though. They also play at Iowa, Northwestern and Purdue, so all five of their road games are against teams that went bowling in 2017. Nebraska travels to Madison on Oct. 6. The Badgers have a bye week before that to get ready for the Huskers.
Returning starters 
The Badgers must replace five key starters from their 2017 team. On offense, tight end Troy Fumagalli was a fifth-round pick by the Denver Broncos, but other than that they return quarterback Alex Hornibrook, running back Jonathan Taylor, the entire offensive line and all of their key receivers.
The bigger questions will be on defense, where they had four starters drafted off last year's team. The Badgers must replace cornerback Nick Nelson (fourth round), safety Natrell Jamerson (fifth round), linebacker Jack Cichy (sixth round) and defensive end Leon Jacobs (seventh round).
They still return a solid nucleus of players, but it remains to be seen if they have enough across the board to be as good as the last three years on defense. The Badgers have consistently reloaded on defense, and most expect them to still be one of the top units in the country in 2018.
Offensive star: RB Jonathan Taylor  
There have been a lot of good running backs come through Wisconsin the last 25 years, but arguably none have been as impressive as Jonathan Taylor.
As a true freshman, the former four-star recruit racked up 1,847 yards rushing and 13 touchdowns. In comparison, future NFL Hall-of-Famer Adrian Peterson rushed for 1,925 yards at Oklahoma his freshman year, and Hershel Walker ran for 1,812 yards his freshman year at Georgia.
Taylor has a chance to be one of the all-time greats if he stays healthy the next two years. Nebraska fans remember him well, as he carved the Huskers up for 249 yards on 25 carries in Memorial Stadium with Scott Frost's 1997 national championship team watching on the on the sidelines.
There's no question Taylor is an early favorite to be in New York this December for the Heisman Trophy ceremony, and an early front-runner for Big Ten player of the year.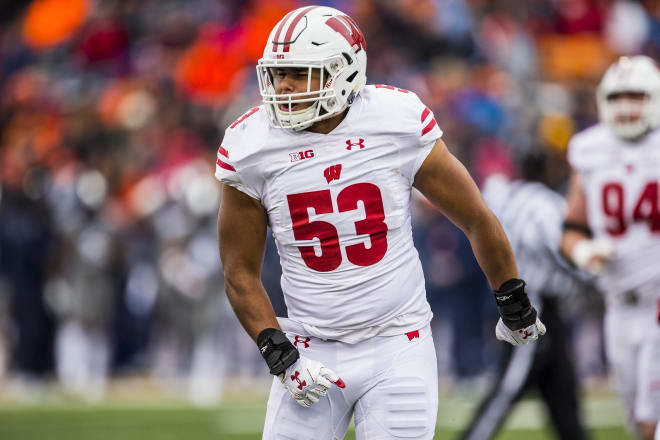 Defensive star: LB T.J. Edwards 
Wisconsin had four players off their defense drafted in 2017, and linebacker T.J. Edwards easily could've been No. 5.
Edwards returns to Madison for his senior season after being named as a first-team All-American in 2017. As a junior, the 6-foot-1, 244 pound Edwards recorded 75 tackles, 11 tackles for loss, two sacks, four interceptions and 11 pass break-ups. He's started 39 career games over the last three years and has 254 tackles in his career, including 26 TFL's, five sacks, seven interceptions and 20 pass break-ups.
He led the Badgers in tackles both his freshman and sophomore seasons and finished second in 2017.
Biggest question: Is there enough depth on defense to be championship level?
The biggest question Wisconsin must answer on defense is if they have enough overall depth.
What's made them excel the last three seasons is they've been able to rotate in so many quality players along their front seven. They've lost some pretty key guys the last year, which means they will be counting on a lot of new faces to step into bigger roles.
For this team to take that next step, they need to be able to establish the type of depth it takes to be a championship level defense. In year's past, we've seen the Badgers lose key players to injury and not miss a beat. Do they have that same type of depth this year if a key player goes down?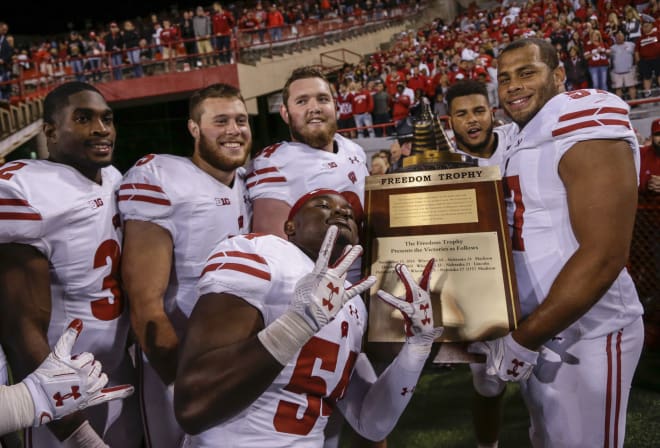 Early outlook on Nebraska at Wisconsin  
Veldhuis: "I'm really curious to see from the Nebraska side just how much Scott Frost can do to kind of remake that program in a year. Usually, in looking at coaches that take over a program that really needs a facelift or a culture change or something like that, you kind of look at that first year, and say 'this is like year zero.' They basically finished off the rest of their recruiting class, but all the rest of the roster are guys the previous coaching staff recruited. My previous thought was to wait until year two or year three to really judge the progress that they made.
"We saw last year in the Big Ten with Purdue, they really turned it around on a dime when Jeff Brohm got there, and I thought the change in offensive scheme really played a role in jump-starting them. I'm curious to see if Scott Frost and his coaching staff can kind of import that new culture and get it to stick really quick, and also kind of mold that roster into something that works with their offensive and defensive schemes.
"I think in the long run, it's kind of easy to see that becoming something where Nebraska does end up competing for division titles again. I don't know if it's going to happen this year, to be honest with you, I think Wisconsin's toughest games are all of their road games this year in the Big Ten.
"I'm very curious to see though just how much Scott Frost can change Nebraska and mold it in his image in a year. I feel like the way Wisconsin has been able to beat Nebraska the last couple of years, they seem like two similar programs, and I think the contrast between them had something to do with the administration wanting to make the change and get somebody else in there. I'm really curious to see what kind of steps they can make in that first year."
Overall 2018 win-loss expectation 
Veldhuis: "I think another division title is at least your baseline for this team. They have been competitive enough, and in the thick of these races long enough. The young guys, even though they are taking on larger roles now, really want to keep the program clicking like it has been the last couple of years or so.
"I think that really kind of keeps them motivated to really do the work they need to do to keep the team competitive, winning division titles and getting back to the championship game.
"I think we'll get a sense of how this is going to shake out the first three or four games, because then we'll know what Wisconsin's defense looks like, and how they are going to compare to last year. If they can at least play at a top 25 to top 20 level, I think the next step to take would be to get over the hump and beat the Ohio State's and Penn State's of the world and win a Big Ten title.
"Obviously, the Badgers want to get to the playoff because they were in that hunt for so long last year, and kind of just missed out on it. That will be the team goal - make the playoff, compete for the national title, but I think the baseline is a division title, and a reasonable step forward is getting over the hump and winning the Big Ten title."