Spring Opponent Review: Purdue
With spring practices now wrapped up around the country, HuskerOnline.com will look at where each of Nebraska's 12 opponents in 2021 currently stands coming out of spring ball and heading into the summer.
Today we preview the Purdue Boilermakers, who travel to Memorial Stadium on Oct. 30.
The Boilermakers are entering their fifth season under head coach Jeff Brohm, but another defensive overhaul and some key roster departures have them facing some major questions going into the summer.
We caught up with Tom Dienhart of GoldandBlack.com to get the latest on Purdue coming out of spring ball.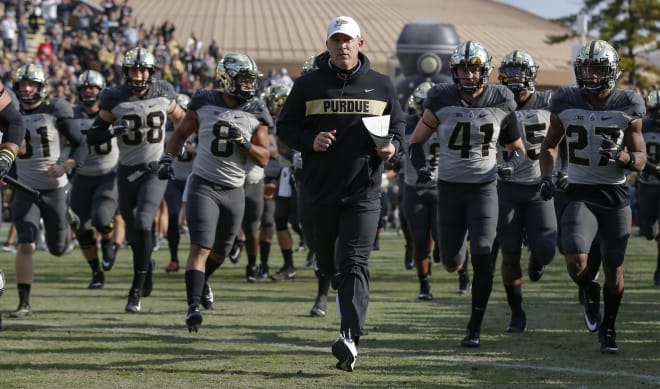 Spring Overview
Purdue tried to shake things up last spring by hiring former Nebraska defensive coordinator Bob Diaco to run its defense, and that experiment ended up being a total disaster.
After giving up nearly 30 points and 400 yards per game and ranking last in the conference in sacks in 2020, the Boilermakers fired Diaco and took a unique approach to replace him.
Brohm hired three new coaches - Brad Lambert, Ron English, and Mark Hagen - and gave all three co-defensive coordinator titles. Lambert will call the defensive plays during games, but all three will have a role in the scheme and game-planning.
That marked the third defensive coordinator change in the past three years for Purdue, and this spring was once again a learning process for players and coaches alike.
The Boilermakers also added six new transfers on defense, five coming from SEC schools, which they hope will help provide some more punch on that side of the ball.
Purdue returns two quarterbacks with starting experience in Jack Plummer and Aidan O'Connell, and David Bell is back as one of the best wide receivers in the country.
But if the defense still can't stop anyone again in 2021, the pressure could get turned up on Brohm in a big way this season.
Returning starters
While Purdue has good experience at quarterback, Brohm still hasn't publicly named a starter between Plummer and O'Connell.
There's a chance the Boilermakers might want to get more out of the QB run game, so both quarterbacks could be in line to see snaps this fall.
Up front, the offensive line has produced the Big Ten's worst rushing attack over the past two seasons. Brohm added an assistant offensive line coach, Neil Callaway, to join full-time position coach Dale Williams to bolster that unit.
Milton Wright and do-it-all weapon TJ Sheffield give Purdue a strong receiving corps alongside Bell, and tight ends Payne Durham and Garrett Miller should be solid options in the passing game.
Running back remains a question coming out of the spring, as the Boilermakers are still shopping the transfer portal to try and find a bell-cow back. If they can't find one, it will likely be a committee approach in the running game.
Star defensive end George Karlaftis only played three games due to injury and COVID-19 last season, but he returns as the anchor on the line.
Purdue also added three transfer d-linemen, two cornerbacks, and a linebacker - Auburn transfer OC Brothers - out of the portal.
Offensive star: WR David Bell
Bell didn't do much during spring ball, but no player on Purdue's roster has less to prove than the standout junior wideout.
Bell hauled in team-high 53 receptions for 625 yards and eight touchdowns in just six games last season, earning first-team All-Big Ten honors.
He flirted with an early jump to the NFL but decided to come back to the Boilermakers for another year.
As a result, Purdue has one of the most dangerous wide receivers in the conference and the country this year.
Defensive star: DE George Karlaftis
Karlaftis only played three of Purdue's six games in 2020, but he still managed to be named second-team All-Big Ten.
That says all you need to know about the 6-foot-4, 275-pound junior defensive end's impact when he's on the field.
Despite his limited action, Karlaftis still tied for the team lead with two sacks.
The year prior, he finished third with 54 total tackles and led the Boilermakers 17.0 tackles for loss and 7.5 sacks. That earned him second-team all-conference and first-team Freshman All-American honors.
The West Lafayette, Ind., native is now healthy and back to anchor a revamped Purdue defense in 2021.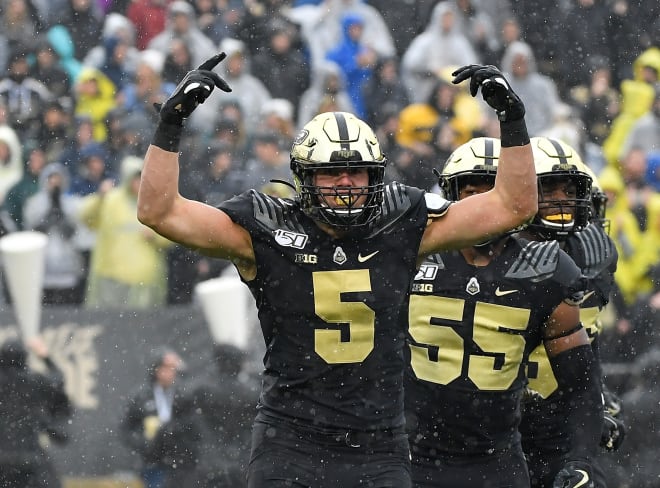 Spring surprise: WR/RET TJ Sheffield
Given the firepower Purdue had at wide receiver last season with Bell and star Rondale Moore, opportunities were a bit limited for Sheffield as a redshirt freshman.
He only caught two passes and had 412 all-purpose yards while serving as the team's primary kickoff returner.
But with Moore now in the NFL and Bell becoming the top focus of opposing defenses, Sheffield's window of opportunity has blown wide open.

Many expect the 5-11, 185 Tennessee native to take over Moore's spot as the No. 1 slot receiver, suggesting he could see a considerable volume of touches as both a receiver and a runner.
He'll also continue as Purdue's top return man, making him the Boilermakers' next Swiss Army Knife weapon.
Biggest question: Is this defense going to work?
Purdue is installing its third defensive system in the past three years this offseason, and each has been drastically different than the last.
The Boilermakers' three-man coordinator approach is unique, and, in theory, it will be a far cry from Diaco's porous 3-4 scheme.
Purdue is returning to a base 4-3 and wants to be more aggressive in all aspects, from a better pass rush and creative blitzes to more physical press-man coverage.
Will it correlate into a better product on that side of the ball? For Brohm's sake, it better.
Early outlook on Purdue vs. Nebraska
Dienhart: "It's going to be another good game. Those two schools have played some good games since Jeff Brohm's been the head coach, honestly.
"It's going to be a close game, I think. They're pretty similar programs in terms of where they're at. Two coaches and former quarterbacks with something to prove, and they're two programs that need to crawl over each other to move themselves up the pecking order in the Big Ten West.
"Everybody is chasing Wisconsin and Iowa, and then you have the other five teams. So that's going to be one of the key matchups to see where both of these programs are headed."
Overall 2021 win-loss expectations
Dienhart: "I think six wins. I think this is a 6-6 team. It's not where anybody thought they'd be going into Year 5 of Jeff Brohm, but that's the reality.
"Seven wins is probably their ceiling unless everything magically clicks together and there are some unforeseen players developing that nobody anticipates at this point.
"But looking at the schedule and the talent, six wins, maybe seven, looks like it will probably be Purdue's mark that they're headed for this year."