Spring opponent review: Purdue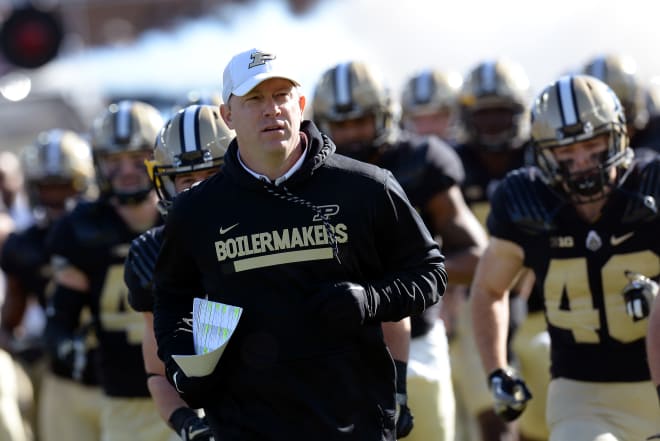 With spring practices now wrapped up around the country, HuskerOnline.com will take a look at where each of Nebraska's 12 opponents in 2018 currently stands coming out of spring ball and heading into the summer.

We continue today by taking a look at Nebraska's Big Ten home opener and homecoming opponent Purdue, which will come to Lincoln on Sept. 29.
The Boilermakers enter their second season under head coach Jeff Brohm after an impressive 7-6 campaign in 2017 capped with a 38-35 win over Arizona in the Foster Farms Bowl.
We caught up with GoldandBlack.com writer Kyle Charters to learn more about what the Huskers can expect in their showdown with Purdue this fall…
SPRING OVERVIEW
With some optimism finally buzzing around the program again after Brohm's successful debut last season, Purdue entered spring practices with some major questions to answer to build upon a strong 2017.
The most pressing issue is on defense, particularly with the front seven at defensive line and linebacker. Not only do the Boilermakers lose six of seven starters at those positions, but they also lost eight of their top 10 members of last season's front seven rotation.
On offense, PU was merely trying to survive a battle of attrition after being decimated by injuries going into spring ball.
Among the players who sat out with spring due to injuries were quarterback Elijah Sindelar (ACL surgery), two running backs, a wide receiver, three starting offensive linemen, and two tight ends.
With Sindelar out, it allowed for David Blough to finish the bulk of the spring as the No. 1 quarterback.
Sindelar started eight games last year while Blough (ankle injury) started five, and because both are coming off injuries, the Boilermakers have yet to name a starting quarterback for 2018.
While that lack of numbers probably hurt with development, the feeling remains that the offense will be the clear strength for Purdue this fall.
Returning starters
While quarterback is still wide open, Purdue returns four of its five starters on the offensive line and a strong corps at running back, led by last year's leading rusher, Markell Jones.

Inexperience is an issue at wide receiver as well, but Charters thinks the unit might be much more athletic and explosive than it was in 2017.
Purdue did lose its starting right tackle and had three other starters miss the spring with injuries, though the overall depth should be even better than last season's once those players return to action in the fall.
The defensive front seven is a major concern, but the Boilermakers bring back both starting safeties in Jacob Thieneman and Navon Mosley.
They also must replace both starting cornerback spots, but Charters said there's a lot of excitement about redshirt freshmen Dedrick Mackey and Kenneth Major.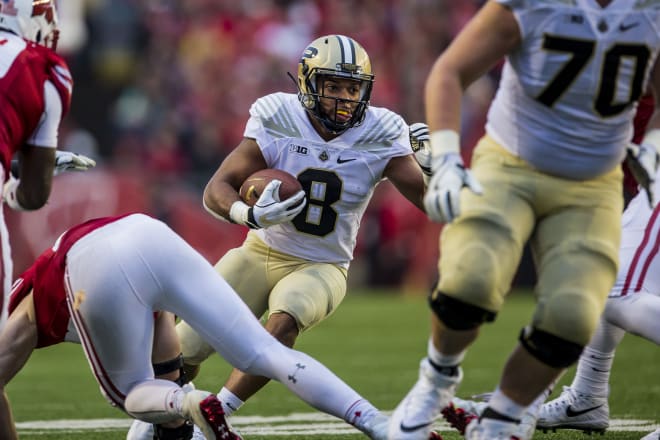 Offensive star: RB Markell Jones
Even though he finished last season with a modest 113 carries for 566 yards and one touchdown, Jones ended up claiming the title as Purdue's top rusher in 2017.

Considering that he only appeared in 10 games and made just three starts, those stats look a little more impressive.
The 5-foot-11, 210-pound senior got his chance as the No. 1 running back after the top two players ahead of him on the depth chart went down with injuries last year.
Jones' breakout game came in the season finale vs. Indiana when he racked up a career-high 217 yards on 21 attempts to earn Big Ten Offensive Player of the Week.
Jones will likely share the workload quite a bit again this year, which should limit his stats. But from an overall talent standpoint, Jones might be one of the best weapons the Boilermakers have.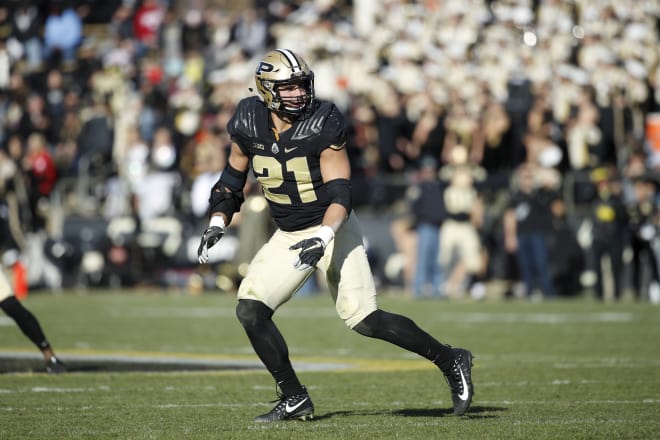 Defensive star: LB Markus Bailey
After posting 89 total tackles, 67 solo stops, 11 tackles for loss, seven sacks, an interception and a fumble recovery, linebacker Markus Bailey had all the credentials to be an All-Big Ten selection.

Had he played for another team besides Purdue, maybe he would have seen the recognition.
Accolades and honors aside, Bailey is without a doubt one of the conference's top returning linebackers and without question the most valuable asset on the Boilermakers' roster this season.
After starting the past 25 games, Bailey enters his junior campaign having already accumulated 198 tackles and five interceptions in his career.
Biggest question: Can the front seven hold up?
Purdue's offense should be able to do its part more often than not this season, but there isn't nearly the same optimism for the defense.
Outside of Bailey and defensive tackle Lorenzo Neal, the Boilermakers won't truly know how good of a defense they will be until all of that other inexperience in the front seven gets thrown into the fire on game day.
Charters said the questions surround the defensive line and linebacker definitely weren't answered this spring, and they probably wouldn't be until the season gets underway.
"If they get an answer early it's not going to be the answer Purdue wants, in my opinion," Charters said.
Bailey will do his job as well as anyone, and Neal has the potential to be a force at defensive tackle. However, Neal's size (6-2, 315) will likely limit the number of snaps he can play per game, so others must step up on the d-line.
Early outlook on Purdue vs. Nebraska
Charters: "I think it will be a big game for Purdue since it will be the Boilermakers' first road game after opening up with four straight at home. At that point maybe we should know a little bit more about Purdue after playing games against Northwestern, Eastern Michigan, Missouri and Boston College. Three of those games are against Power Five teams, so Purdue will have been tested, but it won't have been tested on the road.
"I think if you look at Purdue against a team like what Nebraska has been traditionally, which is all I can really go on right now, I think there are concerns about Purdue defensive and its front seven and how it will match up with the kind of offense that Scott Frost is know to run. Purdue will have to try and find a way with its front to win some battles there. Based on what we've seen from Nebraska and what we've seen some Frost, that could be a pretty big challenge for Purdue."
Overall 2018 win-loss expectation
Charters: "I think that it's going to be a challenge for Purdue to match what it did a year ago just because of the turnover in its roster, from that experienced defense to one that's pretty young. So getting back to six wins and then getting a seventh in a bowl game should be - I don't know if it should be Purdue's goal, but it should be a realistic outlook for what someone should expect this year.
"I think Purdue has to get off to a good start with that home-heavy early schedule. If they don't, then it could be a little bit of a challenge later in the year when you have a five-game stretch that's Ohio State, Michigan State, Iowa, Minnesota, and Wisconsin. I just think that Purdue has to get off to a good start because it's going to hit some more difficult competition later."