Spring opponent review: Colorado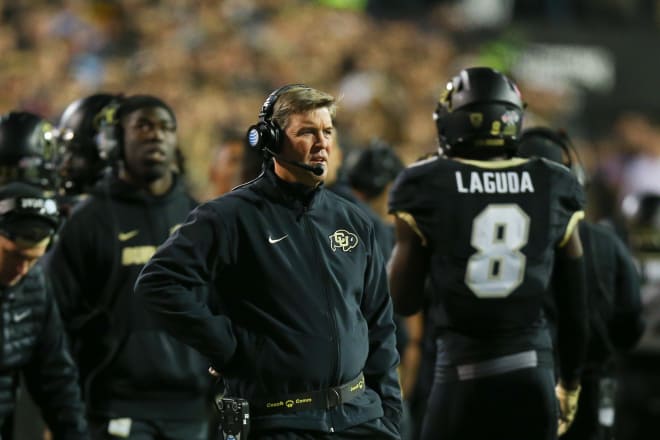 With spring practices now wrapped up around the country, HuskerOnline.com will take a look at where each of Nebraska's 12 opponents in 2018 currently stands coming out of spring ball and heading into the summer.

We continue today by taking a look at Nebraska's first Power Five opponent and former Big Eight and Big 12 rival Colorado, which will come to Lincoln on Sept. 8.
The Buffaloes enter their fifth season under head coach Mike MacIntyre after a 5-7 campaign in 2017.
We caught up with CUSportsNation.com publisher Mike Singer to learn more about what the Huskers can expect in their rematch with Colorado this fall…
Spring overview
Colorado's offense is expected to take on a much different look in 2018 with a familiar face now calling the plays as offensive coordinator.
After working under Kliff Kingsbury at Texas Tech from 2014-16, former Buffalo wide receiver Darrin Chiaverini returned to Boulder as the WR coach last season. MacIntyre quickly elevated him to co-offensive coordinator this offseason and gave him the keys as CU's new play caller.
Now adapting an Air Raid scheme, no player on the offense has more on his plate than junior quarterback Steven Montez, who is entering his second year as a starter. Montez had an up-and-down year in 2017, but he'll need to show much better consistency to make the new offense work.
The Buffaloes will also have to replace Philip Lindsay, who some regard as one of the best running backs in Colorado history after setting school career records in both all-purpose yards (5,760) and yards from scrimmage (4,683).
Virginia Tech graduate transfer Trevon McMillian joined the team this winter and is expected to be the starter at running back in Week 1.
The offensive and defensive lines both struggled mightily last year and are two of the biggest question marks facing CU coming out of the spring, but the back end of the defense could be a major strength.
Returning starters
While Montez and McMillian are expected to man the backfield, Colorado must also replace its top three wide receivers from 2017. However, Singer said the new players coming up the ranks might make the unit better overall than what it was a year ago.

As mentioned, the trenches could define how good of a season 2018 will be for the Buffaloes. In particular, the defensive line must improve.
The good news is CU returns three of its four linebackers and boasts a secondary that should be one of the strengths of the team. The Buffs did lose cornerback Isaiah Oliver a year early to the NFL, but Singer said safety Evan Worthington might be one of the best safeties in the Pac-12 this season.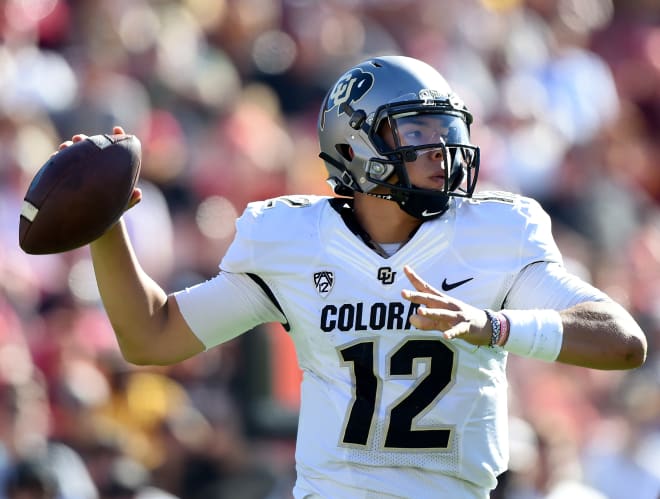 Offensive star: QB Steven Montez
Given the change in offensive philosophy, Colorado may only go as far as Montez will take it.
The El Paso, Texas, native showed flashes last year with his big arm and impressive mobility as a runner, but he struggled at times with the short and intermediate routes that are so important in the Air Raid scheme.
The Buffaloes could have issues on the offensive line and also have big shoes to fill at running back, so Montez will likely be asked to shoulder quite a bit this season.
As Singer put it, how Montez develops could ultimately determine if CU can get back to a bowl game.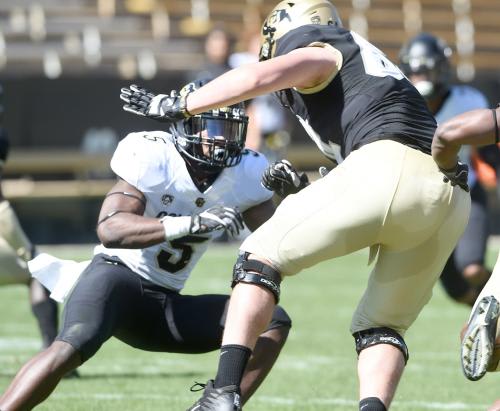 Defensive star: OLB Davion Taylor
Even though he has never played a down in a Colorado uniform yet, Davion Taylor has already emerged as one of the most exciting pieces on the defense entering the 2018 season.
A junior college transfer from Coahoma (Miss.) C.C., Taylor will take over the "Buff" outside linebacker position, which is a hybrid defensive back/linebacker role that emphasizes pass coverage just as much as traditional OLB play.
At 6-3, 220, Taylor fits the build of DI linebacker, but what separates him is his elite speed at the position.
The Magnolia, Miss., native just earned all-conference status by placing sixth in the 100-meter dash at the 2018 Pac-12 Outdoor Championships, and his time of 10.51 was the fastest mark by a CU runner in five years.
Biggest question: Can the defensive line get any better?
Simply put, Colorado's defensive line was downright bad last season, ranking 108th nationally in rushing defense at 208.0 yards allowed per game.
The Buffaloes don't return very much proven experience on the d-line in 2018, which might not be a bad thing. Redshirt freshman Terrence Lang and junior college transfer Mustafa Johnson will be counted on to take the reigns at end, but senior nose tackle Javier Edwards could be the most important piece of all.
A juco transfer last season who had a mediocre CU debut, Singer said the 6-foot-3, 345-pound Edwards could very well be the biggest (no pun intended) key on Colorado's entire defense.
Early outlook on Colorado vs. Nebraska
Singer: "I can't tell you I know much about Nebraska. The only things I know about Nebraska are from the articles you guys write. But I'd say it's going to be close, and Nebraska is probably going to win. I would hate for my Colorado fans to know that, but I think that's what it's going to be. It's a tough place to play. It'll be close, but I'd probably say Nebraska by three points."
Overall 2018 win-loss expectation 
Singer: "I'll say 6-6 and a bowl win, so 7-6. I really don't know what to expect from this team. It could be 5-7 like last year, or I honestly think it could be an eight-win season. But Colorado fans are a little restless right now, for a lack of a better term. They want the program to be what it was in the 90s, and the 2016 season gave them a taste of that. But after last season I think fans just felt kind of let down. MacIntyre seems to have this program trending in the right direction, but fans are just getting a little restless. They were pretty upset about last season and missing a bowl game."