Spring grade out: Linebacker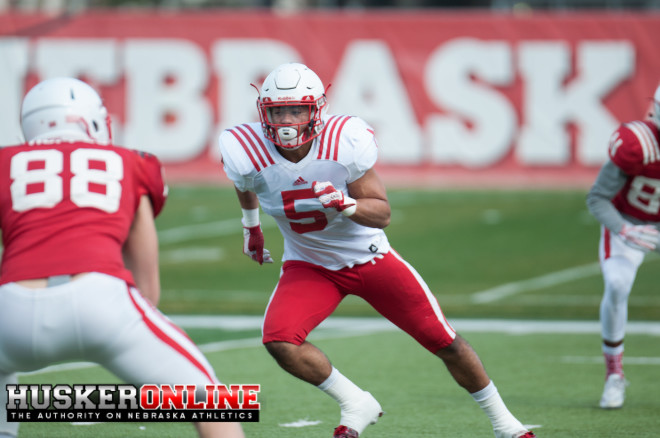 As we continue our spring grade outs, today we breakdown the linebacker position, which might be as deep and talented as the group has been in years.
What we learned: Finally, there is depth
Considering where Nebraska's linebacker position was a year ago, the numbers the group now has to work with makes this a completely different group this season.
Not only are former starters Josh Banderas, Michael Rose-Ivey, and Dedrick Young all back, the Huskers' also return an entire cast behind them that all saw notable playing time last year in Marcus Newby, Chris Weber, and Luke Gifford.
On top of that, NU also has a pair of promising young 'backers in redshirt freshman Mohamed Barry and sophomore Tyrin Ferguson who are both fighting to a spot in the rotation in 2015.
There wasn't a position on Nebraska's roster that got any more bare bones last season than linebacker, but with the amount of talent and experience the Huskers have coming back, the unit has turned into one of the defense's biggest strengths.
Biggest spring concern: Can they stay healthy
It's a very good thing that Nebraska does have so many dependable options at linebacker this year, because based on the unit's injury history, it seems more likely than not that a lot of guys are going to have to see the field.
Due to injuries and suspensions, eight players saw action at linebacker in 2015, including five different starters.
Though Banderas and Rose-Ivey were the veterans of the unit, it was the true freshman Young who ended up being the mainstay of the group, playing in 12 games with 11 starts and tying with Banderas (who only played in nine games due to injury) for fourth on the team with 61 tackles.
While its nice to have the luxury of depth this time around, there's no question that Nebraska wants to keep as many of its defensive pieces on the field as it can this season. Keeping its linebackers healthy ranks right near the top of that priority list.
Spring surprise: Barry finding his role
Though he wasn't even able to finally suit up until the start Nebraska's bowl practices in December because of a knee injury, it hasn't taken long for Barry to separate himself as a unique talent within the linebacking corps.
A bit undersized compared to other outside 'backers like Rose-Ivey, Young, and Newby, the 6-foot-1, 225-pound Barry is actually the exact height and weight as former Husker great Lavonte David was when he was in Lincoln.
The goal is that Barry - who recently called David his favorite NFL player - can eventually play like his football idol.
The former three-star prospect from Atlanta brings a blend of speed and athleticism to the position that already has linebackers coach Trent Bray excited about all the possible ways he could use Barry in the defense.
Barry's performance this spring did nothing to temper that excitement, either.
Looking ahead: Linebacker should stay loaded
Nebraska will lose Banderas and Rose-Ivey after this season, but it will definitely soften the blow knowing that it currently has four key contributors as sophomores or younger in Young, Barry, Ferguson and Gifford.
Newby and Weber will both be seniors in 2017, and the Huskers are adding three three-star true freshmen to the mix this fall in Quayshon Alexander, Pernell Jefferson and Greg Simmons.
On top of that, NU already has verbal commitments from two 2017 in four-star Avery Roberts and three-star Willie Hampton.
Needless to say, the linebacker room appears to be fully loaded for the next several years to come.