Spring grade out: Defensive end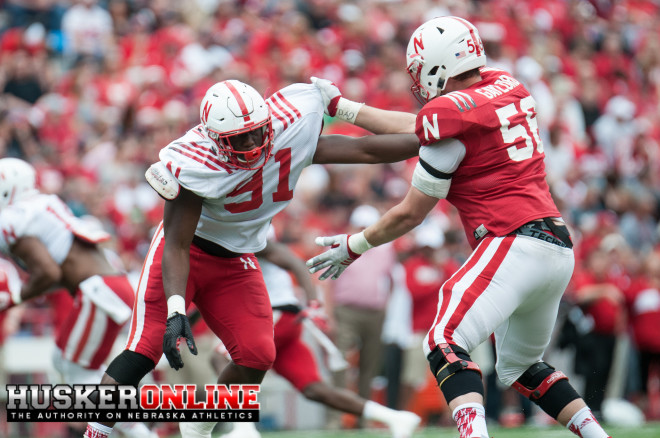 We continue our spring grade outs today by giving our final take on the defensive end position, which remains a major question mark heading into the summer...
What we learned: It's still a work in progress
Nebraska didn't necessarily make a lot of headway in establishing its defensive end rotation coming out of spring practice.
While the starters right now look to be sophomore Freedom Akinmoladun and senior Ross Dzuris, neither exactly made themselves irreplaceable with their performance this spring.
Behind them, the Huskers look to have a promising up-and-coming talent in redshirt freshman Alex Davis, but he still needs to prove he can translate that potential into production on the field.
Others like redshirt freshman DaiShon Neal, junior A.J. Natter, and sophomore Sedrick King all showed flashes during the 15 practices - with Neal arguably looking the most impressive of the three.
But it's clear that a lot of work needs to be done before NU can feel comfortable with its defensive end depth.
Biggest spring concern: Will the edge rush improve?
Regardless of what combination Nebraska decides to use at defensive end, there's no question that the Huskers must get more consistent pressure off the edge this season.
Because NU struggled so much to get a steady pass rush from its ends last year, it had to incorporate numerous linebacker and defensive back blitzes. In turn, that left the secondary vulnerable in coverage too many times.
If Akinmoladun can stay healthy, he should easily be Nebraska's best option in that regard. He was on his way to a breakout 2015 season with 4.5 sacks through the first five games, but a knee injury against Illinois limited him to just two tackles in the following seven contests.
Davis could emerge as another rusher in obvious passing downs, but he still has a long way to go in improving his all-around skill set before he can be counted on as an every-down end.
Spring surprise: Neal's new look
This spring was a big window of opportunity for Nebraska's young defensive ends, and the player among that group who may have taken the most advantage was Neal.
After missing nearly all of last season with a knee injury, the former Omaha (Neb.) Central standout completely reshaped his body over the offseason.
At one point last year Neal said weighed as much as 280 pounds, but with a year in NU's nutrition and conditioning he dropped 20 pounds. Neal is currently a lean 265 and hopes to be back around 280 - in good weight this time - by his senior year.

For now, that dedication in the weight room and in his diet has put Neal squarely in contention for playing time this season. With his play this spring, he's already well on his way in getting there.
Looking ahead: There's plenty of youth to work with
One of the positives of having so much youth and inexperience at defensive end now is that eventually it should develop into solid, proven depth.
Akinmoladun has the potential to be an impact pass rusher, and young guys like Davis and Neal look to have only scratched the surface on how good they could be down the road.
King is another player the coaching staff had high hopes for coming into the spring, but he did little to make his case and missed the final week of practices due to injury.
The Huskers will add two more true freshmen to the mix this fall in Ashland (Neb.) three-star Ben Stille and Fishers (Ind.) three-star Collin Miller.