Spring Game notebook: Offense shines for Huskers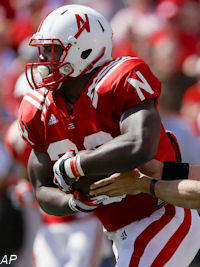 Just like every year, the 2013 annual Red-White Spring Game had its share of both impressive plays and offseason rust, but all in all Nebraska was pleased with what it saw Saturday during its final spring tuneup before going into the summer.
"I think we had a good spring," Pelini said. "I really do. I've got to tell you, I was a little bit concerned about halfway through (spring practice). I wasn't seeing the progress I would have liked. Obviously we were making progress, but we were having some repeat errors, some things that I didn't like. When we came back from spring break, those last six practices leading up to today, I thought we made a big jump. I thought that was obviously important for us to do that. Are we where we want to be? No. But it's April. We shouldn't be. But I think there's a lot firmer foundation that's going to carry us into fall practice and take us right up into the year."
"We just treated it like a normal practice," Martinez said. "We just came out there, did our thing and what we normally do in practice. We normally practice like that, so that's why we came out and did that well."
Over the next few remaining weeks of the spring semester, Pelini said the plan going forward obviously included finishing up the players' academic work and also starting a new approach to offseason training. Pelini said the players would be assigned specific workout plans and each have different personal goals set for them to achieve.
While spring ball might be over, Pelini said the Huskers would have to "go back to work" starting Monday, as the journey towards taking the program to the next level continues.
"What I told the team, and the message to the team is, if we think right now that we can just do what is required and be ready to go and be the type of football team we want to be, it's not going to happen," Pelini said. "We have to go over and above. We have to do more than what's required. I think our team understands that. Our leaders understand that. That's the challenge we have ahead of us."
To be honest, much of this spring game will be forgotten once the season begins, much less in a couple of years. But one play Saturday will last a lifetime, at least for the game's smallest participant.
Burkhead has spent a few years with Jack Hoffman, a seven-year old brain cancer patient. Burkhead's work with Hoffman has inspired a line of "Team Jack" t-shirts to be made and had been well-publicized during Burkhead's career at NU.
But Hoffman never got the recognition he did Saturday, when he was put in the game in the fourth quarter. He took a handoff from Martinez and, with both benches chasing him down the field, scurried 69 yards for a touchdown. The entire team huddled around him in the end zone and lifted him up on their shoulders.
A few of the players approached assistant athletic director for football Jeff Jamrog with the idea to get Hoffman in the game Friday night. After clearing the plan with Hoffman's father, Pelini told the team about it Saturday.
"Obviously, Jack's a young man who has touched the hearts of a lot of people," Pelini said. "Our football team and the student body have gotten behind him, and he's become a big part of the team. We weren't sure if he was going to want to do it. We brought the idea to his dad, and I thought it was a pretty special thing."
For everything Hoffman has been through, he has never played in front of 60,000 people before and was understandably nervous in the huddle. When Martinez gave him the handoff, he began running the wrong way. But the quarterback redirected him and helped him finish off a run he will never forget.
"That was awesome for the team and for Jack," Martinez said. "He's going to remember that for the rest of his life and so will I. It was awesome for him to score that touchdown."
The talk pretty much all spring had been how Nebraska's offense always seemed to be a few steps ahead of its young defense during scrimmages and team drills, and a big reason for that had been the play at the quarterback position.
That was definitely put on display on Saturday, as nearly all of the Huskers' signal callers had big days in the Red-White game. Overall, NU's quarterbacks were a combined 30-of-44 (68 percent) passing for 409 yards, three touchdowns and no interceptions, with Martinez, Kellogg and Armstrong all throwing for more than 100 yards.
Martinez said Saturday's performance was basically par for the course for Nebraska's offense, as that was essentially exactly how they had been operating in practice all spring.
"We just treated it like another practice, and we just came out there did our thing," Martinez said. "We normally practice like that, so that's why we did well."
"Just being able to sit on the sideline and watch and teach those guys, that's what I really care about, regardless of if I had a good performance or not," Kellogg said. "Taylor and I are leaving pretty soon, so we want to make sure the guys below us know what they're doing and perform."
"Tommy handled things really well, especially early on," Beck said. "For first time action, he played fast and very assured of himself. Even if he was making mistakes, he was making them fast and hard, and I like that. You're not going to be perfect all the time."
While the starting spot is obviously locked up with Martinez, the battle for the No. 2 spot just got a lot more interesting going into the summer.
"I think probably coming out of the spring, I would say Tommy's probably a little bit ahead of Ron at the end of the spring," Pelini said. "At the end of the day, we're taking all those kids and taking where they were and trying to make them better. I thought Ron got better throughout the spring. I thought Tommy made big strides throughout the spring. I thought Ryker Fyfe did some really good things. He didn't get very good protection out there today, but he showed that can really throw the ball.
"We have some talent at the quarterback position and some guys that made a lot of progress though spring."
With Kyler Reed and Ben Cotton graduating, the Huskers lose nearly all the production they got from the tight end position last year. But the Red-White game showed that the cupboard might not be as bare as fans originally thought.
"I like throwing to tight ends," Kellogg said. "They catch it because they never get the ball thrown to them."
If the tight ends can continue to perform like they did Saturday, they will get more opportunities than originally anticipated. Long said that the coaching staff made an effort to get them the ball, calling several play-action passes early with the intent of finding the tight ends over the middle.
"You learn that you can be a factor in the game," Long said. "If we go out there and make plays, we can be really good."
Beck is impressed with the improvement the young group of tight ends have made. Only Long has made any significant in-game contributions, so it will be imperative for the Huskers to find at least one or two guys from the crowded group of youngsters to contribute in the fall.
"Part of this game, entertaining as it is, is giving us a chance to evaluate," Beck said. "That's what I wanted to see today. I wanted to see how those guys would perform when we tried to get them the ball. The stronger tight end game you have, the more it's going to open up those wideouts. Obviously, we can't let guys double Kenny, Quincy and Jamal and we've got to have a threat in the middle with those guys."
Pelini is well aware that spring games, especially after the first few possessions, can get a little dull for fans watching in the stands. That's why this year the team decided to mix things up a bit by incorporating short drills and competitions during breaks in the game.
The winners of the competitions earned points for their respective teams on the scoreboard, but they weren't counted in the final box score.
There were a few other competitions planned for the game, but Pelini decided to scrap them after the first half lasted longer than expected and the game was pressed for time with its allotted air time on the Big Ten Network.
"You know, the spring game can drag a little bit," Pelini said. "We were on TV, and it's about recruiting and it gives the fans a chance to see some of the - we don't do the punt catch thing, but the compete drill is something that we include basically throughout spring. We were going to add a few more things that we do, but time became an issue in the second half because the first half went a bit longer than expected. So we didn't get to a couple other things. But it gives another inside look into what we do in our program."
***Pelini said he expected Frazier to play a role in Nebraska's running game this season, especially with his performance on Saturday. Frazier ended up with 12 carries for 64 yards and a touchdown, finishing second only to Hoffman for the game-high rushing total.
"King has had a really good spring," Pelini said. "He's going to be a good football player. He's going to play some football for us. I like what he did in the spring."
***He was listed as questionable for the spring game, but Moore ended up seeing quite a bit of playing time. Pelini said he was impressed with what he saw from Moore, who finished with two catches for 59 yards and a touchdown.
"Alonzo Moore showed me he's a very talented young man who has a lot of potential, but has a lot of growing that needs to be done for him to be a productive football player in our system," Pelini said. "But the potential is there. He's a great kid. The want-to is there, but the ability to sustain and do it and put the work in and do it day after day after day, that's the challenge. He's a young guy who's trying to figure it out, but when he does figure it out, when that time comes, he's going to be a pretty special player."
***Bondi made his first field goal attempt from 50 yards out but missed his second from 59 yards wide right, both of which going with the wind. He also punted three times for an average of 39.7 and put two inside the 20.
"Mauro Bondi got a lot better through the spring kicking wise," Pelini said. "He's sill got to work on some consistency things, but he's got a big leg. He's got to work on his mental approach at times, the consistency that's required. He has to show when things are tough - we put him in some stressful situations even before today - that he's able to bring it every single time. You can't simulate what's going to happen on Saturday, but you can try to. You can try to put him in some stressful situations, and he's gotten better."
"Foltz has showed me he's an excellent punter," Pelini said. "He's got a big leg. So if we had to play a game today, Mauro Bondi would be kicking and kicking off and Foltz would probably be punting, which would be a pretty good scenario. We wouldn't have to have one guy handle all the duties. But there's a long time before we have to play a game. There's a lot of competition. We have other guys coming in who we think are going to be able to compete for one or two of the jobs, so we'll go from there."
***Martinez said he planned to go back out to California in May to work with quarterback coach Steve Calhoun and would also attend the Manning Passing Academy in July.
[rl]