Smith ready to compete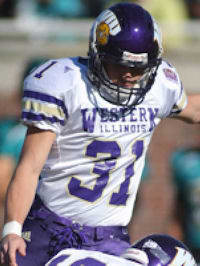 Pat Smith
wanted to make sure he ended his college football career with no regrets.
That's why after the Western Illinois kicker took an official visit to Nebraska over the weekend he said it was a pretty easy decision for him to join the Huskers for the 2013 season.
Because Smith will graduate in May and enroll into a graduate program not offered at WIU he'll be eligible to play immediately for the Big Red and compete for the starting kicker job in fall camp.
"Ultimately it was just the opportunity football wise and both academically," Smith said. "Nebraska is a good school, they lead the nation in Academic All-Americans, so it's a program that stresses academics as well as football. It's going to give me the opportunity to come in and compete in my final year for a Big Ten starting kicking job. Just talking to the coaching staff they're excited about some of the things I can do and I was excited about the program in general and the coaching staff was really tremendous this weekend on my visit.
"It's just the combination of educational and football opportunity wise it's not going to get much better than that. My parents have always supported whatever I've done, so they're fine with me taking a walk-on spot somewhere else. Really sometimes you've got to roll the dice and take a chance of being great than just being content where you are at."
During Smith's visit to Lincoln he spent quite a bit of time with special teams coordinator
Ross Els
. It was Els that pursued Smith once he found out he received his scholarship release from the Leathernecks after a head coaching change.
However, because NU already has a scholarship invested in both a kicker and long snapper in 2013 Els told Smith he'll have to join the program as a walk-on, but that's not something that bothered him at all.
"Coach (Ross) El was extremely excited," Smith said of his decision. "We had a great relationship over the weekend just getting to know each other. I think they are very excited about some of the things I bring to the table. Anytime you can have great competition in the kicking game I think it brings the best out in both sides.
"Even if it's a walk-on situation, they aren't going to scholarship a guy that's coming in for one-year when they can get a four-year high school kind of guy. Plus they just put a snapper on scholarship and they've got another kicker on. I understand that. Competition brings out the best and I'm ready to get out there and get to work and compete."
Smith said he'd also be open to punt if they need him to, but in all reality kicking is what NU is bringing him in for.
As a junior Smith was voted co-MVP for Western Illinois, connecting on all 10 of his field goal attempts and averaging 38 yards on 84 punts. He was named one of 10 finalists for the FCS kicker of the year award. Smith's numbers are skewed on field goal attempts, mainly because the Leathernecks ranked 241st out of 241 teams in total offense at 220 yards per game, which limited his overall number of attempts.
Smith said he's connected on a 62 yard field goal before in practice, but he feels comfortable kicking in a game from 55 yards on in.
Smith was also excited to learn about some of the great kicker history the Huskers have had the last 15 years and he's hoping he can add to that legacy
"It's a strong tradition at Nebraska and it's an opportunity both football wise and educationally that wasn't going to be matched at where I was," Smith said. "Even as a walk-on I felt the opportunity was too good to pass up.
"I told the coaches as soon as you get somebody here up on their visit I don't understand how anybody leaves. It was really unbelievable and I said this the other day, but the amount that is invested in player personnel and in the facilities and just the general support of the community is really unbelievable. It's really unmatched from anything I've seen in college football over the years."