Shrine Bowl notebook: Future Huskers get early introduction
The annual Shrine Bowl of Nebraska usually always features some future Husker flavor on its all-star rosters, but the 2018 lineups are as loaded as ever.
In fact, with 10 NU walk-ons playing in the game, this year will have the most future Huskers since 2012, when a whopping 15 players eventually ended up on Nebraska's roster.
The game will be played Saturday at 2 p.m. at the University of Nebraska-Kearney's Foster Field.
On the South team, which will be coached by Aurora's Kyle Peterson, the feature Husker walk-ons include Gretna linebacker Joey Johnson; Kearney Catholic quarterback Matt Masker; York linebacker Simon Otte; and Kearney defensive back Isaiah Stalbird.
The North team, coached by Bellevue West's Mike Huffman, will have Yutan defensive end Colton Feist; Bellevue West offensive lineman A.J. Forbes; North Platte tight end Bryson Krull; O'Neill wide receiver Wyatt Liewer; Gothenburg wide receiver Bennett Folkers; and Norfolk defensive end Ryan Schommer.
Some of those players, like Masker, have been going through a whirlwind the past few weeks leading up to the Shrine Bowl. But the opportunity to get to know and compete with and against several future college teammates has made it all worthwhile.
"I moved in (to UNL) last Tuesday, so I was just started to get comfortable in my new dorm room and then I had to move back out for this week," Masker said. "But I've met all the guys that are going to be walking on. All great dudes. I already can tell they're going to be my best friends. It's just awesome. It makes me really excited."
For Johnson, he's not only gotten to know a handful of his future NU teammates on the South team, but he'll also be rooming with a couple of North players once they arrive on campus for good.
"It's going to be pretty fun playing against my future roommates and being able to play with some of my future teammates," Johnson said.
Others like Stalbird made it a point to stop by a couple of the opposing practices to meet even more of their future Husker teammates.
Stalbird said that even though this latest class of walk-ons has a long way to go to have the type of impact as the 2012 Shrine Bowl group, he can already tell they are all ready to take on the challenge.
"We're all like a family now," Stalbird said. "I think we've all really got each other's back. It has that vibe that - we have to work hard in the first place because we're walk-ons, but we're really there for each other and are going to do whatever it takes to succeed."
- Robin Washut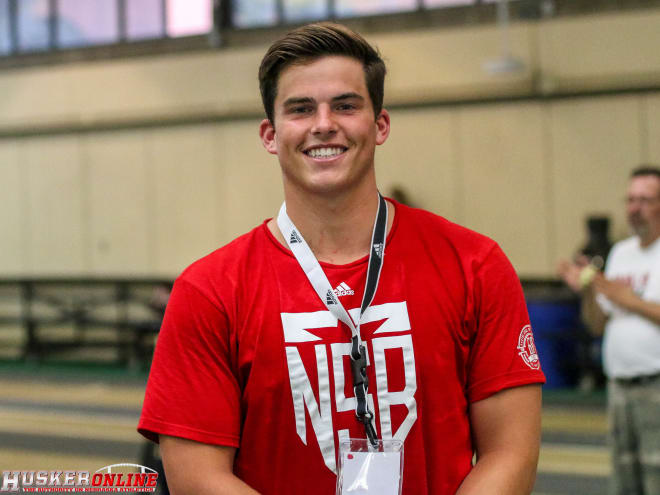 Stai excited to play for Solich
Saturday's Shrine Bowl in Kearney will be the final time Norris' Bryce Stai plays a football game in the state of Nebraska.

The 6-foot-4, 250-pound Stai is the son of former Husker offensive lineman Brenden Stai and will play for Ohio next season under former Nebraska head coach Frank Solich.
"I'm must excited to get under (Solich's) coaching eye," Stai said. "His staff is great. I really want to get out there and try to go all in. I'm excited, and they are hopefully excited. My recruiting class is hopefully going to come out and win some championships."
As for what's going on in Lincoln, Stai said his dad is excited about the Scott Frost hire, but lately his attention has been focused more on what's going on in Athens.
He added, it remains up in the air if his dad will continue to be a part of the Husker Sports Network broadcast team on Saturday's depending on what his role is for the Bobcats this season.
"My dad is excited," Stai said of the Frost hire. "Obviously he knows coach Frost. He's excited to see how Nebraska does, because he'll forever be a Husker fan, but for right now, he's a little more focused on the Bobcats."
- Sean Callahan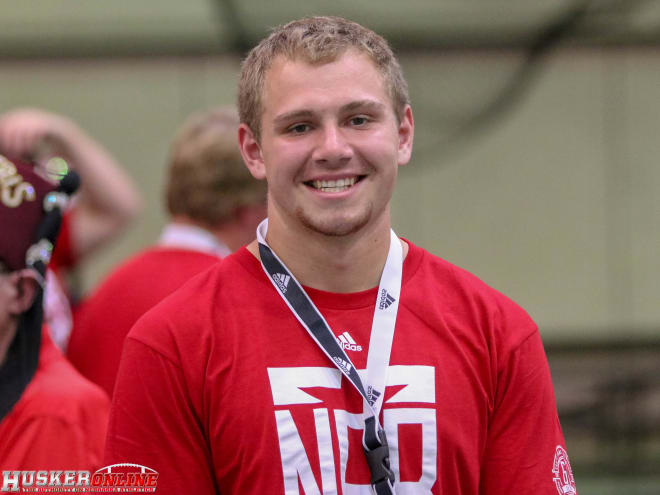 Schlager was in late talks with Nebraska
One of the more interesting in-state recruiting angles that flew under the radar was that Nebraska had late talks with McCook linebacker Zach Schlager.

The All-Nebraska linebacker signed with Colorado State in December, but Frost told him there was a chance of a late offer coming if something fell through.
"There was a little interest from Nebraska," Schlager said. "It came down to the last day in December, and they ended up getting Will Honas from JUCO. I then signed with CSU and I'm happy with what I did."
Schlager just finished off an impressive track season where he took second in the Class B 110-high hurdles. What's even more impressive is he weighed 215 pounds at state track, and his PR hurdle time was better than some previous state champions, including former Husker Josh Banderas.
The Shrine Bowl will be a chance for Schlager to prove what he can do on the big stage after playing through injury his entire senior year. Before that, he was coming off a junior season that had him potentially on the radar for a Husker offer.
"I just go back and look at my senior season," Schlager said "I felt like I almost got cheated out of it. In my opinion, I didn't get to prove what I could all do and what I was. I'm coming out here and I want to see what I can prove in this last game."
Schlager will follow in his older brother Jake's footsteps, who finished a very impressive career at CSU.
"If it wasn't Lincoln, it was CSU for sure," Schlager said. "Jake played there, and Fort Collins has become a second home to our family."
- Sean Callahan
Sargbah hoping to be back on the market by December
If everything goes to plan, Omaha North running back Milton Sargbah will be done at Iowa Western Community College after one semester.

Sargbah was a full academic qualifier out of high school, which means he's not obligated to get an associate degree before leaving IWCC.
"Coach (Scott) Strohmeier and Coach (Aaron) Terry are excited for me," Sargbah said. "They have big plans. Coach Stroh thinks I could be out of there in a semester if I play like I'm capable of. I'll I have to do is just work."
Just like Schlager, Sargbah was in talks with Nebraska for a late offer. It never came his way, so he chose the JUCO route to get a chance to play the highest level.
Sargbah, along with Lincoln High wide receiver Zion Perry were arguably the two fastest players in the state, and both will be showcased on the North offense. Sargbah is nursing an ankle injury but hopes to be a 100 percent for Saturday.
"Right now (Perry) has me beat," Sargbah said when it comes to a foot race. "My ankle is a little banged up. I rolled my ankle playing basketball, but I'm playing in the game."
- Sean Callahan
Dolincheck, Forbes player/coaches for North squad
There aren't many offenses in the state of Nebraska as explosive as Bellevue West's.
Thunderbird head coach Huffman is the head man for the North team at this year's Shrine Bowl and will bring his high-powered scheme with him.

Luckily for Huffman, North quarterback Joe Dolincheck and Forbes know his system about as well as anyone as former Bellevue West standouts. According to several players on the North squad, Dolincheck and Forbes have played a large role in helping the offense get up to speed.
That's been big for some of the players like wide receivers Liewer and Folkers, who have recently received a Nebraska playbook in addition to their Shrine Bowl playbook.
"One of the receiver assistant coaches gave me a big ol' binder of plays and formations for Nebraska and I have been trying to wrap my head around that and then I come down here on Saturday," Liewer said. "It's been pretty mind-boggling, but it's actually been pretty easy to get the hang of it.
"It's been really helpful having Joe because if you have any sort of doubt in your mind he knows the answer. He even spent one night with me and Bennett in the basement going over stuff and it felt like we were studying for a final or something. He was quizzing us on everything, going over all of the hand gestures and all of that."
Forbes says he and Dolincheck have embraced their opportunity to help coach up their teammates on the North team this week.
"It's definitely an advantage, I've been able to play in this system for four years," Forbes said. "Coming in, Joe and I knew that we were going to have to help these really good athletes around us understand the scheme that we're trying to put into place. I think we've done a really good job with that. Joe has been working with the wide receivers and I have been working with the o-line. Just helping them understand what they are supposed to be doing."
As for the system itself, Liewer is a big fan.
"I love it. Spread it, chuck it," Liewer said. "That's my type of game, just throw a lot of balls."
- Nate Clouse