Season ends with disappointing 38-17 loss to Iowa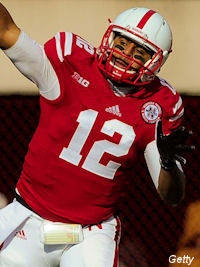 It was a game that meant nothing in terms of the Big Ten Championship race, but it felt like Nebraska played with a sense of panic all day long in Friday's 38-17 loss to Iowa to close out the 2013 regular season.
"I just told the team that was a tough one to lose. I'm proud of that football team in there," Pelini said. "I'm proud of all the things that they overcame through the year. I'm proud of who they are as men. I told the seniors they have a lot to be proud of. It hasn't been an easy year from any stretch of the imagination. It's been difficult. This team had a lot to perservere through, a lot to stick together through. They did that, and I'm proud of them, regardless of how it ended today. It was unfortunate how it ended today. We shot ourselves in the foot a number of times. We had some things go against us. It was unfortunate."
"Those mistakes plague any football team," Pelini said. "When you turn the football over, you're going to have some difficulties."
"We thought it was there," Pelini said of the fake punt. "We missed a block. We liked the look they were in and we whipped on a block, the most important block. We took a chance and it didn't work out. It's my fault."
Weisman would bulldoze his way in from there to put Iowa back up 31-17. Even though there were still nine minutes remaining, that series of events was essentially all the Hawkeyes needed to put the nail in the coffin. Iowa added one last touchdown for good measure on a four-yard run by Beathard to give the game its final score.
Looking ahead to Nebraska's potential bowl game possibilities, all signs point to the Huskers heading to Tempe, Ariz., for the Buffalo Wild Wings Bowl, which will be held on Saturday, Dec. 28, at 9:15 p.m. CT. The game would mark NU's first trip to Tempe since 1999 when they defeated Tennessee in the Fiesta Bowl.
"It's been incredible what we've gone through," Pelini said. "I told those kids in there who were hurting, 'You don't have to apologize to anybody. You've got to walk out there with your head held high.'"
[rl]