Saturday notebook: Huskers name four team captains for 2016
As Nebraska officially enters its first game week of the 2016 season, head coach Mike Riley announced that the Huskers have finally voted on who will be their team captains for 2016.
Senior Jordan Westerkamp, Dylan Utter, Josh Banderas, and Nate Gerry were all selected as the team's full-time captains, and Riley said NU's seniors also voted to add a rotating weekly captain title in honor of the late Sam Foltz.
While three of the selections were obvious choices, there were some eyebrows raised that Gerry was still named a captain even after being handed a one-game suspension for the season opener for a violation of team rules.
Riley said he didn't think Gerry's recent suspension should have done anything to affect his captain status, saying Gerry made a mistake and that it didn't overshadow what he had accomplished at Nebraska.
"I think that the team respects Nate a ton," Riley said. "Also, all of us, with the team or on the team, we've all had stuff, and they all know that, from time to time in our lives. Nate made a mistake, that does not diminish him as a leader and what he's done for this team through the years.
"He's had a great, great offseason with this team, and I think they recognize that. He'll go on and make good decisions. I don't think we'll see any of this again. The team obviously really respects him."
The other notable takeaway from the list of captains was that it did not including fifth-year senior and fourth-year starting quarterback Tommy Armstrong.
Riley admitted he was a little surprised by the omission, but noted that there were a lot of deserving players to choose from and that Armstrong did get a lot of votes from his teammates.
"I'll probably say I was maybe a little bit surprised," Riley said. "But I know the explanation and I told the seniors this when we were going to select captains … I told them, the one thing that would happen here is there's lots of choices.
"So I knew it was going to be hard. A guy like Tommy got lots of votes, but every team has a little bit different dynamic… It's not unprecedented here. Tommie Frazier was a quarterback for a national championship team, I don't think he was a captain at that time. Scott Frost was not a captain at that time.
"Tommy is a leader. He's the quarterback, everybody respects him. It was just very, very hard."
Riley said there has been no decision yet on who will be the honorary Sam Foltz captain for the first game next week.
- Robin Washut
Decisions made on freshmen redshirts
After months of speculation regarding which members of Nebraska's 2016 freshman class would redshirt and which would have an immediate role, Riley finally gave some answers on Saturday night.
Riley confirmed that four true freshmen would see the field in some capacity this season. Those four were cornerback Lamar Jackson, running back Tre Bryant, safety JoJo Domann, and punter Caleb Lightbourn.
While the number was a bit lower than many had expected, Riley noted that the list could grow as the season goes on. Several other freshmen are on what Riley called the "freshman alert list" as players who could join the mix if necessary.
Among those on the "alert list" include receiver JD Spielman, cornerback DiCaprio Bootle, and offensive linemen Boe Wilson, Matt Farniok and John Raridon.
All of the freshmen defensive linemen and linebackers will redshirt, including linebacker Quayshon Alexander, who will undergo season ending surgery.
Riley said a guy like Spielman was an especially difficult decision.
"It's a tough one," Riley said. "He's a real football player. He could play a lot of different spots, but because of the depth we have at receiver right now, we're probably going to keep him on that redshirt alert and keep him practicing."
One of the easier decisions was with Bryant, as he made instant waves this fall and will factor in both at running back and in Nebraska's special teams units.
"Tre has just kind of fit in so well," Riley said. "Special teams, he'll be our kickoff returner. He'll get a mix as a running back. One of the things you have to look for early in a running back - we look at his running ability, which is obvious.
"But how does his fit into the passing game? Can he run a route? Can he catch a ball? Can he pass protect? … Tre was really natural with all that."
- Robin Washut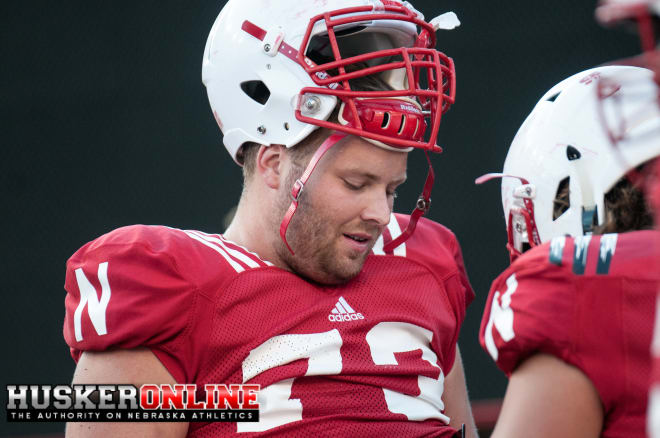 Hahn wins starting left guard job
When Jerald Foster was lost for the season and Corey Whitaker was temporarily sidelined with knee injuries, the search was on to figure out a new depth chart at left guard before the season opener.
Nebraska looks to have found one as fall camp officially comes to a close.
Riley announced Saturday that senior walk-on Sam Hahn has won the starting job. Though the 6-foot-7, 300-pound native of DeWitt, Neb., came into camp listed as a tackle, NU's coaches have noted his ability to play inside and out as a swing player up front.
That versatility paid off in helping Hahn lock up his first career start next week vs. Fresno State.
"Sam Hahn right now will be the starter at left guard," Riley said. "I'm excited for him. I though he's looked real good and had a good camp."
The question of who will backup Hahn still remains, however. Riley said Whitaker could make it back to practice as early as next week, but he wouldn't be ready to play in the first game.
That means guys like Jalin Barnett and Wilson elevate to the potential No. 2 and 3 backups. With Wilson being on the "alert list", though, Riley said the hope is to hold onto his redshirt unless NU has to play him this year, meaning Barnett will likely be the No. 2 next Saturday.
"Of course Boe Wilson has been in that mix," Riley said. "We're going to hold Boe out until we really decide if we're going to be all in or all out with him."
- Robin Washut
Quick hits
***Saturday night's practice was open to all University of Nebraska students, and the full Husker marching band was also in attendance. In all, there looked to around 3,500 students in the east stadium stands.
***After practice, rapper DJ Kool performed his hit single and newly adopted NU anthem "Let Me Clear My Throat".
***Here are the players who sat out of Saturday's practice with various injuries: linebacker Dedrick Young (groin), Gerry, wide receiver Stanley Morgan, safety Antonio Reed, wide receiver Alonzo Moore, Barnett, tight end Matt Snyder, and Whitaker.
***Wide receiver Brandon Reilly, who is suspended for the season opener along with Gerry, did fully practice.
***In positive injury news, linebacker Michael Rose-Ivey was back in pads and practiced limited reps.
***Foster, who is out for the season with a knee injury, watched from the sidelines on crutches with a big brace on his right knee.
***A number change to pass along: linebacker Mohamed Barry has switched from No. 18 to No. 7.