Rose-Ivey hopes bouts with adversity will give way to a big senior year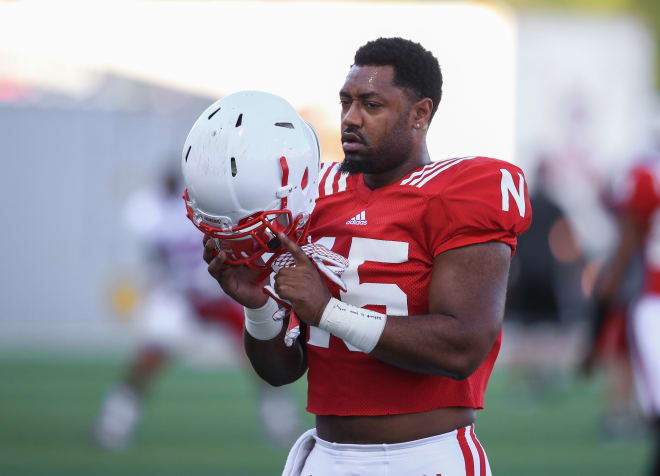 It seems Michael Rose-Ivey was destined to be a football player. The first word to escape his lips was "touchdown" and his on-field instincts draw rave reviews from coaches and teammates alike.
But reaching that destiny has required sacrifice, first by his father, then by Rose-Ivey himself. The path to greatness is rarely a straight one, and Rose-Ivey's road has been circuitous over the past couple of years.
He appeared headed for stardom after sliding into the starting lineup as a redshirt freshman at Nebraska in 2013 and setting the school record for tackles as a rookie. Then came a knee injury that ended his sophomore campaign, a suspension and a nagging groin that kept him at partial strength all last season.
Despite the missed time, Rose-Ivey has remained one of the faces of the program and one of its leaders. And with his final campaign approaching, Rose-Ivey wants to be sure his mark on the program will be felt well after he's gone.
"As far as me as a senior, you always start thinking about legacy," he said. "What have you done? Have you left the place better than you found it? I would want nothing more than to bring a Big Ten Championship home.
"It's not just my own personal roller coaster, but the roller coaster here, just the ups and downs with teammates and the team in general, the coaches… it would be awesome to be able to do it. I'm really confident that we'll have a really, really good chance."
The path to Lincoln
Rose-Ivey's football education began before he ever uttered that famous first word. His father taught him to signal touchdowns by raising both arms and watched film with him long before the child could possibly understand what he was seeing.
Michael Rose Sr. was 15 and beginning a standout high school career when Rose-Ivey was born. He was talented enough to get an opportunity at Northwest Missouri State, but his immaturity and poor grades washed him out. After a few try-outs with pro and semi-pro teams, Rose Sr. turned his attention fully to his son.
"That was my passion when I was younger and everything that I did football-related, he was there," Rose Sr. said. "I would watch film with him, even at a young age, and show him what to look for. I did not know that he would take it all in. But as he got older and started playing ball himself, he started to show some of the things that we talked about on film, things that he actually picked up and explained them to other people.
"It was all a brain-washing process."
It didn't take long for the early lessons to start showing their worth. Rose-Ivey started playing football at eight years old and spent most of his early career as a "striper" – a player deemed by Pop Warner rules to be too big and potentially harmful to opponents to play a skill position – parking him most on the defensive line and at left guard.
But he finally found his home at linebacker in eighth grade, and that's when things took off. He was promoted to the varsity squad as a freshman at Rockhurt High School, in Kansas City, Mo., an honor typically reserved only for players the coaching staff believes will one day become Division I prospects.
That wasn't good enough for Rose-Ivey. He wanted to start from day one.
"We played him a lot, but he wanted in," Rockhurst coach Tony Severino recalled with a laugh. "He was never shy about wanting to play, and when you get that out of a freshman, you know you're going to have a really good senior.
"He just had a great nose for the ball. Some kids just have that knack of knowing how to make plays on defense. Michael just fit that knack. There were times where it may have been against the grain, and you go, 'Why did you go there?' Then you'd see it on film and you'd see why he went there. He just had great instincts."
Rose-Ivey's on-field career was filled with success. After suffering a down year in his sophomore campaign, Rockhurst won the state title the following season. Rose-Ivey then posted a dominant senior year with 104 tackles, three sacks, two interceptions and two forced fumbles, cementing his status as one of the top linebacker recruits in the country.
Things off the field weren't quite so sunny. Rose Sr. describes his son's high school years as "the worst four years of my financial career," and he was having trouble paying tuition for Rockhurst, a private institution. To keep Rose-Ivey enrolled, Rose Sr. sold his 1983 Olds Cutlass, one of his prized possessions. The decision was a tough one, but Rose Sr. recalled how he too once had a chance to attend Rockhurst as a high schooler. He instead went to a local school with his friends, losing his way and a promising career in the process. He wasn't going to let that happen to his son.
"It was kind of making a right out of my wrongs," Rose Sr. said. "It was more of an investment. I knew what my son was capable of doing and I wanted him to have the best opportunities and the opportunities that I neglected to take advantage of."
The father's sacrifice paid off as the nation's top universities honed in on Rose-Ivey, but his recruitment closed up quickly. He committed to Nebraska on July 5, 2010, a month before his junior year of high school even began.
Looking back now, Rose-Ivey believes his decision was made prematurely and Rose Sr., a Nebraska fan dating back to the 1980's, worries that he might have pressured his son into pledging too quickly to the Huskers.
"That's one of my biggest regrets as a parent," Rose Sr. laments. "I played too much of a role in the recruiting process. Not that he didn't commit to a great school and not that he's not having a great time there, but I wish I would have stepped back a little further away from that situation and let him come to the understanding of how great Nebraska was himself instead of me pushing on him as much as I did.
"I always thought Michael was good, good enough to play Division I football, maybe at a place like KU or Iowa State, a place not really known for football. I never really thought he would develop like he did in high school into one of the top high school players in the country."
The early announcement did have its advantages. Most schools stopped pursuing Rose-Ivey, saving him from the barrage of calls from coaches and reporters that uncommitted prospects must endure. It also allowed Rose-Ivey to do some peer recruiting, and his words helped convince some other players to find their way to Lincoln.
But Nebraska had to sweat a bit as Rose-Ivey's high school career came to a close. After participating in the prestigious Under Armour All-American game in 2012, Rose-Ivey remembers returning to his hotel room to find Mike Vrabel, a 14-year NFL veteran and then an assistant coach with Ohio State, waiting by his room.
"I'm like, 'That's Mike Vrabel! He played in the NFL! Oh snap, he's from Ohio State!'" Rose-Ivey said. "We talked for a little bit, then I was like, 'Maybe I'll go visit there.'"
USC also jumped in with a late offer and Rose-Ivey longed to visit Los Angeles. But between schedules and flight times, a workable date never materialized. Nebraska ended up being Rose-Ivey's sole official visit, a fact he's more than OK with now.
"Once he got locked in at Nebraska he knew that was the place he always wanted to go," Severino said. "He visited up there and came back and said, 'That's where I'm going.'"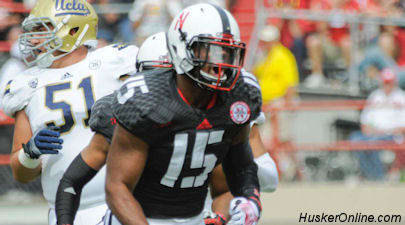 Laying the groundwork for a bright future
Rose-Ivey arrived in Lincoln with the same confidence he did at Rockhurst – he was going to play, maybe even start, right away.
But after one week of fall camp he knew that wasn't a realistic goal. Watching veteran linebacker Will Compton study film was like learning a different language. Then-linebackers coach Ross Els said Rose-Ivey had "viewer eyes," meaning he spent film sessions simply watching the ball instead of focusing on technique or certain keys.
So he redshirted and learned for a year. When he returned the next fall, he found himself amongst a mass of talented linebackers and hardly saw the field outside of special teams for the first four games. Rose-Ivey got a chance to show what he could do against Illinois, making 11 tackles in a blowout win. Three weeks later, the coaches told him he would make his first start against Northwestern.
Things couldn't have gone worse. The Wildcats featured a certain zone running scheme that had Rose-Ivey missing his gap in practice all week. Sure enough, the linebacker was out of place on Northwestern's second drive of the game, allowing Treyvon Green to scamper 39 yards. Rose-Ivey spent the rest of the contest on the sidelines, where some dark thoughts began to settle in.
"Damn, I'm done," he told himself. "I'm not going to play for the rest of the year."
A few days later then-head coach Bo Pelini called Rose-Ivey into his office and showed him the first two drives of the game, then delivered the confidence-booster he never saw coming.
"I know you can play better than that," Pelini said. "I'm starting you this week against Michigan."
Rose-Ivey justified that faith by having one of his best performances in the game he says is the most fun he's had at Nebraska. The 6-2 Wolverines were in the midst of a 19-game home winning streak and few gave NU much of a chance. But Rose-Ivey had a team-high eight tackles and the Huskers held Michigan to 175 yards, escaping Ann Arbor with a 17-13 victory.
"I remember talking to JP (then-defensive coordinator John Papuchis) and he was like, 'I'm just so proud of you, coming back after that,'" Rose-Ivey said. "He knew my confidence was a little shaky after being pulled. That was the game that I knew I could play at this level."
The next four games reinforced that belief. Rose-Ivey had 40 tackles in that span, including a career-high 16 against Iowa, to finish the year with 66 stops, the most ever by a Husker freshman. Rose-Ivey's stock was rocketing skyward, but adversity waited in the clouds.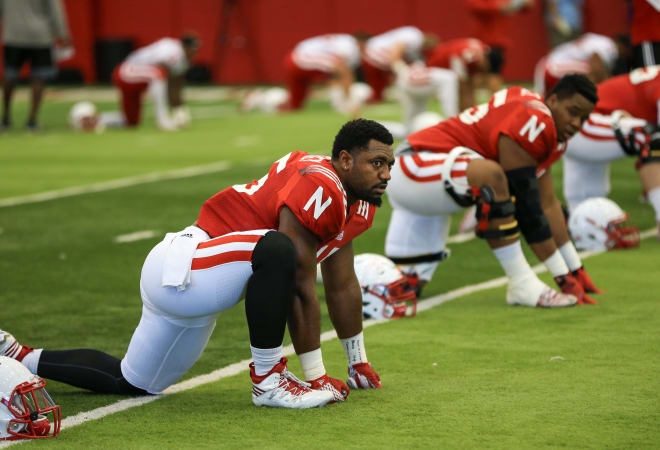 A lesson in patience
Disaster knocked during a routine kickoff drill the following fall in preseason practice. While trying to beat the leverage of a blocker, Rose-Ivey's right knee caught and twisted in an unnatural fashion. Though he'd never suffered a major injury up to that point, he knew right away – his ACL had torn and his season was over.
"It was tough because I went through the offseason knowing I had an opportunity to really make a name for myself and help the team out," Rose-Ivey said. "It just sucked going through that whole year watching everything."
Rose-Ivey now believes another year on the sidelines allowed him to pick up some valuable lessons that he used last season, things he might have missed had he been on the field. But his disposition wasn't nearly as positive in the moment.
"There were some dark days," Rose Sr. said. "He's not a woe-is-me guy, but it's not the public moments that are tough, when you have people around you. It's when those thoughts come in late at night when you're by yourself trying to sleep. Those are the moments you start beating yourself up and there were a lot of those things.
"My communication with him through it all was that God has a plan and this all happens for a reason. We don't know what it is, but we have to believe that everything works for our good."
Rose-Ivey returned with vengeance in the spring, immediately making an impression on the new coaching staff, who had little to no film on which to grade him before spring ball began.
"There were just some plays where he'd slip a blocker or do something that took some savvy-ness to it," linebackers coach Trent Bray said. "He did things that made you say, 'Oh, this guy's got some stuff.'"
"Whoo, this is a player right here!" defensive coordinator Mark Banker recalled thinking.
Rose-Ivey immediately gained the trust of the new staff and was a fixture on the first-team defense. He was still gaining confidence in the repaired knee, but he felt his breakout season was on the horizon.
"I was Batman coming into Gotham City!" Rose-Ivey said with a laugh. "I was like, 'This is going to be it. I've got to do it.'"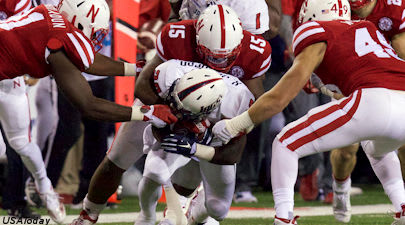 The year got off to an ominous start as Rose-Ivey was one of five Huskers suspended for the season opener against BYU. Though disappointed in himself, Rose-Ivey didn't let the missed game keep him down – he tallied 10 tackles the following week against South Alabama and was off to a solid start against Miami when adversity struck again.
The junior pulled a groin muscle late in the third quarter. Rose-Ivey initially hoped it wasn't serious, but he would miss the next four games. Some suggested season-ending surgery, but he wouldn't consider it.
"You see a lot of people get hurt and they just put their head down and call it quits," safety Nathan Gerry said. "I know a lot of people were talking to him about taking the rest of the year off, but that's not the type of guy Mike is. He worked hard to get back out here. It was mentally tough on him and physically tough on him, but he's the type of guy that is going to push through it."
He returned for the Northwestern game, but after making a tackle in the second quarter felt the pull again. He removed himself from the game and played only sparingly from that point out.
Rose-Ivey sat out the Purdue game and was only a partial contributor for the rest of the season. He went into most contests not knowing if he would play 30 snaps or three, but gamely soldiered through.
Although the ACL injury the year before was more physically devastating, Rose-Ivey said the groin ailment was much more of a mental grind. With the knee tear, he knew his season was over. But this injury left him hoping week to week that something would improve, only to be repeatedly disappointed.
"I felt I could be out there and playing at a high level, but my body wouldn't let me," Rose-Ivey said. "I couldn't do the things that I wanted to. I couldn't use my instincts to make plays. Playing against Iowa, that was terrible. I was just shuffling from side to side.
"You get excited. You go through the whole week feeling good, then you start feeling it pull. One week I just woke up and I just knew. I was like, 'Man, I just want to play!'"
Becoming Coach Rose-Ivey
As Rose-Ivey's frustration mounted and Nebraska's losses piled up, Banker knew he needed his linebacker's fire to perk up the sagging defense. Despite not knowing Rose-Ivey for very long, Banker could see Rose-Ivey was one of the emotional backbones of the Blackshirts.
"You lose more with a guy like that than just his ability to play," Banker said. "You lose that heart and soul, that emotional spirit, that leadership that comes along with a guy like him. There was a time there when he knew he was going to be down for a while and he took it hard. He was ready to jump off a high building or something.
"But we told him, 'This is your job. You come out here and you are now Coach Rose-Ivey.'"
The funny thing is, Coach Rose-Ivey is a different entity depending on the person. Jack Gangwish, who said he wouldn't be at all surprised if Rose-Ivey were named a captain next season, describes him as fiery. Bray and Severino characterized him as a quiet leader, while Gerry said Rose-Ivey sets a standard with his work ethic that makes those behind him want to get in line.
Rose-Ivey considers himself to be a leadership chameleon. Every player responds differently to certain leadership styles, a fact Rose-Ivey picked up early on in his career.
"I try to find where a certain type of leadership style fits," he said. "Does the guy need a pick-me-up? Should I talk to him and bring him aside? Do I say something to the whole team? I don't want to be just one guy, always yelling or always not saying something. I want to speak up when I need to speak up, but I'm not going to say anything if there's not a need. That's how I am. I'm a little more laid-back."
Rose-Ivey's medical issues didn't go away, but his attitude improved as the season progressed. Even on weeks where he didn't have a shot at playing he remained engaged and communicated with the Huskers' younger defenders. Banker recalls one practice where Rose-Ivey was supposed to be sitting out. But during one drill he was instead lined up behind his position in the end zone, working on his footwork and diagnosing the play.
"You can still lead from the sidelines," Rose-Ivey said before Nebraska's bowl game in December. "There are guys that may not get a snap at all on Saturdays that I look up to as leaders on this team. Your role on the playing field doesn't really change if you're a leader. That's just who you are. That's the type of person you are. It doesn't matter if you're playing or not."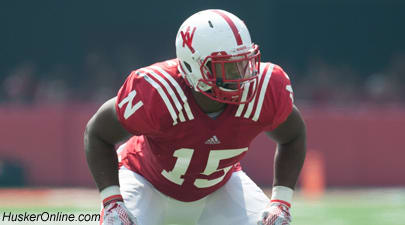 The groin is now fully healed and Rose-Ivey is no longer bothered by any lingering affects from the ACL surgery. Rose Sr. said he feels this is the healthiest his son has been since enrolling at Nebraska.
The past two years were an education in patience, and they helped Rose-Ivey garner an even deeper respect from his teammates.
"He's tougher than hell," Gangwish said. "He stuck with it and kept his head up throughout the whole process. It has been a rocky road for him. He stuck with it. That's a hard journey and he's really taken it well."
With just one season remaining, Rose-Ivey can't help but think about the future. He'll graduate in May before lacing up his cleats for his final season at Nebraska. He's always dreamed of playing in the NFL. When former Husker Zaire Anderson, now a member of the Denver Broncos, was back in town a few months ago, Rose-Ivey peppered him with questions about playing the pros and what the preparation is like.
But bringing a Big Ten title to Lincoln is a more pressing goal, and the senior believes that's a distinct possibility. Coaching changes are never easy, and Rose-Ivey says there is a different vibe to the squad this spring compared to Mike Riley's first year as head coach.
"That's why I think we've turned over a new leaf here as far as our program," he said. "I feel that cohesiveness. I feel that unity. I feel like everyone is working toward that one goal, and that's to win the Big Ten Championship. I feel it on every level, from the coaches to the training staff to the players. I can definitely see it in the way we're working.
"I'm seeing a lot more guys watching film, getting extra film studies in and coming and talking to the coaches. Guys are being more proactive in learning the playbook and learning the scheme."
The Rose family hopes their times of adversity and sacrifice are behind them, that Rose-Ivey can meld the potential he showed as a freshman to the knowledge he's gained the last two seasons into a dominant senior year.
But they also know that the path won't always be easy. There may very well be more tough times ahead.
Those thoughts creep up sometimes and there are moments of regret. But in the end, Rose-Ivey's journey may just well be getting started.
"When I get to my selfish moments, I think to myself, 'Man, I still really wish I had that car,'" Rose Sr. said. "That's a moment that I look at my son and what it means and that thought leaves pretty quickly."