Ronald Thompkins commit: What does it mean for Nebraska?
The month of June has been a busy one on the recruiting front for Nebraska and that continued on Friday as the Huskers landed an commitment from Ronald Thompkins out of Georgia.
The 6-foot, 195-pound running back announced his decision via Twitter on Friday afternoon. He had 19 offers to his name and picked the Big Red over Alabama, Auburn, Florida, Florida State, Georgia, Indiana, LSU, Oregon, Penn State, and USC among others. Thompkins becomes the ninth known commit for Nebraska's 2019 recruiting class.
Here are some quick takes on what Thompkins' commitment means for Nebraska.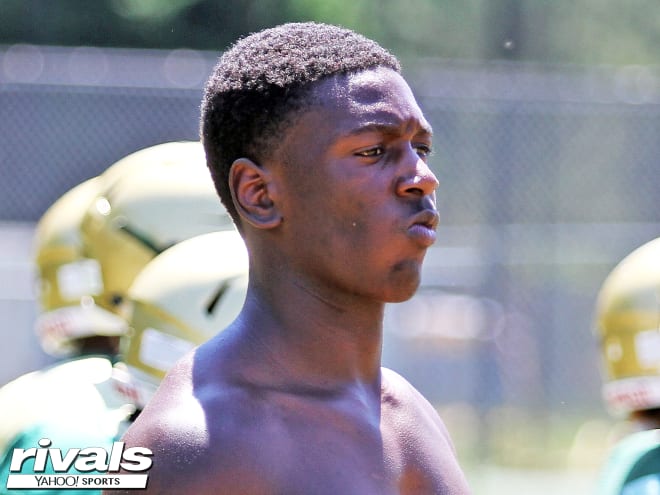 1. Nebraska's recruiting has been on fire in the month of June. The Huskers have now added four commitments to its 2019 class including Thompkins as well as two transfers that will be immediately eligible to play this fall. NU has also hosted unofficial visitors nearly every day this month and more commitments could be on the horizon with Friday Night Lights camps set to start later today.
2. Nebraska running backs coach Ryan Held is a heck of a recruiter. With Thompkins now in the boat, the former Husker has landed more running backs to come play for the Big Red since being hired in December than the previous coaching staff did in three years. Of course, not all of Held's backs are on campus yet, but there is no denying the coach flat out produces on the recruiting trail at a very high level.
3. Nebraska gets another very good player out of the state of Georgia and their first one for the 2019 class. The Huskers have made it known that they want to recruit the Peach State at a high level and this staff has shown the ability to do so as they landed Katerian Legrone and Caleb Tannor last year in a limited amount of time and have now pulled Thompkins away from some heavy hitters as well.
4. Thompkins comes from a powerhouse program in Garyson High School. The Rams produce a ton of high-level DI talent on a yearly basis and the Huskers have started to establish a bit of a pipeline. Thompkins will be the third player from Grayson on NU's roster once he arrives in Lincoln joining Mohamed Barry and Breon Dixon. The connection should allow for the Huskers to continue to gain traction at Grayson as well as the state of Georgia as a whole.
5. Thompkins fits the mold of what Nebraska wants at the running back position. He's an very athletic and versatile runner that can produce between the tackles as well as out on the edge. He's also an asset in the passing game which is extremely important in Scott Frost's offense. He's yet another piece that the coaching staff will be able to get creative with once he arrives on campus.
6. Physically, Thompkins looks to have all the tools to not only be a very good fit in Nebraska's offense, but also to be productive in the Big Ten. He's got very good size at 6-foot, 195-pounds right now. Plus, he shows the ability and willingness to run with power as well as the agility and speed to make a defender miss in the open field and break away for long gains.
7. Perhaps the biggest question now that Thompkins is on the board as a running back commit for 2019 is if it impacts the other running back commits NU has with Rahmir Johnson and Thomas Grayson. The answer to that is it very well could. I don't see Johnson, Grayson, or Thompkins switching positions, although they are all athletic enough to do so. The Huskers do use their running backs in several different ways and get many people involved, but it will be interesting to see what happens with these three going forward.
The other thing to watch for is if this commitment means there will be some possible attrition from current running backs on NU's roster or it there are some injury concerns within that group that are still lingering heading into the 2018 season.
8. 2019 Nebraska commit breakdown
6/15/2018 - Ronald Thompkins - RB - 6-foot, 195 - Loganville, GA - 3 Stars
6/6/2018 - Jackson Hannah - LB - 6-foot-3, 234 - Nashville, TN - 4 Stars
6/4/2018 - Luke McCaffrey - QB - 6-foot-2, 180 - Highlands Ranch, CO - 3 Stars
6/1/2018 - Desmond Bland - OT - 6-foot-4, 300 - Yuma, AZ (Flossmoor, Ill.) - 4 Stars
5/5/2018 - Rahmir Johnson - RB - 5-foot-10, 170 - Oradell, NJ - 4 Stars
4/9/2018 - Thomas Grayson - RB - 5-foot-11, 190 - Tulsa, OK - 2 Stars
3/5/2018 - Ethan Piper - DE - 6-foot-4, 280 - Norfolk, Neb. - 3 Stars
11/24/2017 - Garrett Snodgrass - ATH - 6-foot-3, 220 - York, Neb. - 3 Stars
6/24/2017 - Garrett Nelson - OLB - 6-foot-3, 236 - Scottsbluff, Neb. - 3 Stars
9. Commits by position
1 - Quarterback
3 - Running back
0 - Wide receiver
0 - Tight end
1 - Offensive linemen
0 - Defensive tackle
1 - Defensive end
1 - Outside linebacker
1 - Inside linebacker
0 - Safety
0 - Cornerback
1 - Athlete
0 - Special teams
10. Where are they from?
3 - Nebraska
1 - Colorado
1 - Georgia
1 - Illinois
1 - New Jersey
1 - Oklahoma
1 - Tennessee