RojoBreakdown: Blackshirts selling out against run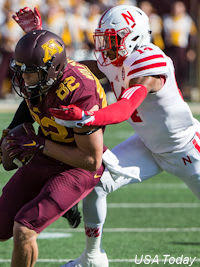 As
Mitch Leidner
, he of the 57.9 completion percentage entering the game, was carving up the Huskers to the tune of a 16-for-17, 156-yard first half Saturday, it was impossible not to wonder what had gone so horribly wrong with the Nebraska secondary. The group was expected to be one of the team's strengths this season, and individually the talent still looked great on paper.
But after seven games, the results are impossible to ignore. Though Nebraska slowed Leidner in the second half, he still finished with 301 yards, a career high. That marked the fourth time this season that an opponent notched their season high in passing yards against the Huskers (BYU, Southern Miss and Wisconsin are the others), and NU is giving up a nation-worst 341.7 yards per game.
A quick glance at the numbers says one thing in bold, loud print - the Huskers simply can't defend the pass. But closer examination reveals there might be more to it than poor performance.
Opponents have attempted 310 passing attempts against Nebraska (44.3 per game), the highest total in the country. Obviously if a team is facing a plethora of passes, it's going to give up more yards. Looking deeper, the Huskers are actually in the middle of the pack nationally in opponent completion percentage (57.4 percent, 52nd) and passer rating (130.7, 74th). Neither of those numbers is particularly promising, but they're not disastrous either.
So what's the issue here? Minnesota coach
Jerry Kill
brought up an interesting point Saturday morning during his weekly appearance on the Sports Huddle show on WCCO radio in Minneapolis. Kill said the Huskers made it clear they were going to sell out to stop the run, so the Gophers took to the air.
"They commit to the run," Kill said. "They're going to make you throw the ball. I thought we had a good plan. We said, 'OK, if they're going to put all those people up front, we're going to run it at them. And if we can't control the line of scrimmage we're going to throw it.' And we've got enough confidence in Mitch to do it.
"We used the bubble screen as a run and the tight end screen as a run, and then we took a few shots. Sometimes you watch those short throws, like in the NFL, they're almost like runs. When you're going downhill against somebody who's as big and strong as you and you can't move them, you have to have a plan on the offensive side if something doesn't work one way or another."
Defensive tackles
Maliek Collins
and
Vincent Valentine
are stout in the middle (as is
Greg McMullen
when he moves in from end) and defensive coordinator
Mark Banker
is sending extra help inside to stuff the run. That left Leidner with numbers on the edge, where he routinely threw quick swing passes to
KJ Maye
, who had 94 yards on 11 catches with a long of just 18.
This strategy has helped the Huskers put up some very stingy numbers against the run. They are ceding just 91 yards per game (seventh-best in the country) and 3.2 yards per carry (20th). Only three opponents have surpassed the 100-yard barrier as a team, and the Huskers have allowed just 20 runs of 10 or more yards, the 10th-lowest mark in the nation:
http-equiv="content-type">

A whopping 60 percent of opponents' carries have gone for three yards or less (including sacks). Opposing offenses simply haven't been able to generate any kind of consistent ground attack.
To be fair, Nebraska hasn't exactly facing a murderer's row of rushing offenses. Miami's
Joseph Yearby
is the top individual talent NU has faced and he blistered the Huskers with 125 yards on 17 carries. Wisconsin was missing lead back
Corey Clement
yet still got a career-high 117 yards out of
Dare Ogunbowale
. Illinois'
Josh Ferguson
had 50 yards on four carries before leaving with an injury.
But the numbers speak for themselves, and Nebraska bottled up Minnesota's
Shannon Brooks
(coming of a 176-yard performance the week prior) and
Rodney Smith
, who combined for just 48 yards on 16 carries. Then again, the Gophers were missing several starting linemen, including their center, leaving true freshman
Tyler Moore
to deal with the terrifying tandem of Collins and Valentine.
So just how are we to judge Banker's defense after seven games? The Huskers are giving up passing yards in bunches, but that's because they're committing extra defenders to stop the run. Nebraska has posted great numbers against opposing rushing attacks, but those performances are dotted with asterisks.
The good news is that the Huskers are coming off one of their best defensive halves of the season - Nebraska picked off Leidner twice and limited him to 10-for-23 passing after intermission Saturday, all while limiting the Gophers to 14 yards on 12 carries. With slumping Northwestern and Purdue coming up on the schedule, Nebraska has a chance to capitalize and vault above .500 for the first time this season.
But those games aren't gimmes, and the schedule gets much tougher after that, as Michigan State and Iowa (combined 14-0) visit Memorial Stadium in November. If Banker can aid the leaky passing defense without surrendering much against the run, the Huskers will have a chance in each of their final five contests.
Minnesota receiving breakdown
I'm not sure what took so long, but
Jordan Westerkamp
finally got back in the mix - after totaling just three catches for 17 yards against Illinois and Wisconsin, the junior was again featured against Minnesota, and to no surprise, he came through. Westerkamp caught all six of the passes thrown his way, including a leaping 27-yard reception on third down that essentially put the game on ice with about four minutes remaining. Westerkamp remains NU's most reliable receiver and he deserves more targets.
Alonzo Moore
continued his breakout season, hauling in four of his six targets for a career-high 84 yards. Moore's emergence has been a pleasant surprise, and new receivers coach
Keith Williams
seems to have breathed new life into the junior. Talent was never the issue with Moore - consistency was, and he seems well on his way to solving the problem.
However, that issue continues to ail the talented
Cethan Carter
, who has hauled in just nine of his 23 targets this year. But his one catch against Minnesota showcased his potential - he caught a short pass and displayed great athleticism in diving for a touchdown. There is no doubting Carter's talent, but can he become a reliable target for
Tommy Armstrong
? He already has three drops this year.
It was good to see
Brandon Reilly
rebound (two catches on two targets) after catching one pass on nine targets in the previous two games. But where is
Stanley Morgan
? Surely someone figured to lose targets with the return of
De'Mornay Pierson-El
, but the gifted freshman had just two targets against Wisconsin and none against Minnesota. Pierson-El is a stud and deserves more playing time, but Morgan's early exploits demand some respect as well.
http-equiv="content-type">

Drops: Carter, Newby
size="3">Season receiving breakdown
http-equiv="content-type">

Drops: Reilly 4, Carter 3, Newby 3, Hovey 2, Moore 2, Pierson-El, Turner, Westerkamp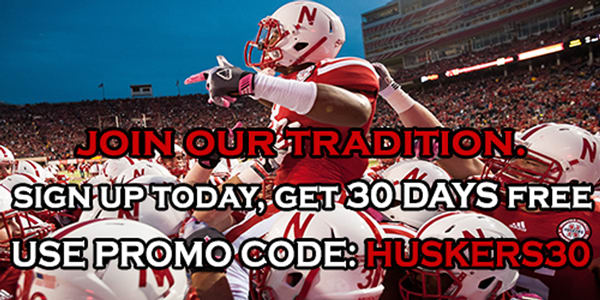 Click
Here
to view this Link.