Rogers wants to help wake sleeping giant Nebraska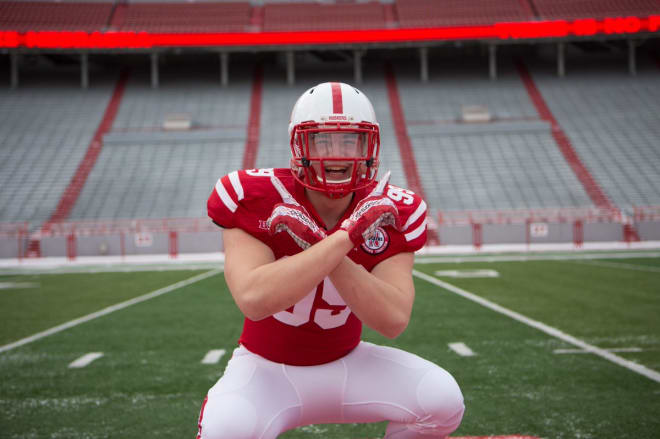 Avon (Conn.) Avon Old Farms product Casey Rogers admitted he was on the precipice of committing to Nebraska while on his official visit to Lincoln last weekend, but he finally pulled the trigger when head coach Scott Frost came to see him the following morning.
"I was waiting to tell all the other [college] coaches before I said anything publicly, but I am definitely relieved," Rogers explained. "The feeling in my stomach is a really good feeling, that's for sure. I can't even express it.
"I actually committed [Monday] morning when Coach Frost came to my school. When I got on their campus I just knew it was for me. I had that feeling in my stomach and it was hard not to commit there. I just wanted to have some time left to really think about it, but honestly, I didn't really need to. I knew when I woke up the next day that I was going to commit."
After their meeting with Rogers at his school, Coach Frost, along with Coach Erik Chinander and Coach Mike Dawson, flew to meet up with his parents in Syracuse, New York.
"After they left my school, they went right to my house to have dinner with my parents and they can't say enough good things about the coaches," Rogers shared. "Coach Frost, to begin with, is the most down to earth coach. You know he means his word and, even when he talks to you, you can tell he's a good guy. He made everything comfortable.
"And with Coach Dawson being my position coach, I just feel like those three guys and the rest of their staff are guys I wanted to play for. Both of my parents agreed with me and said those are the guys they trust. They even said in the meeting with them, 'We're going to trust you with our son.' That was a big commitment for them, especially being from New York which is kind of far away from Nebraska. So, they trust the whole university a lot."
Rogers elaborated on what made him know that Nebraska was the place for him when he was on campus
"I don't even know how to explain it," Rogers said. "People have told me when I find the right place I would just know it. When I got on campus I had a really good feeling, and when I first met Coach Frost and shook his hand, I was saying in my head, 'I am shaking my future head coach's hand.'
"The whole weekend was just unreal. They treated me and my parents with nothing but amazing respect. They made my decision easy. I couldn't be more proud to be a part of a program like that and I am excited to see what the future holds."
Rogers said that he is looking forward to finishing up his last lacrosse season so that he can get to Lincoln to begin his Cornhusker career.
"I am so excited about what the future holds and I am excited to be a part of what Coach Frost is going to do at Nebraska," Rodgers stated."Like I said earlier, Nebraska is a sleeping giant and Coach Frost is going to pull the blinkers right off that giant and wake it up. Nebraska is going to be something special, that is for sure."
Nebraska will likely be adding a third defensive end signee to this class, according to Rogers.