Rivals250 WR Morgan commits to Nebraska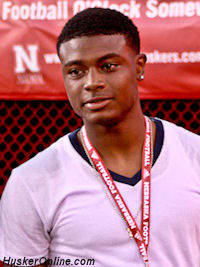 Nebraska added a key piece to their 2015 class today as Rivals250 wide receiver
Stanley Morgan
announced his commitment to the Huskers on a local New Orleans news channel.
The 6-foot, 185-pound receiver from New Orleans (La.) St. Augustine had taken an official visit to Nebraska in late September with his mother and came away impressed by the experience.
"The game experience, it was crazy," Morgan said about what stood out to him on his official visit to Nebraska. "It was more than what I expected it to be. Like, I'm coming up here thinking it was just going to be cornfields and country, but it was real nice.
"I'm from the city you know, so I thought it was going to be real country because I've never been out here. It was real nice though. My mom thought the same, but she really loved it out here. Just coming out of that tunnel, the teammates are all real cool.
He said after his visit that he would know when the right time to commit would be by listening to his "gut".
"What I really feel in my gut," Morgan said about how he'll know when the time is right to commit. "I feel like I can survive anywhere, but it will be what I feel in my gut where I should go."
Nebraska has made recruiting Louisiana - New Orleans in particular - a priority over the last few recruiting cycles as they've added players like tight end
Cethan Carter
, receivers
Glenn Irons
and
Jariah Tolbert
, and running back
Kendall Bussey
in this year's class.
Having a solid core group of players from New Orleans was something that Morgan said would play a factor in his decision.
"It's big knowing that there would be guys that I know up here because you know I don't want to be out there all by myself," Morgan said following his official visit to Lincoln. "I could handle it, but it's always good to have someone from home there with you."
Rivals.com Mid-South Recruiting Analyst Jason Howell has seen Morgan compete in multiple settings - including the Rivals Five Star Challenge last summer - and has high praise for the receiver.
"The one thing that really sticks out in my mind is how fearless he is," Howell said about Morgan. "If the ball is the air, he's going to go up and he's going to grab it. It doesn't matter who he is going up against or what kind of competition he's facing. He's the ultimate competitor.
"Traffic does not bother him, he doesn't get distracted, he's got great hand-eye coordination and he catches everything. If he gets a hand on it he's coming down with the ball 98 percent of the time. He's a really, really good route runner and is really advanced technically as a receiver."
The addition of Morgan gives the Huskers 13 commits in their 2015 class and he becomes the fourth commit to fall inside of the Rivals250. He committed to Nebraska over offers from Clemson, Georgia, Florida, and UCLA among others.
Heading into tonight, he was ranked as one of the leading receivers in the state with 46 catches for 891 yards and eight touchdowns despite having missed the last two games with a shoulder injury.