Rivals100 OT Cayden Green blown away by visit to Nebraska
Nebraska had a very important visitor on campus and the Huskers rolled out the red carpet. Cayden Green from Lees Summit (Mo.) North returned to Lincoln for the first time since the spring game last year.
There have been several changes in Lincoln and Green sees the difference.
"What a great experience," the four-star recruit said. "It was a totally cool experience. The visit to Nebraska today was completely eye-opening."
A year ago Green was able to check out the spring game at Nebraska but there wasn't any way to talk to the coaches or see behind any closed doors. It was mainly just an opportunity to see a game.
"We literally went to go watch a game when I visited for the spring game. And it wasn't full capacity. It was only about 60 percent capacity so not as many people as a regular game."
Today was a completely full and dedicated day to Green. There was no practice. The Nebraska staff had just Green on campus and he was their only focus for them today.
"We were there from about 10:30 until about 6:00," Green said. "And it was just us for me. It was very personalized.
"I was the only recruit and I was with my mom, my brother and my uncle since he was off from work today."
The day started off by meeting the football staff and then a number of tours. Green compared the day to basically getting an official visit experience into a single day.
"Today was literally meeting the entire staff," Green said. "They were there waiting for us and greeted us. We toured the campus, we toured the football facility, we got to see everything and met just about everyone that has anything to do with a student-athlete. We got an official visit in a single day pretty much."
Green liked looking around and seeing all of the facilities that Nebraska has. He also got to see the renderings for the facilities that are being built. But the best part of Green's day were the people that he met with on his visit.
"The facilities were nice but they are actually building newer and nicer facilities," Green said. "But for me, it was the people that I met today that was the coolest part of the visit. The new staff was very cool. They all seemed so genuine and like they are good quality guys."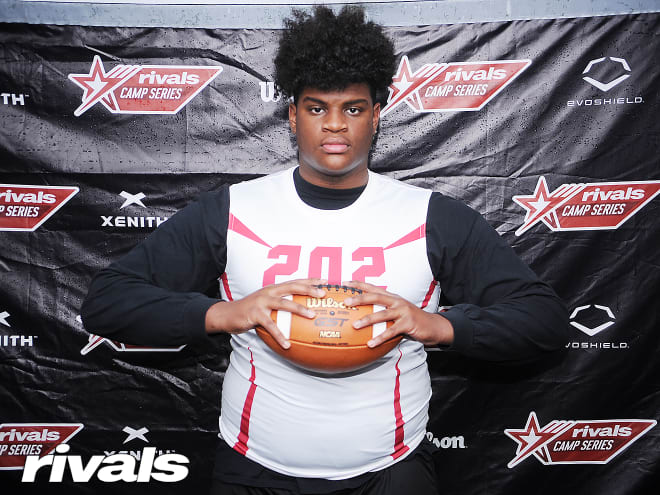 Nebraska has stepped up their efforts in recruiting Green. He would probably say that wouldn't be tough to do from the previous offensive staff that he barely heard from. Now he says that he hears from a Nebraska assistant coach the most out of all of the coaches recruiting him.
"Coach Bill Busch, I probably hear from him the most out of all of the coaches. I like coach (Donvoan) Raiola. I am a big fan of coach Raiola."
The Huskers hosted a pair of Green's teammates and his high school head coach earlier in the year for a junior day visit. Green was encouraged to give the new staff a chance at Nebraska and that advice has paid off.
"My coach went up here for a visit earlier in the year. My teammates, Williams Nwaneri and Isaiah Mozee are both excellent players and big recruits themselves. But he was up here and saw everybody and had nothing but good things to say about it.
"He asked me to give the new staff a shot at Nebraska and we did. It was all very cool. We are going to try and get up for the spring game. I don't know if we can because we may have some other things going on."
There is one more unofficial visit before a few spring game trips for Green. He will take two or three more trips before using all five official visits that he will schedule from May to June.
"I have Missouri tomorrow and that is the last visit that I am taking until official visits that is other than for spring games of course. We are going to hit up the spring game at Oklahoma and try to get to Missouri's spring game and after that, I think that we are about done.
"I will take four official visits in June and the fifth one will be in May. Nebraska is a possibility for one of those five official visits."
Expect Green to release his top five list very soon on social media.