Rimington: Why he makes sense
Nebraska announced former Outland Trophy winner Dave Rimington will serve as their interim Athletic Director for up to 60 days while school officials spend the next several days looking for a permanent replacement.
Here are some thoughts on why Rimington is the perfect guy to lead NU through this mid-season transition.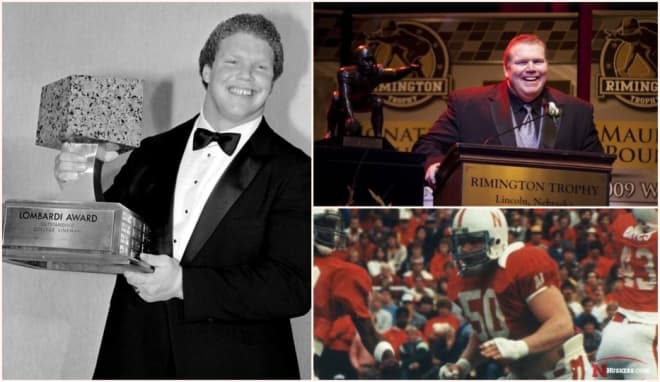 Rimington gives Nebraska a true "face" for the Athletic Department 
When you look at the accomplishments both on and off the field, there may not be a better person to step into this interim role than Rimington.
The Omaha South native is the definition of what it means to be a Husker. He is the school's most decorated linemen as a two-time Outland Trophy winner, he was a two-time Academic All-American and he's been a successful leader in the business world since 1993.
Rimington gives the Athletic Department a much needed "face" as they go through this transition. I think that is really what they are looking for more than anything, as nobody currently in the department could do that.
Tom Osborne is not interested in coming back again for another run as the interim AD. Rimington is the next best person out there with everything he's accomplished both as a player, and in the business world serving as the President of the Boomer Esiason Foundation, which raises money for cystic fibrosis.
There are a lot of great former players that have been a part of this program, but very few offer the total package of Rimington.
Rimington gets the 'Nebraska way'
I had the pleasure to work with Rimington a few years back when I put together the book 100 Things Nebraska Fans Should Know & Do Before They Die.
Rimington wrote the Foreword for the book, and when you hear his story, he represents everything Nebraskans are all about.
"To me Nebraska is about persevering," Rimington wrote. "You may not be the greatest athlete, but you just find a way to keep it up and keep working and go to classes and do the right things. If you work hard and keep a positive attitude great things can happen. What I learned at Nebraska was don't worry about where you are at right now, just worry about getting better and try to get better every day. You are going to have ups and downs, but you have to keep persevering. You'll eventually get to where you want to be, it just takes time and a lot of effort, and you appreciate it more when you put in the effort."
While Rimington wasn't a walk-on, he also wrote that he recognizes what those players mean to this program and state.
"A lot of these players who were walk-ons at Nebraska took that same worth ethic into life and have done some fantastic things in the business world because they know how to work and they'll continue to strive," he said. "They aren't concerned with being the 'name guy' and they are ok with just being a 'guy' on a team and pushing everybody forward. That's always been important. That's what makes us different than any other program and for a while I think we forgot about it. With coaching restrictions it's tough to organize it, but you have to find a way to still get those guys to Nebraska."
A smooth hand-off 
Another reason why this makes sense is Rimington only plans to do the job for however long NU needs him.
He's not looking to stay here in a permanent role, so that will make things easy when the full-time Athletic Director takes over. Rimington won't be looking for a job, as he already has one he loves back in New York City.
In my mind he's always wanted to get back and help Nebraska in some way. This interim Athletic Director position presented a unique opportunity for Rimington to use his talents and transition Nebraska through this period.