Riley: Carter and Westerkamp 'likely out' for Indiana
Nebraska head coach Mike Riley delivered some sobering injury news on Tuesday during his spot on the Big Ten Coaches Conference Call.
Riley said on Tuesday that senior tight end Cethan Carter (elbow) and senior wide receiver Jordan Westerkamp (back) will likely miss the Huskers Oct. 15 game at Indiana.
"I don't think Jordan and Cethan will make it for the next game, but possibly for the game after that," Riley said. "After about a 10 day period it's going to be how they feel with what they have if they are going to be able to perform pain wise. It's going to be a little while before we'll know exactly before they will be back."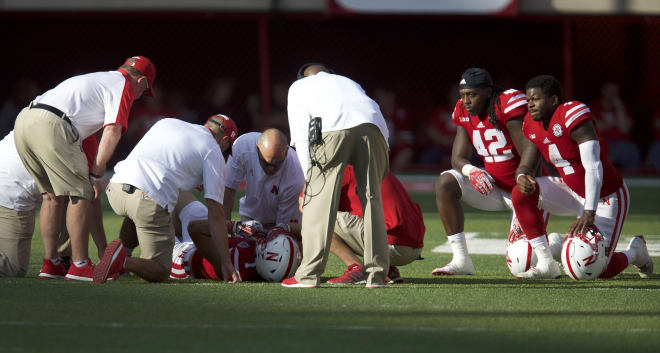 Westerkamp left Saturday's game in a lot of pain, after he took what appeared to be a knee to his back from an Illinois defender. Riley didn't give any further details about the injury when asked on Tuesday.
"The best I could do with that labeling is it was an injury to his back," Riley said. "Right now everything is very, very sore and tight. I think it's just going to be a matter with how quickly it loosens up and how much better he can feel in a certain amount time. Like I said I think it's going to take some time. We are just glad it wasn't any worse than that and it appears he will be back relatively soon."
Riley did add on Tuesday that he's hopeful both offensive lineman Tanner Farmer (ankle) and wide receiver Alonzo Moore (shoulder) should be ready for Indiana.
The team will practice Tuesday, Wednesday and Thursday of this week, before taking Friday and Saturday off.
One of those other players battling injury is sophomore running back Devine Ozigbo (ankle) who Riley said they will continue to monitor closely.
"Devine sprained is ankle and all we know right now is he probably won't be practicing this week," Riley said. "We are going to practice three days this week starting today. When they all come back on Sunday we'll know how good of shape he'll be to get ready for the game."
Riley added he is just thankful his team has a Week 6 bye, where a year ago their bye didn't come until Week 12.
"It appears the bye is coming at a good time for us because we have a couple of players that got hurt in the game," Riley said. "It will give them a little time to heal up. It just feels like if we are going to have a bye, this is a good time for us."