Riley talks Satellite camp plans
When Nebraska head coach Mike Riley looks at his June schedule, the key word he's had to use is "flexibility."
Before the NCAA decided to ban Satellite camps he had a full schedule of events the entire staff was going to take part in. Then the NCAA banned Satellite camps, which forced Nebraska to cancel the entire tour, only to have the NCAA to bring them back into play a couple weeks later.
What that rule has caused is a water down effect to the entire Satellite Camp market. Before this year only Nebraska, Michigan and Penn State were some of the notable major college football programs that had Satellite Camp events. With the SEC and ACC now fully on board, it's changed the game and flooded the market with camps over the month of June, creating "Super Camps."
Riley said on Tuesday it's forced him to be very selective on how they build their schedule for the summer to get the most out of their time. The only two scheduled camps Riley will attend himself are Nebraska's all-staff Satellite Camp in Los Angeles on June 5 and the Sound Mind Sound Body Camp in Detroit on June 9-10.
"What we are doing right now is we are blending," Riley said. "I like the idea of what we changed to when we shifted gears. I like that whole idea about being on campus with our team, but we have also picked a couple of spots that we are going to go to for Satellite Camps, and we've picked a few more where we are going to send parts of our staff out. We are trying to blend what happened in the last couple of months with those rulings with what we think will be the best thing we can do this year, but I know it will change next year."
NU will add one more Friday Night Lights camp in Lincoln, giving them three this year compared to two in 2015.
When Riley sees some of the things out there happening on the camp market, there's no doubt he expects some regulation going forward. Michigan announced this week they will take part in 26 different Satellite Camps over the month of June, while several other SEC programs have also gotten more heavily involved to keep up with what the Wolverines are doing.
"This year will be a great reason to study it again, because it will be the wild, wild west out there," Riley said. "I don't know what people are going to do, but some stories that I heard, it's going to be pretty crazy and I think that will be a really good reason for our oversight committee, for our AFCA board and our NCAA to really, really take a good look at this Satellite idea and regulate it.
"It's really almost in a lot of ways without regulation right now. I think they've got to look at the number that you have and that would help a ton. I think this year will be good for that though because everybody will find that out."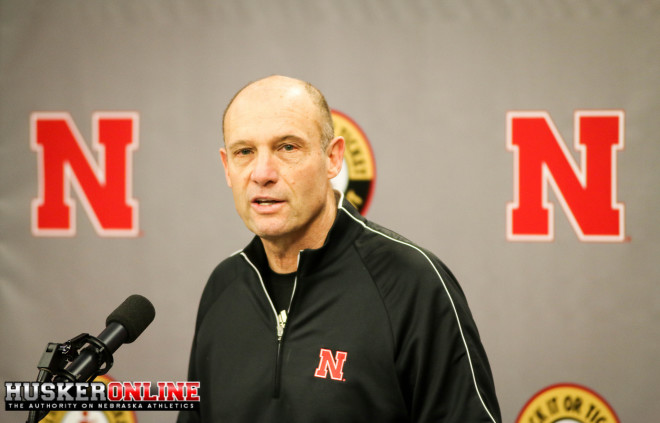 Quick hits
***Riley said on Tuesday he was thrilled the NCAA will now pay for parents to be on official visits starting this year.
"I love it," Riley said of the new rule. "I always thought that we should be able to bring the parents. I think the parents should see as much as they can and we should educate them as much as we can. There's no way better to be educated then to be on campus and see what it's like and feel the environment and get to know the people better – I love it. I think it's great for Nebraska, because frankly we recruit guys from all over the country, and some people can't afford it. So now, we can pay for a trip and if they have an interest in Nebraska and we get them here, we've got a good chance to get them."
***Academically nearly all of the 2016 class is fully qualified and expected to be on campus the first week of June.
"I will say we are 90 percent for sure," Riley said on the academic status of his 2016 class. "We've got a couple of guys that we are little bit worried about and we hope that in the next couple of weeks let's just say they have good 'final tests.'"
***Tuesday's lunch event with Riley and Athletic Director Shawn Eichorst was stop one of a tour that will span to York, Columbus, Kearney, Lexington, North Platte and Omaha. This was something in the past previous head coach Bo Pelini did not do over the spring and summer months to this extent, but an important part of the fabric of Nebraska football and the fan base.
"I think this is absolutely what we should do," Riley said. "When we work in college football and we have fans out there, and I'll say especially like here when it's such a big, big part of the culture; for major college football this is the identity for this state. There is one big University, there's no pro team and people just love this team and they love the players and they love the University. This is just a small thing that we can do, but this is just a small thing we can do to share this with them. I think it's awesome and absolutely something we should do."
***Riley added there has been more no roster attrition since the end of spring practice. He excepts to have 145 players on the team to start the 2016 season.