Riley talks 2015 class on ESPNU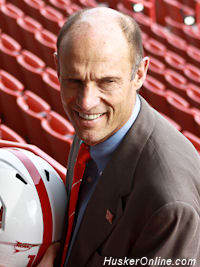 Nebraska head coach
Mike Riley
was a guest on ESPNU's National Signing Day Coverage. Here's a full transcript of what Riley had to say to studio host
Rece Davis
.
What were your expectations for your first recruiting class at Nebraska?
"The first thing what we wanted to do and expected to do is try to get to the guys that have already committed. We looked at the film so we had some knowledge of it. The previous staff had done a nice job with the player and the person there and we wanted to get those guys going.
"Then we wanted to look at the depth chart and see where we really needed to focus. We found both of those things and we went to work. It was fast and furious and through that I hope we learn some more about kind of establishing a philosophy of how we want to go forward."
When you look at that depth chart and evaluated the film, what areas did you most want to shore up on this team?
"Well linebacker for sure. There had been injuries there, there had been some attrition and we had to start getting some guys that could play and also be good in the way of depth in numbers at that position. We knew we had to do that and then we kind of earmarked we would like three offensive linemen in this class, we looked at that the quarterback thing hard because it's kind of fun to look at the quarterback - that one guy you are going to recruit.
"We opted not to because we didn't want to make a late decision without a lot of background. We feel good about the guys here. We'll focus on that for next year. I'd say though the No. 1 spot we had to look at that we noticed was linebacker."
How did the relationships that you and your staff have already established help you with the short period of time you had to put this class together?
"It was good. That part of it was good. We got a couple of guys out of California because of it. Probably at least one guy off the top of my head I can think about we added from Texas that way.
"I think as we go forward we have to blend in what's good for Nebraska, which we think is this Heartland area - we talked about a 500-mile radius around Lincoln. Then we've also talked about those places on the outside we have to recruit. As we go forward we have to sign the right coaches to those spots that have background and connections and also using some Nebraska history with that mixed in."

Click
Here
to view this Link.