Riley introduces new Husker coaching staff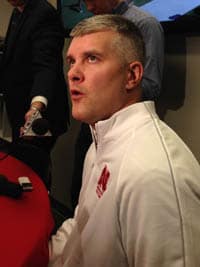 Click
Here
to view this video.
When
Mike Riley
took the Memorial Stadium podium on Thursday afternoon, he did so for the first time as Nebraska's sole head football coach. It also marked the introduction of his nearly completed coaching staff.
Though there is still one remaining opening left to fill (wide receivers coach), the rest of Riley's new assistant coaches made their debut with local media during a press conference and media meet-and-greet session. With a staff made up of several former assistants from his days at Oregon State as well as one carryover from the previous NU staff in defensive backs coach
Charlton Warren
, Riley said he felt very good about the group he assembled to try and lead the Huskers back to national prominence.
To sum up the hirings, Riley said he each one of his coaches shared two common denominators: football expertise and being the right fits not only for him, but for NU's players.
"For me, one of the most important parts of having a job in college football is the people that you surround your team with," Riley said. "So it's a big, big deal. It's one of the most important things going in that we have to do. So a lot of thought has gone into it. Some of it was rather easy and quick because it's people that I've worked with and know and trust. That part was easy. One of other things I wanted to do was try to interview the staff that was here and then look out into the world for anybody else…
"We all have to have one vision. They have to get it. Frankly, if they don't get it, they don't work here. That's part of the deal. Because we want the whole picture of how this thing is done… That's how I look at this thing. I've got to have the right guys that know what they're doing, and they've got to have the same kind of vision for young men that I do."
Riley said Langsdorf and Banker, who were both at one time coordinators for him at Oregon State, were exactly the type of people and coaches he wanted to lead the Huskers on both sides of the ball.
"Both of them have what I think is one of the key ingredients in coaching, which is you have to adapt to the people that you have," Riley said. "One of the things that's really important is that you can't put square pegs in round holes. So you have to have a blending of what you do, what you like to do, what you know, with the talent that you have. Then you have to enhance the talent through coaching, and these guys, I've been with them a long time… I know these people. I trust them. They're extremely diligent, hard workers. They're motivated by the preparation of the team, and I like that."
Now with his full staff nearly in place, Riley said the next priority would be focusing in on the recruiting front and closing out the 2015 class. With National Signing Day less than two months away, Riley the goal was to hold onto as many of NU's current verbal commits as possible while also trying to bring in some new talent, particularly at positions he's identified as areas of need.
"With all of this, we're getting closer to being able to head on into the next phase, which is going into the finishing off this recruiting class, which is huge for us," Riley said. "We appreciate the work that was done by Coach (Bo) Pelini and his staff with the guys that are committed, and of course I'm sure you know all the news about those particular people. I think there's a good bunch of kids in that group that we're continuing to recruit and feel good about getting here. Then there's some new guys that are still being recruited. We want to finish this thing strong."
Quick hits
***Riley said he's narrowed down his search for a new wide receivers coach to about four or five candidates, and he planned to begin holding interviews in the next few days. While he didn't share who those candidates were, Riley did confirm that
Ron Brown
- a former NU receivers coach and most recently running backs coach - would not be retained from the previous staff.
***Riley also said there was another intern position to be filled in the near future.
***Riley said he still wants to learn about the history of Nebraska football and all that goes around it, and wants to lean on people like legendary former Husker coach and athletic director Tom Osborne to help with that. He said he still hasn't met with Osborne with his busy schedule, but plans to do so as soon as possible.
***Langsdorf described his offense as a West Coast-based system, but didn't want to put a label on it because it was always evolving around the personnel in place. He said reducing turnovers would be as big of a priority as anything, and that passing accuracy was the No. 1 thing he would look for in a quarterback.
***Banker said Nebraska will mostly play a 4-3 base defense with quarters coverage. He says he's willing to mix things up, but he thinks it's more important for players to fully understand the scheme and focus on the offense than to try and do too many things defensively.
***Read said having a coach work solely on special teams is important because it allows the other coaches to focus more fully on their positions instead of splitting up time with the special teams units.
***Read said he's not against putting star players on special teams units if they're the best man for the job, but said he'll handle that on a case-by-case basis.
***Banker said one of the first things he did when he got to Nebraska was get the number of former defensive coordinator Charlie McBride. Banker said he wants to get a better understanding of the Blackshirt tradition and he plans to follow it and do it exactly how it was meant to be done.
***Davis said he had a "decision" to make between Nebraska and Michigan. Davis said he had the chance to follow his former boss Jim Harbaugh to Ann Arbor, but he felt it was a better fit for him to come work with Riley at Nebraska.
***Cavanaugh has known and been familiar with former Husker offensive line coach Milt Tenopir since the mid 1980's. The two have already talked multiple times and he was actually even supposed to do a speaking event with him on Thursday night in Omaha, but he wasn't able to attend because of the media event.
***Effort and speed will figure to be two of the main ingredients in Nebraska's defense going forward. When asked about defensive philosophy, Bray said they want fast players on defense and when they're watching film the goal is for all 11 players to be in the final frame of each play.
***Bray says that he was impressed by the effort the team displayed in the Holiday Bowl and the fact that they never gave up despite facing plenty of adversity on top of dealing with the coaching change. As far as his linebackers, Bray said he's been able to talk and meet all of the scholarship guys already and is really looking forward to what early enrollee
Dedrick Young
will add to the group.
***Warren said could have been plenty of awkwardness between the new and old coaching staffs leading up to the Holiday Bowl, but everyone was extremely professional about the transition. Warren added that Riley's staff actually helped them game plan for USC, especially on special teams where the Huskers ended up blocking two punts.
***Warren said that he's been very impressed with the new recruiting support staff in their short time working together thus far. He said Director of Player Personnel Ryan Gunderson and his crew are on the ball and very organized. He said they have a vision and a plan and are pushy which helps to keep the coaches on top of things.
***It was also announced Thursday that Riley will be part of ESPN's MegaCast coverage of the College Football Playoff on Monday night, participating in the Film Room simulcast broadcast on ESPN2 throughout the Oregon-Ohio State game.
[rl]