Riley introduced as Nebraskas new head coach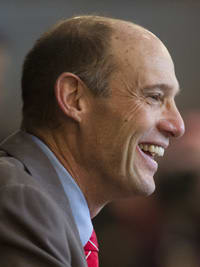 Click
Here
to view this video.
There was a point not too long ago when
Mike Riley
admittedly began having his first serious thoughts about how much longer he wanted to be a head football coach.
Having just completed his 14th total season at Oregon State and his 40th year in the football coaching ranks, the 61-year-old native of Wallace, Idaho, wasn't sure how much longer he would continue to lead the Beavers looking ahead to the future, let alone take on an completely different and much higher pressure venture halfway across the country.
But when Nebraska athletic director Shawn Eichorst first approached him with an offer to become the new head coach of the Cornhuskers on Monday, Riley immediately knew it was an offer he couldn't refuse. Four days later, Riley was standing at the podium for his introductory press conference on the third floor of Memorial Stadium.
"It is truly an honor to join the University of Nebraska family," Riley said. "Though we love Corvallis and Oregon State, this is a once-in-a-lifetime opportunity to coach at one of the nation's most storied football programs and I can't wait to get started. My sincere thanks to Chancellor Perlman and Shawn Eichorst for their confidence in me and I look forward to becoming a part of the Nebraska family and building upon the great history and tradition."
While Riley will immediately take over at NU, he won't be involved in the team's bowl game preparations this month and plans to watch game "as a fan." Interim head coach
Barney Cotton
will handle the day-to-day bowl practice duties and coach the game.
Riley is scheduled to make an annual salary of $2.7 million with automatic $100,00 increases in each of the five years on his contract, which runs through Feb. 28, 2020.
Riley is known for his pro-style offense that led to numerous players go on to the NFL and helped make him the winningest coach in Oregon State history with 93 career victories. He's coached professionally in the three different leagues, including winning two Grey Cup championships in the Canadian Football League and also serving two as head coach of the NFL's San Diego Chargers and one year as assistant head coach with the New Orleans Saints.
But what made Eichorst sure that Riley was the right fit to replace Bo Pelini, who was fired last Sunday despite winning at least nine games in each of his first seven seasons in Lincoln, was Riley's abilities not only as a coach, but as a mentor and a teacher to lead the program in the right way.
"There was one coach who fit all the characteristics that I was seeking to lead our tradition-rich football program," Eichorst said. "Mike Riley has a proven record of success, a sound approach to football and teaching, an understanding of the educational mission of our university and the integrity and values that we cherish at Nebraska. I have no doubt that Mike will assemble a tremendous staff and lead our student-athletes to win Big Ten titles and compete for national championships in the years ahead."
Riley said he was still in the process of assembling his future coaching staff at Nebraska, but hinted that it would likely include both members of his former staff at Oregon State was well as some new outside hires. He also said he planned to hit the recruiting trail as early as Friday afternoon in order to make up as much ground as possible before the NCAA recruiting live period ends next week.
Most importantly, Reilly said he wanted to continue to build relationships and trust with the current Husker players he would be inheriting. The very first thing Riley did when he arrived in Lincoln on Thursday evening was hold a meeting with his new players to introduce himself and let them know his plan as their new leader.
While some players were still stinging from losing Pelini and not exactly open to the idea of embracing a new head coach at first, player reaction over the 24 hours following Riley's hiring indicates the healing process is already well underway.
"We are all in this together to build young men and win championships," Riley said, "and they don't have to be exclusive of each other."

Click
Here
to view this Link.
[rl]