Riley gives latest on unusual quarterback situation
As if Nebraska's quarterback situation wasn't already less than ideal with Tommy Armstrong still listed as questionable after missing last week's win over Maryland, the position got even muddier with the news Mike Riley divulged during his weekly press conference on Monday.
According to Riley, senior Ryker Fyfe - who shined in his first home start vs. the Terrapins - broke a bone in his left (non-throwing) hand during the game and had surgery on Sunday.
Riley said a Fyfe had a pin inserted in his wrist and would be wearing a protective brace most of this week.
So, as it stands heading into Monday's practice, the Huskers don't know the playing status of either their top two quarterbacks for their Black Friday showdown at Iowa to end the regular season.
"Tommy is getting better," Riley said. "We do not know what that means until we start working tonight when we'll find out a little bit more about what he can do. He has definitely improved. Will he improve enough before the game? We don't know yet. I'm probably guessing by the end of tomorrow we'll have a better idea…
"Will (Fyfe) be able to play? Possibly. We will kind of go through the same sort of scenario with him that we're going to go through with Tommy. How does he do tonight, how does he do tomorrow, how can he function? He'll have some sort of a brace on that left hand - it is his left hand, he can throw. What does that mean to being able to execute? I don't know yet. We'll have to look and see how he can function."
Because of the quarterback uncertainty, Riley said Nebraska would have to get its third-string option, sophomore Zack Darlington, ready to play this week if necessary.
That brings up a unusually important question: who will take the No. 1 reps at quarterback on Monday?
"I don't know," Riley said. "We have a good feeling that Tommy's going to be able to do something. We have a feeling that Ryker's going to be able to do something. We're going to have to assess tonight, get the offense installed, let both of them take some turns, and at the same time give Zack some turns.
"This will be the biggest juggling act that we've had to start a week. But I really believe when we come out of it we're going to know a little bit more tonight, we'll know a lot more after tomorrow's practice, and that will head us into the final days of preparation."
Riley continues to hold onto hope that either or both Armstrong and Fyfe will be healthy enough to play on Friday, and then Darlington would be available as an emergency backup.
However, Riley and his staff have already begin to discuss the very worst-case scenario of what happens if Armstrong and Fyfe are both out and then Darlington gets hurt.
One thing they do know is that burning the redshirt of true freshman Patrick O'Brien is pretty much out of the question. So what is the next option?
"We've talked about that a lot about whether or not we're going to have to get somebody ready behind Zack," Riley said. "We really don't want to play Patrick O'Brien… I really don't want to go there. We have talked about that next emergency guy.
"There have been people like (true freshman cornerback) Lamar Jackson that played Wildcat quarterback in high school and was good. We'll continue to talk about that. With Ryker, with Tommy, we are hoping they are physically able to play, and then getting Zack ready, I hope that covers. But we have to have a contingency with that, too."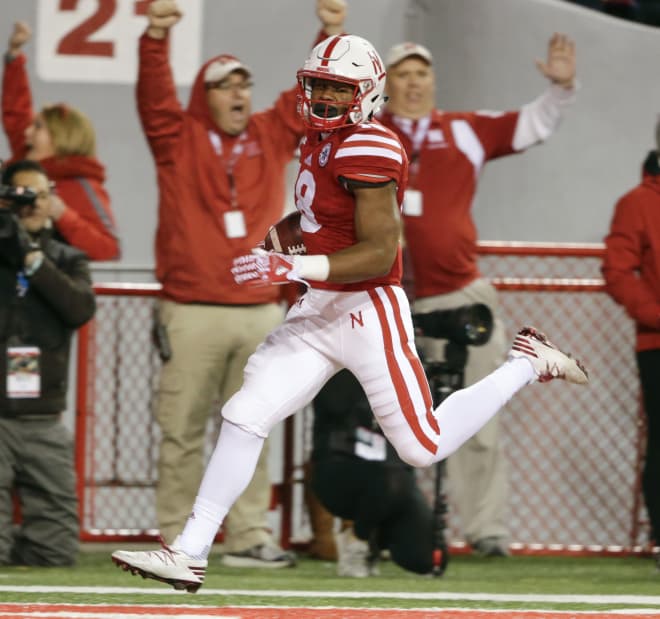 Quick hits
***Receiver Stanley Morgan got "dinged" vs. Maryland and is under concussion protocol this week.
***Riley said kicker Drew Brown was also progressing well through concussion protocol and will kick tonight at practice.
***Linebacker Dedrick Young is improving from an ankle injury but Riley said he's not sure what Young will be able to do during Monday's practice.
***Riley said running back Devine Ozigbo was the "healthiest he's been" this season. Riley said Terrell Newby has played the best ball of his career the past month, and freshman Tre Bryant has elevated his game while Ozgibo has been out. Ozigbo was available to play vs. Maryland.
***Riley said Bryant took advantage of the opportunity with Ozigbo out, and at this moment Bryant is ahead of Ozigbo in the rotation. If it stays that way will depend on how this week of practice goes.
***Riley said Nebraska had an 8-to-1 advantage in explosive plays against Maryland, which he said was one of the biggest differences in the game.
***Senior receiver Jordan Westerkamp said he would consider Iowa Nebraska's No. 1 rivalry at this point. A big reason why was how competitive the series has been the past few years.
***Senior defensive tackle Kevin Maurice said he does not like playing on Black Friday and have a day less rest this week. The good news is they can sit back and watch football on Saturday. The bad news is they have to focus on football and hold off on Thanksgiving this week.
"It's tough for the fat boys," Maurice said. "That's our favorite (holiday)."