Riley, Eichorst pushing for earlier signing day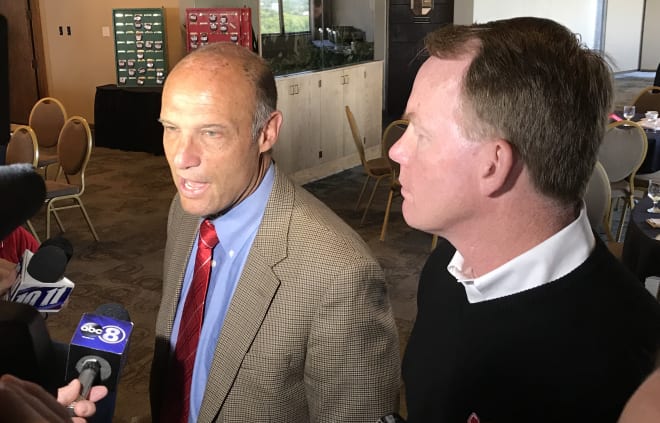 The landscape of college football recruiting has obviously changed quite a bit over the course of Mike Riley's coaching career, and he thinks things could look even more different over the next few years.
After speaking at the first stop of the annual "Huskers Tour" event along with NU athletic director Shawn Eichorst at the Nebraska Club in Lincoln on Monday, Riley hinted that the recruiting calendar could be reshaped in a big way sooner than later.
Last month the NCAA's Division I Council approved a proposal for an early college football National Signing Day in December. The Conference Commissioners Association (CCA) still has to give final approval in June, but most already view it as a done deal.
However, both Riley and Eichorst said it was only a matter of time before the signing date moved up even earlier, most likely sometime around July 1.
"Someday. I think someday," Riley said. "That was on the table initially, and I think there was some discussion about that kind of early signing day, the end of June, first part of July.
"I think the December one kind of ended up being a compromise for the moment, but I think that we will find that with earlier visits in April, May and June, that that becomes kind of a natural time eventually for kids to go ahead and sign.
"I think a lot of high school coaches and kids would be glad about that actually, to get that behind them at that point. That's in the future. It might not be next year or the year after, but I think someday you'll see something like that."
As Riley mentioned, another change to the college football recruiting schedule was the creation of a two-month period for junior prospects to take official visits spanning from April to June.
Eichorst, who was a member of the NCAA's Football Oversight Committee that spearheaded the recent recruiting reform, agreed that a July 1 signing day was all but inevitable.
"I do, mainly because if you look at the landscape, it's the reality of the landscape," Eichorst said. "With the earlier visits - primarily now kids are making unofficial visits to kick the tires to make the commitment. So I think having the opportunity before they start of their senior seasons of football at their high school just seems to make sense to me at a lot of levels."
During his talk with roughly 100 guests at Monday's event, Riley said there was a very real chance that Nebraska could have its 2018 recruiting class completely filled by July 1, and it would definitely be nice to be able to have them not have to wait another five months before they could sign letters of intent.
"It's not really a goal of mine to be done (recruiting for 2018) by July 1, but it's a distinct possibility," Riley said. "We all know that we're not really done done, that we will continue to recruit and to keep the guys that we have committed and also to continue to look."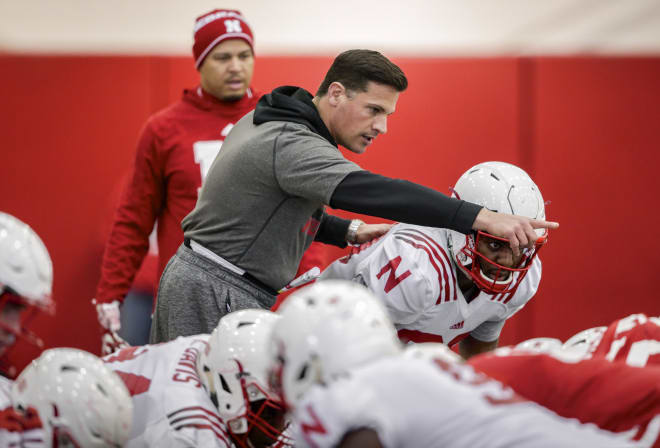 Huskers working to adjust June calendar after NCAA rule changes
There were some other notable changes to the college football offseason that weren't related to recruiting.
In the same round of votes that spurred the signing day changes, the NCAA Division I Council decided to end the practice of full-contact two-a-day practices during fall camp.
As a result, teams will have to change up their schedules in order to get in their 29 allotted preseason practices without being able to hold two in one day.
Riley said he was a big supporter of the changes made in that regard, saying that Nebraska would likely just move up its start of fall camp in order to adjust to the new rules.
"I don't want to move it back way into July, but we're probably going to go a couple days early in order to take advantage of the fact that we're not going to be able to use two-a-days, but we can get our allotted practices in," Riley said.
"I actually like it. I think it's a great rule. We have slowly been going away from two-a-days as we used to know them. We've been slowly doing that for a long time. This will be a better pace for our players. It will perhaps be a safer pace for our players.
"I think going at a less frantic pace and trying to jam 29 practices into a shorter period of time, that's not a great idea. Spreading it out a little bit more will be better for them."
Along with a likely earlier start to fall camp, Nebraska will also have to adjust its summer recruiting camp schedule, as the Division I Council also voted to limit coaches to work camps/clinics 10 days total during June and July.
There's no doubt things like satellite camps and the Friday Night Lights camps have been great assets for the Huskers' recruiting efforts, but Riley said he was in favor of finding a better balance of time spent recruiting and working with his current team to get ready for the upcoming season.
"We have to be able to use June in a very wise way to get our team closer to winning all the games in the fall," Riley said.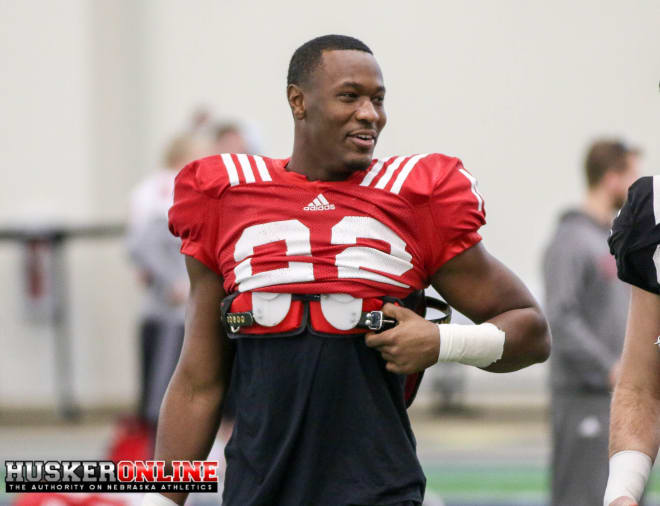 Quick hits
***Riley confirmed that outside linebacker Alex Davis injured his foot last month, but said he didn't expect the sophomore to miss any time this season.
"He's going to be OK," Riley said. "He'll be ready for the season. It worried everybody for a bit, but he's going to be able to play this year."
***Riley was asked if he had any reaction to the comments made by Iowa assistant coach Brian Ferentz last week regarding schools with newer coaching staffs like Nebraska taking credit for their predecessors' recruiting and player development successes.
Riley, who said he was on the road recruiting mostly all of last week, had no idea about what Ferentz said.
"I really don't have a reference to that, so I better not comment," Riley said.
***Nebraska currently has 10 commitments in its 2018 class, leaving it currently with only five more available spots left to fill. Given how well things have been rolling for the Huskers, Riley admitted he wished NU had a few more scholarships to give for 2018.
"I do, I wish he did have more room," Riley said. "I kind of always have thought that in general, but for sure this year."
***Without mentioning him by name, Riley noted that the most recent commitment of St. Louis (Mo.) Christian Brothers College High wide receiver Cameron Brown was a "very important" addition for what Nebraska is trying to do in recruiting the St. Louis area.
***Another new wrinkle to the college football recruiting rules was allowing schools to pay for parents to join recruits on official visits. Riley said that was a rule that would undoubtedly be a huge benefit to a program like Nebraska.
"I'll be a little self-serving and say this is a really good thing for Nebraska…" Riley said. "The more parents that come here and can see what's in store for their son, especially in the case of football, is really good for us."
***Asked to name some players who impressed him this spring, Riley started by focusing on some of NU's young offensive linemen in Matt Farniok, Boe Wilson and John Raridon as players who may have earned playing time this season.