Report: Charlton Warren headed to UNC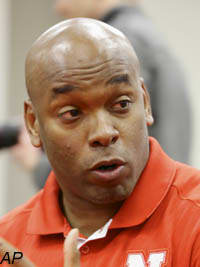 "Charlton Warren has informed me of his plans to take a similar coaching position at another university," Riley said. "This is an opportunity that Charlton feels is right for him and his family, and I respect his decision. We appreciate the valuable role Charlton has played in our transition to the University of Nebraska and wish him and his family nothing but the best. Charlton is an outstanding man and a bright, energetic football coach with a great future ahead of him in this profession.
"We will search for a talented teacher, coach and recruiter to fill the open position on our defensive staff. This is a high priority, but we will take the necessary time to find the individual who is the right fit to help lead the young men in the University of Nebraska football program."
Nebraska's secondary allowed opponents to complete just 48.5 percent of their passes last year, the second-best mark in the nation. The Huskers held the opposition under 50 percent passing in nine of 13 games and allowed an average of just 6.1 yards per attempt, 13th-best in the nation.
Warren replaces the recently-fired Dan Disch as Fedora overhauled his defensive staff. North Carolina ranked 119 in total defense last season and 104th in passing defense.