Report Card: Nebraska vs. Washington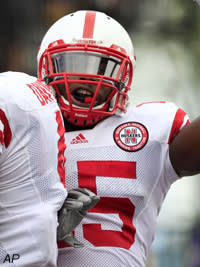 SEATTLE
- The Nebraska football team played what defensive coordinator
Carl Pelini
called their most complete football game in the last three years on Saturday. NU stomped Washington 56-21 in front of a sold out crowd at Husky Stadium.
Here is the complete report card grade out of NU's win over the Huskies. Next week the Huskers will take on South Dakota State in Lincoln at 6 pm.
Quarterback: A
You really couldn't have asked for a better first-road start from redshirt freshman quarterback
Taylor Martinez
on Saturday. There was no moment at all where it didn't look like Martinez had control of the football game. He stayed in the pocket on all of his early throws and made a handful of impressive third-and-long passes that kept drives alive and most importantly he continued to hurt people with his running ability. Martinez sent a message to Pac-10 country on Saturday that they made a huge mistake not heavily recruiting him as a quarterback out of high school.
Running back: A
Running backs
Roy Helu
and
Rex Burkhead
continued to share the load on Saturday, rushing for a combined 214 yards on 23 carries. Burkhead's final touchdown run was a great display of speed and power, while on Helu's 65 yard touchdown run he showed another gear of speed we haven't seen from him before.
Wide receiver/Tight end: A
Junior wide receiver
Brandon Kinnie
is quickly becoming Martinez's go to target in the receiving game. Kinnie finished with 105 yards receiving, while
Mike McNeill
added a 24 yard touchdown reception and
Niles Paul
had one catch for 21 yards. Maybe the most impressive part of the day for the receivers though was their edge blocking downfield in the running game. Helu's 65 yard touchdown run was set up beautifully by a downfield block by Kinnie.
Offensive line: B+
The line paved the way for another 500 yard-plus day for the offense. They gave up three sacks, but two of them where because Martinez held onto the ball too long, the other was due to a bad snap by center
Mike Caputo
. The reason they are downgraded to a B is because of the early game penalties that put NU in some tough third down holes.
Keith Williams
got a 15 yard hands to the face penalty that took a way a first down run by Martinez,
D.J. Jones
got a false start penalty on the next play. Redshirt freshman
Jeremiah Sirles
also got a false start penalty that turned a third-and-9 into a third-and-14. Overall though, it was a very dominating performance by the Husker line. They wore down Washington's front seven and made them look helpless by the end of the game.
Defensive line: A
Nebraska's defensive line did a nice job of containing quarterback Jake Locker. They forced him into some quick throws and controlled the flow of the game up front.
Linebacker: B-
I thought this was the only position besides the offensive line you could be critical about at times on Saturday. The linebackers misread their gaps a few times on Saturday, which allowed Washington to get some things going in the running game. However, I thought the Husker coaching staff did a good job of settling
Lavonte David
and
Eric Martin
down and got them comfortable with the flow of the game. David was very impressive on two different blitz calls where he pressured Locker to throw incomplete passes on third down.
Secondary: A+
Nebraska's secondary once again made a case on Saturday that they could be the nation's best. NU held Locker to the worst performance of his career and forced him to two interceptions. I thought
Eric Hagg
's pick on Locker set the tone for the game and that got in his head early.
Alfonzo Dennard
's interception return for a touchdown was also a thing of beauty. There were also some nice plays by
Prince Amukamara
where he batted down balls over the middle. Amukamara would sure like to have the double move route back where he was beat for a touchdown, but give Washington some credit too. They are going to make some plays with guys like Locker and
Jermaine Kearse
on everyone they play.
Special teams: A
Nebraska dominated the special teams aspect of Saturday's game like they thought they would going in. The only mistake happened when
Adi Kunalic
booted a kickoff out of bounds. Both Paul and Kinnie also were impressive in the return game.
Alex Henery
averaged 47.2 yards per punt on five attempts. Kunalic put five-of-nine kickoffs through the end zone for touchbacks.