Report card: Nebraska vs. Washington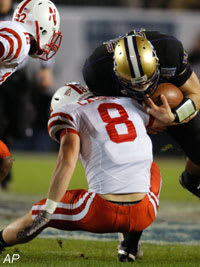 SAN DIEGO - Nebraska finished the 2010 season by losing three of their last four ball games, as the Huskers fell to Washington 19-7 in the Holiday Bowl.
Here is the complete report card grade out from Saturday's loss to the Huskies in San Diego. NU finishes the year with a 10-4 record for the second season in a row.
Quarterback: F
Going into this game I expected to see a much more relaxed
Taylor Martinez
at quarterback, instead we once again saw a shaky performance from the redshirt freshman. The bottom line is Martinez struggles with managing a football game. Martinez took costly sacks and made decisions in game management that you can't make. It was a disappointing finish to a season that at one time had so much promise. What does the future hold for Martinez and this offense? Is he the guy going forward? You can tell the plan on Thursday was to run the football straight at Washington, and once that didn't work
Shawn Watson
sure didn't have a very good plan B.
Running back: D
The running backs had absolutely no holes to work with tonight, so it's hard to point the finger completely at them for their lack of production, but nobody on this offense deserves anything higher than a D for their play tonight. I thought the play where
Rex Burkhead
fumbled the ball in the wildcat completely turned this game around. If Burkhead gets that throw off, NU probably jumps up 7-0. Instead, that play started what ultimately became a terrible night for the offense.
Wide receiver/tight end: D
Martinez did not do a very good job of getting the ball to the receivers in this game. The times he did, a few guys made plays.
Kyler Reed
made a great play on his touchdown reception.
Offensive line: F
The offensive line was just physically manhandled by Washington's aggressive front seven on Thursday. Washington brought the heat on nearly every play and NU's line could not answer. I know Martinez took some bad sacks in this game, but some of that falls on the line in protection, as they were completely missing assignments when the Huskies overloaded sides with their blitz calls.
Defensive line: F
Just like the offensive line, the defensive line got demoralized by the Huskies in this game. Washington ran the ball 52 times for 268 yards and their longest run was just 25 yards. They consistently got after NU's front four and
Jake Locker
kept them off-balanced all night. NU did not sack Locker once in this game.
Linebacker: C
Linebacker
Lavonte David
became Nebraska's all-time regular season tackler on Thursday night after recording 7 stops. David finished the 2010 season with 152 tackles.
Secondary: B-
Washington knew they couldn't let Nebraska's secondary take this game over like they did in September. The Huskies kept NU's secondary in check, despite the fact Locker completed just 5-of-16 passes. The biggest thing though is Locker didn't throw a single interception. NU needed their secondary to come up with a play, but
Steve Sarkisian
did his best to make sure they didn't get a chance to tonight. I thought
Alfonzo Dennard
played a very good game on Thursday. The biggest problem the secondary had was coming up and playing the run. They could not effectively tackle
Chris Polk
. He was too physical for them.
Special teams: F
This was maybe the worst special teams game we've seen out of Nebraska this season. They got virtually nothing out of their return game,
Alex Henery
struggled with his punting,
Adi Kunalic
didn't put any of his kicks through the end zone and the coverage teams were charged with two facemask penalties. Across the board it was a very poor performance out of the special teams.