Report Card: Nebraska vs. Texas AM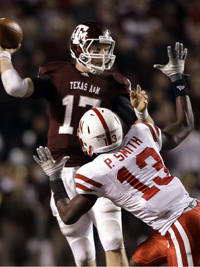 COLLEGE STATION, Texas - The Nebraska football team fell to 9-2 on Saturday with a 9-6 loss to the hands of Texas A&M.
Here is the final report card grad out from Saturday's loss to the hands of the Aggies.
Quarterback: C
It's really hard to grade the play of the quarterbacks accurately on Saturday because obviously
Taylor Martinez
wasn't playing at 100 percent, but also the offense was faced with so many unmanageable downs because of the 16 penalties. The interception by Martinez though in the second half was huge, because it took points off of the board. The Huskers were in field goal range on the 34 yard line and when you are in a 9-6 game any scoring opportunity is huge. It was just a poorly thrown ball to
Kyler Reed
. Martinez did have some nice third down completions on Saturday, especially on the Huskers opening drive of the game that led to a field goal. I thought
Cody Green
was up and down during the five series he took while Martinez was in the locker room getting his ankle attended to. Green made two really good throws that got NU out of some holes, but he also had an interception that was nowhere near the wide receiver.
Running back: B
Roy Helu
averaged 5.8 yards on nine carries, while
Rex Burkhead
averaged 5.7 yards on 13 carries. The question I have is why didn't Helu see more carries in the second half, particularly the fourth quarter? Nebraska started to find something in the fourth quarter with their running game, but the problem was they had to go away from it when they were in their hurry up offense. The penalties also forced them to pass more than they wanted to.
Wide receiver/tight end: C
I know
Ben Cotton
's series of 15 yard penalties were questionable, but you still can't get back-to-back 15 yard penalties. The first penalty was out of his control, but I think he could've prevented himself from getting the second one. Overall though, Nebraska's receivers had some good moments and big catches on Saturday, but they also had a few costly drops. The wide receivers were also responsible for two 5 yard illegal formation penalties.
Offensive line: D
Nebraska's offensive line was charged with three false starts and one holding penalty, along with a handful of personal fouls on Saturday. This really put the offense in some tough holes and forced them to go away from their running game and into predictable passing downs.
Defensive line: A-
Nebraska's front four played well enough on Saturday to win the game.
Jared Crick
had seven tackles and a sack, while
Cameron Meredith
and
Pierre Allen
also had some big plays. NU did a great job up front in slowing A&M down, particularly in the first half. The only problem is the offense couldn't take advantage of it to help them.
Linebacker: A-
Lavonte David
finished with 14 tackles, including one sack and three tackles for loss. David was all over the field making plays. He had a shoestring tackle on third down that forced a punt and also had an 11 yard sack to start out the second half.
Secondary: A-
Texas A&M was just 2-of-13 on third down conversions on Saturday. That will win you games 99 percent of the time, but when you get penalized 16 times for 145 yards it's a different story. I thought the secondary played a very good game on Saturday and I am not going to downgrade them for the two pass interference penalties are the roughing the passer penalty on
Courtney Osborne
. The Osborne call was very unfortunate. It turned the game around and allowed A&M to kick a game winning field goal. The only play that you can really be critical on with the secondary is when
Robert Fuller
beat
Alfonzo Dennard
downfield for a 36 yard pass on a third-and-long from their own 9 yard line.
Special teams: B
Eric Martin
was penalized twice on kickoffs Saturday for personal fouls, which kills you in field position. Other than these blunders, Nebraska's special teams played well enough to win.
Alex Henery
controlled the field position with his punts and made both of his field goal attempts. A&M didn't return a single punt and their longest kickoff return was just 20 yards.