Refocused Kalu impressing Huskers on, off the field
Some of the best traits Joshua Kalu possesses, especially when it comes to playing the cornerback position, are his unwavering confidence and light-hearted attitude.
That said, there was a point last year when those characteristics were holding the promising sophomore back from reaching his sky-high potential.
In fact, it got to the point where Nebraska defensive coordinator Mark Banker sat Kalu down prior to the Huskers' home game vs. Wisconsin and told him to put a hold on the jokes and start getting serious about his game.
"'Do you want to be the class clown? Or do you want to be the cream of the crop when it comes to playing the corner position at a major college level?'" Banker asked Kalu.
"Then there was a little bit of attitude change. He's the one who made a decision to do that and came out and played his ass off versus Wisconsin. He made some huge plays in that game. He's improved tremendously like that."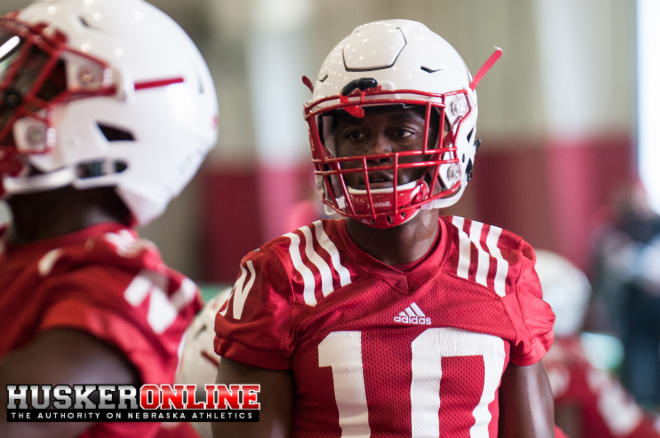 Kalu ended up setting career highs with nine tackles and four pass breakups against the Badgers. The next week at Minnesota, he posted seven tackles and added a 41-yard interception return for a touchdown.
In the following games against Michigan State, Rutgers, Iowa and then UCLA, Kalu racked up 26 total tackles, two tackles for loss and an interception to help lock up honorable-mention All-Big Ten honors for the season.
Looking back, Kalu credits that honest conversation with Banker as a major turning point in his development as a player.
"I mean, I took it to heart in everything I did as far as grades, weight room, football," Kalu said. "When I first came out here my sister walked down this hall and she told me I want your academic level to match your football level. I turned it up a notch in football, the meeting room and out here I've been having a different level of focus and trying to work on something new each day."
While he's still one of the biggest talkers and jokers in the locker room, others have noticed a major change in Kalu's focus when it comes to his work on the football field.
"I think the main thing with Kalu is maturity," defensive backs coach Brian Stewart said. "I think as the season progressed last year to the spring and to now, he just really matured. Now he takes things seriously as far as alignment, assignment, footwork, not letting his guy catch the ball - trying to be correct all the time and not some of the time.
"That when something happens, it's not okay. You should be pissed that it happened and go back and not let it happen again."
Part of Kalu's growth might be coming with age. With 26 game appearances and 15 career starts under his belt, Kalu is now entering his junior season as one of the most experienced players in Nebraska's secondary.
It's taking some time to get used that veteran title, but Kalu said he's doing his best to be a leader for his teammates in everything he does both on and off the field.
"It's pretty weird, I found myself coaching them up and teaching them," Kalu said. "I taught them life skills, and I complain about it but I'm embracing it slowly. I still laugh a lot. Sometimes you won't take me seriously, then you realize I do have a lot of experience. It's just can I get you better."