Redskins take Spencer Long at No. 78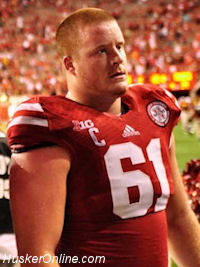 After Nebraska offensive lineman
Spencer Long
suffered a season-ending knee injury at Purdue on Oct. 12, his future NFL draft stock was unknown.
Long was unable to play in any college all-star games in January or participate in the NFL Combine. At NU's Pro Day in March he only bench pressed, but after a private Pro Day in Lincoln last month, apparently the Washington Redskins saw something they liked.
The former walk-on Long went No. 78 to the Redskins in the third round, joining cornerback
Stanley Jean-Baptiste
as the second Husker player drafted on Friday night.
"Spencer Long is a guard that started the season out extremely well, but then got hurt," the NFL Network's Mike Mayock said. "When I got a chance to put tape on I was surprised by his energy and his quickness. He had a reputation as a phone booth player. He ends up getting drafted a little bit higher than people anticipated, but I think this is a solid pick. He's a good football player, Washington will plug him in there, and again they've got to plug him in there, and again protect that investment on the back end."
ESPN's Mel Kiper Jr. had Long going a little bit later in the draft because of the knee injury, but he wasn't surprised Washington went on him.
"This is was a kid who was nice football player," Kiper Jr. said. "He came a long way. He was a former walk-on, which is what Nebraska has done over the years - develop guys like Spencer Long. This past year he did a great job at right guard, then he had the knee injury against Purdue. That's the concern right now, durability coming off that knee injury.
"He's smart, strong, never lacks effort, he's good in the ground game in getting to the second level, he's ok in pass protection - probably more of a back-up type in the NFL."
Long, a former walk-on from Elkhorn, came to NU as a 250 pound undersized linemen in 2009. Long's development over five years speaks volumes of what Nebraska has been able to do with players like him.
"This is a guy who's a true Nebraska player," the NFL Network's Charles Davis said. "Remember the old walk-on tradition? Sit around and get them bigger and stronger. That's what they did with Spencer Long. He walked on and made his way."